Comedy Central Will Roast Bruce Willis To A Crisp This Summer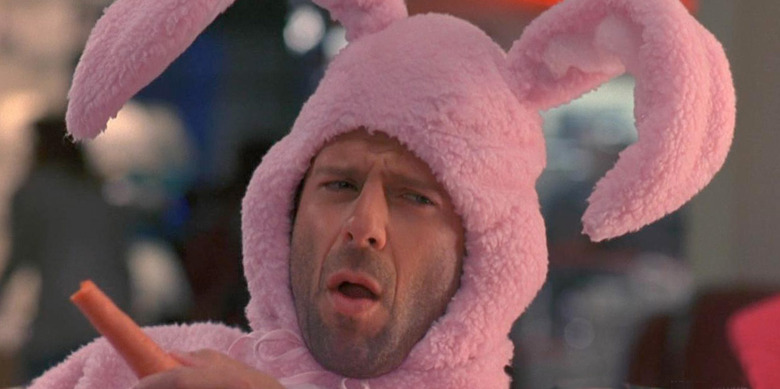 Every now and then, Comedy Central will take time to roast a typically B-list celebrity who is usually an easy target. The likes of Pamela Anderson, Larry the Cable Guy, Charlie Sheen, Flavor Flav, Joan Rivers, and more have all been the target of some hard-hitting jokes. More recently Comedy Central has mocked some higher profile celebrities like James Franco and Justin Bieber, and they've just landed another big name actor to sit in the hot seat.
Bruce Willis has been announced as the next celebrity to get roasted on Comedy Central. And with a long career that includes outstanding movies like Die Hard and awful movies like A Good Day to Die Hard, this should be a pretty fantastic roast.
Comedy Central announced the news today, and Bruce Willis offered up a little publicity quip to go along with it:
"This ain't the first time I'll be tied to a chair and held hostage by a group of humorless a**holes for a couple hours."
Bruce Willis is of course referring to his most famous role as the voice of Mikey in Look Who's Talking. Comedy Central President Kent Alterman adds, "Bruce has survived terrorists, Armageddon, romance and death itself. Yet, nothing has prepared him for this roast."
But he's not the only one who knows what it's like to feel as if you're being tortured by terrorists. A handful of us did see North and Cop Out. Plus, most of the recent movies Bruce Willis has added to his filmography haven't garnered much interest. Have you seen Marauders, Extraction, The Prince or Once Upon a Time in Venice? Yeah, me neither. And don't even get me started on the total nightmare that is the remake of Death Wish.
If his big screen career wasn't enough, let's not forget that this happened:
Yes, Bruce Willis once enjoyed a moderately successful career as a recording artist, even releasing a couple hit singles. The above is his most well known song "Respect Yourself," which he recorded with The Pointer Sisters. Surely this will be one of the other big targets during the Comedy Central roast.
Beyond that, surely the personal life of Bruce Willis will be ripe for the picking – especially his marriage with Demi Moore, who he divorced in 2000 after being married for 13 years. Considering Demi Moore went on to date Ashton Kutcher afterwards, I wouldn't be surprised if Willis catches some flak for that.
As for the roster of comedians who will be roasting Bruce Willis, we'll have to wait to hear who they are. Usually these roasts also include a couple people who are close to the celebrity in question, but aren't necessarily comedians. Maybe they'll get Demi Moore to make an appearance too. We'll find out when the roast tapes sometime this summer.