'True Detective' Season 3 Is Losing Director Jeremy Saulnier Earlier Than Expected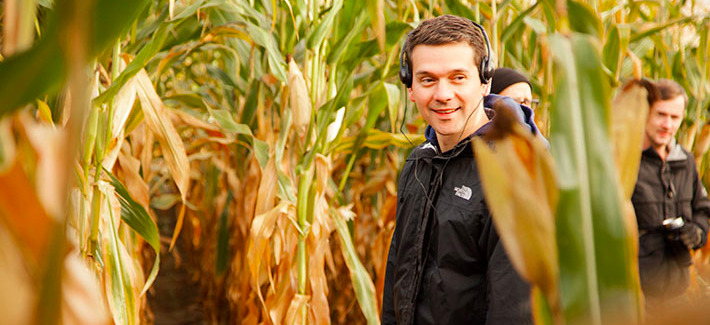 True Detective fans have been anticipating a redeeming third season for the crime thriller series after a rushed, disappointing second season couldn't live up to the greatness of the first season, made great by the writing of Nic Pizzolatto and the direction of Cary Fukunaga. The hiring of Green Room and Blue Ruin director Jeremy Saulnier gave us hope that True Detective would return to form, but it appears there may have been some trouble on set, resulting in the director leaving before finishing all his episodes.Variety has word on Jeremy Saulnier leaving True Detective season three after completing the first two episodes of the third season. The filmmaker was initially hired to direct the first three episodes, and now veteran TV director Daniel Sackheim is stepping behind the camera to take over where Saulnier left off, and he will be dividing the remaining six of eight total episodes with Nic Pizzolatto, who is making his directorial debut on the show this season.
This season of True Detective follows Mahershala Ali (Moonlight) and Stephen Dorff (Blade) as the two state police detectives who become embroiled in a decades-long mystery which begins to take an emotional and physical toll on them both. Carmen Ejogo (Selma) will be playing an Arkansas schoolteacher with a connection to two missing children while Scoot McNairy (Argo) will play a father who suffers a terrible loss that ties his fate to that of the two investigators, and Ray Fisher (Justice League) will play Ali's son.
So why is Saulnier leaving earlier than expected? HBO is citing scheduling conflicts as the reason for the filmmaker leaving before finishing the assignment he was hired for. Shooting on the first two episodes ran behind schedule, meaning production on the third was going to run longer than expected, supposedly making it difficult for Saulnier to prepare for possible future projects. However, Saulnier has yet to commit to a schedule for any specific project (though he is supposed to direct a movie for Netflix), so that sounds like damage control more than anythng.
The real reason seems to be that writer Nic Pizzolatto clashing with Saulnier due to a difference of opinion on the three episodes. That detail combined with the fact that a director like Daniel Sackheim was brought in to work on the show indicates that the season clearly needed a veteran hand to help it along. And bringing in a director who has worked on some of the likes of Better Caul Saul, The Americans, Game of Thrones, House M.D., and The X-Files only affirms that.
This is worrisome for a show that originally benefited from having such a skilled auteur behind the camera for the first season. But then again, if Saulnier and Pizzolatto weren't getting along, then that's not good for the show either. Since Pizzolatto has been with the show for all three seasons, it only makes sense that Saulnier is the one to leave early.  We won't know whether this gets the show back on track until we see the third season, but that won't happen until sometime in 2019.