Theme Park Bits: The Great Lego Race VR Coaster Video, Halloween Horror Nights Early Buy One, Get One Special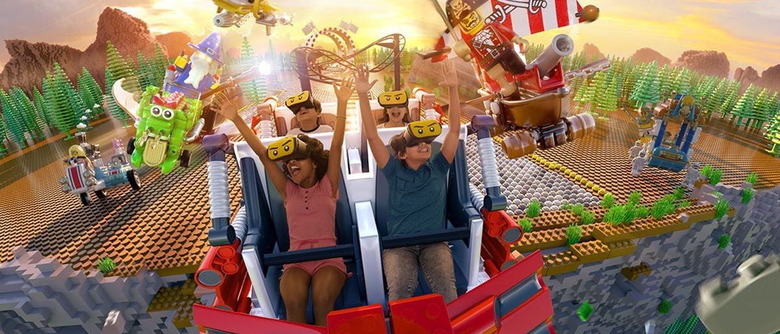 In this edition of Theme Park Bits:
See video of the virtual reality animation for the new Great Lego Race coaster at Legoland Florida.
What does it mean if you hear a Cast Member say "Code H" at the Magic Kingdom?
Millennial pink isn't just for millennials ... soon everyone can show their Disney pride with it.
Universal Orlando has an early buy one, get one ticket special going for Halloween Horror Nights.
Rides don't always change for the better, but one Disney success story celebrated an anniversary this week.
And more!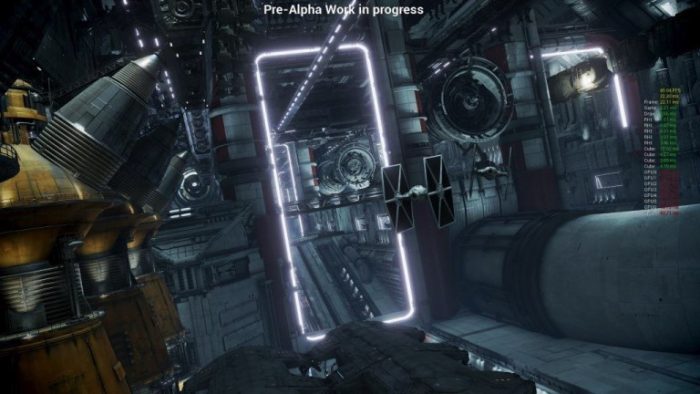 Some details have surfaced over on Making Star Wars this week about the technology being used for the upcoming Millennium Falcon flight simulator at Star Wars: Galaxy's Edge. Soon you, too, will be able to mug for the camera and say, "Chewie, we're home."
The Great Lego Race, a new virtual reality roller coaster, has opened at Legoland Florida and it looks pretty darn cool. In the video above, you can see the full animation that riders will experience when they slip on their VR goggles and get moving on the coaster track.
Main Street, U.S.A. just completed its refurbishment at @Disneyland park! Check out the stunning details here: https://t.co/0xr4xSuMHy pic.twitter.com/O4hd3y6hoM

— Disney Parks (@DisneyParks) March 29, 2018
Speaking of tracks, there's a newly refurbished one with horse-drawn streetcars moving down it once again on Main Street, U.S.A. at Disneyland. Incidentally, has horse manure ever fell on anyone's foot parade at Disneyland? Guests at the Magic Kingdom do occasionally need to sidestep the stuff and there's even supposedly a code for it among Cast Members: Code H, meaning "horse manure on Main Street."
This April, guests can step into spring with stylish new accessories & apparel from Disney Parks containing a perfect color for the season – millennial pink! https://t.co/HmltaKVWUt pic.twitter.com/UcxhFDlTJ1

— Disney Parks (@DisneyParks) March 28, 2018
If you're behind on fashion trends, it may come as news that "millennial pink is one of the hottest colors on the market." However, get ready to see a whole lot more of that color at Disney parks, as millennial pink mouse ears, spirit jerseys, and MagicBands are set to invade Disneyland Resort and Walt Disney World this spring.
Disneyland's Redd Rockett's Pizza Port Will Become Pizza Planet from Toy Storyhttps://t.co/ZQZACdbl9D

— WDW News Today (@WDWNT) March 23, 2018
Here's another question for Disneyland parkgoers: was the food at Redd Rockett's Pizza Port as bad as WDW News Today makes it out to be? Whatever the answer, the venue is now changing to "Alien's Pizza Planet — A Better Place," just in time for Pixar Fest.
The new name references a line of the Little Green Men in the Toy Story movies, as they were being carried away by their crane-game god, the Claw: "Farewell, my friends. I go on to a better place." Yet the new name also clearly serves the double effect of promising better food.
Disney's Scaffolding Adventure (soon to be Pixar Pier)! pic.twitter.com/Wl5OZfXCWo

— Matt Martin (@missingwords) March 25, 2018
Over at Disney California Adventure, a fair bit of scaffolding has been erected now as the park continues to convert its former Paradise Pier into Pixar Pier.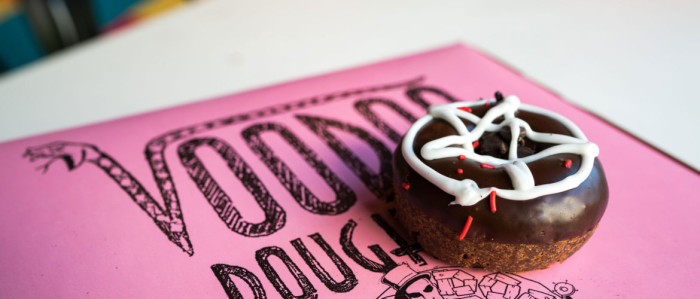 Forget the Iron Chair ... are you ready to saddle up on a throne made of doughnuts? Voodoo Doughnut is now open for preview at Universal CityWalk Orlando. According to the Universal Orlando blog, "the shop will be open on a limited, unscheduled basis" during this time. No word yet on when the official grand opening will be, but this branch of the popular doughnut chain will, in fact, boast its own exclusive doughnut throne.
Someone, please make a YouTube video for Universal Orlando Resort in the style of the Game of Thrones title sequence. A three-dimensional map with Voodoo Doughnut rising out of it to that show's theme tune is something the world absolutely needs.
BREAKING: #HHN28 is coming select nights from Sep 14-Nov 3.

Get tickets and packages at https://t.co/Apy5JyW22E. pic.twitter.com/Urz3I9bQIC

— Halloween Horror Nights (@HorrorNightsORL) March 29, 2018
Who remembers the song "YOLO" by The Lonely Island? "You only live once. The battle cry of a generation." While we're on the subject of acronyms, who can pinpoint the exact time when "BOGO" entered the English language? Central Floridians, at least, use the latter of these goofy words with perfect impunity now, as if every learned individual should know what BOGO means.
Anyway, YOLO. Yes indeed, YOLO, so BOGO for Universal Orlando's Halloween Horror Nights 2018. The resort now has a buy one, get one night free special running for tickets (hence the badinage about BOGO here.) This limited-time offer only lasts until June 6, so if you want to take advantage of it, you'll need to get a good head start on planning your Universal trip for later this year.
What a difference a theme song can make. Fans are always up in arms whenever Disney makes significant alterations to any of its rides. Case in point: the recent redhead debacle with Pirates of the Caribbean. In Tokyo DisneySea, however, there is one ride that shows change can actually be for the better sometimes.
If you're not familiar with Sindbad's Storybook Voyage, this is an attraction that Disney Tourist Blog has labeled a contender for "Disney's Best Modern Dark Ride." Yet it wasn't always so back when this meandering boat ride was called Sindbad's Seven Voyages.
It's been over ten years now since Sindbad's underwent major retooling to become the ride that it is today. The modern incarnation of the attraction celebrated another successful year of operation on March 29. Some key components put into place with this updated version were a new clean-shaven face and cute tiger cub sidekick for Sindbad; a new lighter tone for the scenes of mermaids, mythic birds, giants, monkeys, and whales that the seafaring hero encounters; and most importantly, a new infectious theme song by Alan Menken, the composer behind The Little Mermaid, Beauty and the Beast, and Aladdin.
You can compare the new and old version of the ride in the videos above. There's also a nifty gallery of ride photos to be found here. It just goes to show: change isn't always a bad thing.