John Mulaney Is Hosting 'Saturday Night Live' In April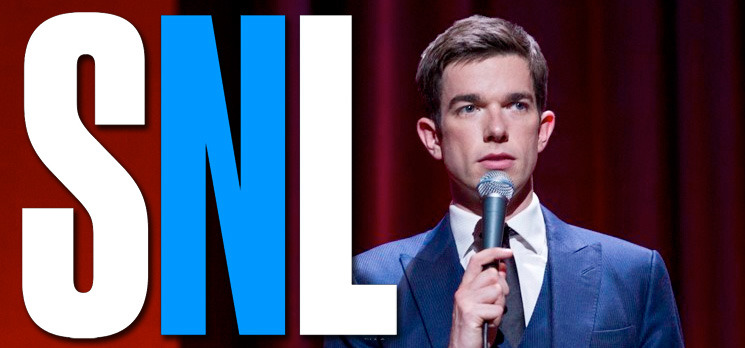 Earlier this month, Saturday Night Live closed out a trio of shows with a bang thanks to the comedic talents of former cast member Bill Hader taking on hosting duties for a second time. But next month, one of SNL's former writers who was never officially a cast member will be taking the stage as host, which is a very rare occurrence in Studio 8H.
John Mulaney, who has a new stand-up special coming to Netflix in May, will make a return to Saturday Night Live to host for the first time. Funnily enough, Mulaney just made an appearance on SNL when Bill Hader brought back Stefon to Weekend Update, a character they both created during their tenure on the sketch series.
NBC announced John Mulaney will be hosting on April 14. Mulaney previously wrote on SNL for six seasons, but you might recognize him more more from his stand-up specials The Top Part, New in Town, The Comeback Kid, and Kid Gorgeous. Or perhaps you've seen him on his Broadway show Oh, Hello which he co-starred in with Nick Kroll, both playing characters that originated on Kroll Show and recently appeared on Portlandia.
Here's his most recent return to Saturday Night Live in a cameo on Weekend Update:
Mulaney is easily one of the most talented comedians to come out of Saturday Night Live who was never a cast member, though he did appear on SNL a handful of times as a Weekend Update correspondent and other small appearances. He's one of the few writers to ever return to host without having been a cast member, along with other comedians such as Larry David and Conan O'Brien.
Joining Mulaney on Saturday Night Live on April 14 will be Jack White as musical guest. More than likely he'll just be performing as a solo musical act, but I wish that White would partake in a sketch or two, or even host himself one day. You may not know or remember this, but Jack White played Elvis Presley in the sorely underrated music biopic spoof Walk Hard: The Dewey Cox Story, and he was quite fantastic in the brief appearance:
We'll be back next weekend with another Saturday Night Live review after Chadwick Boseman hosts on April 7.