'Kodachrome' Trailer: Ed Harris Looks To Develop Photos And A Bond With Jason Sudeikis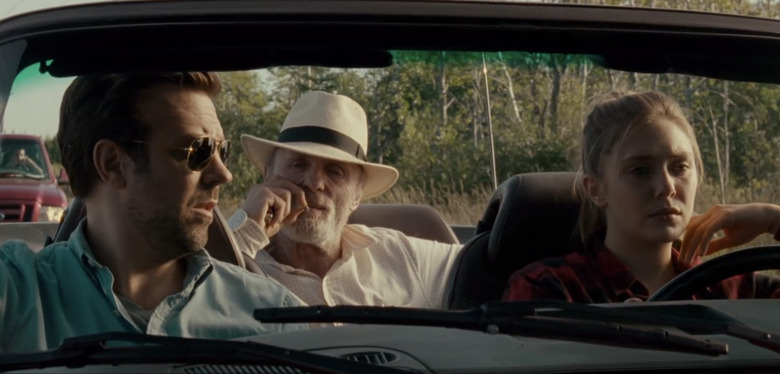 Another day, another trailer for one of the 700-plus movies and TV shows coming to Netflix this year. Except this selection from the Toronto International Film Festival looks better than the usual Netflix original movie.
Kodachrome premiered at TIFF last year to mostly warm reactions, and now the road trip dramedy starring Jason Sudeikis, Ed Harris and Elizabeth Olsen has a full trailer to entice you to watch this one from the comfort of your couch.
Watch the Kodachrome Trailer
As the trailer briefly explains, the title comes from a certain brand of color film that has been phased out for years now. The Kodachrome film had become so rare that there was only one photo lab left in the entire United States that could process it. The road trip is driven by one famous photographer's (Ed Harris) desire to develop his last few rolls of film before he dies. But the trip might also serve as a way for him to develop his estranged relationship with his son (Jason Sudeikis).
After playing at TIFF, the movie was mostly praised despite feeling like familiar film festival fare. Andrew Barker at Variety called the film "an entirely watchable if entirely by-the-numbers throwback to the sweet-and-sour Sundance-style indie films of yore." Meanwhile, Kate Erbland at IndieWire gave one of the stars a lot of credit for making the movie work, "It's Sudeikis, once again pushing away from his comedic roots into darker spaces, who carries the film. At first blush, his fast-talking smooth operator who is forced to find his own humanity seems like a standard Sudeikis role, but Kodachrome and Sudeikis reach for more."
The film is directed Mark Raso (Copenhagen) and written by Jonathan Tropper (Banshee), inspired by a New York Times article written by A.G. Sulzberger. Here's the official synopsis for Kodachrome from the TIFF program guide:
Matt Ryder (Sudeikis) is only in his thirties, but technology is already wreaking havoc on his life. An A&R man for a boutique record label, Matt's feeling increasingly irrelevant as the music business grows more shallow and myopic. The digital age also feels like the end of an era for Matt's father, Ben (Harris), a famous photographer who shoots exclusively on celluloid. Following a grim diagnosis for Ben and after years of estrangement, Matt is approached by his father's assistant, Zooey (Olsen), to accompany them on a personalized pilgrimage. Ben wants to take one last trip to Parsons, Kansas, so he can develop some rolls of film before the world's only remaining Kodachrome lab closes its doors. Matt reluctantly agrees, but harbours no illusions that he and the old man will ever resolve their grievances.
Kodachrome hits Netflix on April 20, 2018.