'Captain Marvel' Bringing Back Clark Gregg As Agent Coulson And A Couple 'Guardians Of The Galaxy' Actors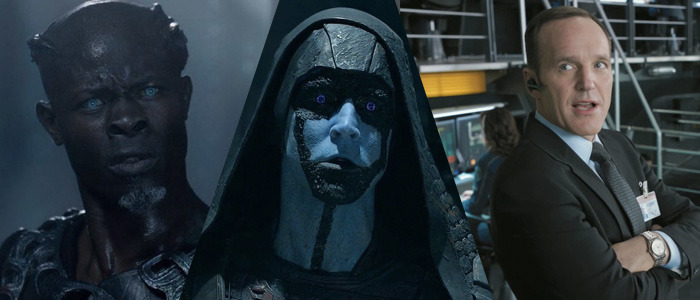 Captain Marvel has been shooting for a few weeks now, but Marvel Studios has just sent out a press release announcing the start of production. That press release also includes the full cast for the film starring Brie Larson as the new cosmic superhero of the title, and it includes a couple characters from Guardians of the Galaxy and a beloved character we haven't seen since he was killed off in The Avengers in 2012. In fact, all three of these characters are dead in the current Marvel Cinematic Universe, but Captain Marvel is a prequel set in the '90s. All bets are off.
Get the lowdown on the full Captain Marvel cast below.
We already knew Samuel L. Jackson was returning as Nick Fury, this time with both of his eyes still in place, but some other familiar faces from the Marvel Cinematic Universe are coming with him. In fact, Fury's loyal right-hand man, Agent Coulson, will be returning to the MCU, with Clark Gregg making a highly anticipated return to the big screen. This will make Marvel's Agents of SHIELD fans (yes, they're out there) pretty happy, even though Captain Marvel is a story that takes place in the past and won't reveal to the Avengers that Coulson is still alive.
Two other interesting additions are that of Lee Pace and Djimon Hounsou. Though the press release doesn't mention who they are playing, Guardians of the Galaxy fans will know that Lee Pace played the Kree villain Ronan the Accuser and Djimon Hounsou played his henchman Korath the Pursuer. Considering Captain Marvel has direct ties to the Kree, it only makes sense to bring back a villain that fans are already familiar with. Meanwhile, having Hounsou come back as Korath will be immensely fun.
Otherwise, Ben Mendelsohn, Jude Law, Gemma Chan and Lashana Lynch (who recently replaced a departed cast member) have all been confirmed to appear in the movie. They'll also be joined by Algenis Perez Soto (Sugar), Rune Temte (Eddie the Eagle), and McKenna Grace (I, Tonya).
Here's a photo with Brie Larson in full pilot gear next to Brigadier General Jeannie Leavitt, 57th Wing Commander: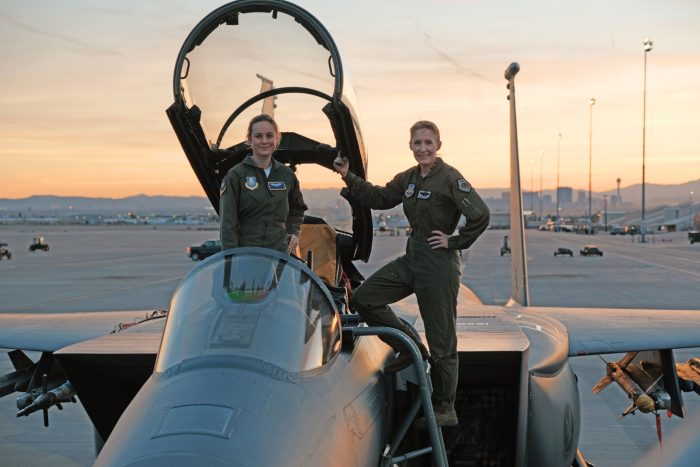 As for the film's story, no new details have been revealed, but here's the brief synopsis:
"The story follows Carol Danvers as she becomes one of the universe's most powerful heroes when Earth is caught in the middle of a galactic war between two alien races.  Set in the 1990s, "Captain Marvel" is an all-new adventure from a previously unseen period in the history of the Marvel Cinematic Universe."
Captain Marvel is slated to hit theaters on March 8, 2019.
The full press release from Marvel Studios can be read below:
Marvel Studios has begun principal photography in Los Angeles, California, on its newest film, "Captain Marvel." The production is shooting in and around the greater Los Angeles area, which will also serve as the production base for the film. The production will also shoot on location in Fresno, California, as well as locations in Louisiana, including Baton Rouge and New Orleans.
Set for release in the United States on March 8, 2019, Marvel Studios' "Captain Marvel" is directed by the writing/directing team of Anna Boden and Ryan Fleck, whose credits include "Mississippi Grind" and "Half Nelson." An all-star collective of accomplished writers penned the screenplay, including Meg LeFauve ("Inside Out," "The Good Dinosaur"),  Nicole Perlman (upcoming "First Man," Marvel Studios' "Guardians of the Galaxy"), Geneva Robertson-Dworet ("Tomb Raider," upcoming "Sherlock Holmes 3"), Liz Flahive & Carly Mensch ("Glow"), and Anna Boden & Ryan Fleck.
The film stars Academy Award® winner Brie Larson ("Room," "Kong: Skull Island"), Samuel L. Jackson (Marvel Studios' "Avengers: Age of Ultron," "The Hateful Eight"), Ben Mendelsohn ("Rogue One: A Star Wars Story," "Ready Player One"), Djimon Hounsou ("Blood Diamond," Marvel Studios' "Guardians of the Galaxy"), Lee Pace ("The Book of Henry," Marvel Studios' "Guardians of the Galaxy"), Lashana Lynch ("Brotherhood," "Fast Girls"), Gemma Chan ("Humans," "Fantastic Beasts and Where to Find Them"), Algenis Perez Soto ("Sambá," "Sugar"), Rune Temte ("Eddie The Eagle," "The Last Kingdom"), McKenna Grace ("I, Tonya," "Gifted"), with Clark Gregg ("Live by Night," "Marvel's The Avengers"), and Jude Law ("Spy," "The Grand Budapest Hotel").
Kevin Feige is the producer of Marvel Studios' "Captain Marvel." Louis D'Esposito, Victoria Alonso, Jonathan Schwartz, Patty Whitcher and Stan Lee are executive producers, with Lars Winther serving as co-producer/first assistant director and David Grant serving as co-producer.
Directors Anna Boden and Ryan Fleck's creative team includes director of photography Ben Davis ("Three Billboards Outside Ebbing Missouri," Marvel Studios' "Doctor Strange,"), Oscar®- nominated production designer Andy Nicholson ("Gravity," "Jurassic World: Fallen Kingdom"), costume designer Sanja Hays ("The Fate of the Furious," "Star Trek: Beyond"), editors Elliot Graham ("Steve Jobs," "Molly's Game,") and Debbie Berman (Marvel Studios' "Black Panther," "Spider-Man: Homecoming"), two-time Oscar nominee, visual effects supervisor Christopher Townsend (Marvel Studios' "Avengers: Age of Ultron" and "Guardians of the Galaxy Vol. 2"), stunt coordinator Jim Churchman (Marvel Studios' "Doctor Strange" and "Ant-Man" ) and six-time Oscar nominee, special effects supervisor Dan Sudick (Marvel Studios' "Avengers: Infinity War" and "Black Panther").
Based on the Marvel comic character first appearing in 1968, "Captain Marvel"  continues the lineage of epic big-screen adventures chronicled in "Iron Man," "The Incredible Hulk," "Iron Man 2," "Thor," "Captain America: The First Avenger," "Marvel's The Avengers," "Iron Man 3," "Thor: The Dark World," "Captain America: The Winter Soldier," "Guardians of the Galaxy," "Avengers: Age of Ultron," "Ant-Man,"  "Captain America: Civil War," "Doctor Strange," "Guardians of the Galaxy Vol. 2," "Spider-Man: Homecoming," "Thor: Ragnarok" and, most recently, "Black Panther."
With the release of "Black Panther" in February, Marvel Studios continued its unprecedented success. At the time of release, the film recorded the second biggest opening weekend of all time with $202 million and is on track to the become the highest grossing superhero film at the domestic box office. The film has grossed over $1.1 billion worldwide to date. "Black Panther" propelled the Marvel brand's #1 domestic box-office opening streak to a record-breaking 19 consecutive films.