'Room' Star Jacob Tremblay Joins Some 'Good Boys' For A Little R-Rated Comedy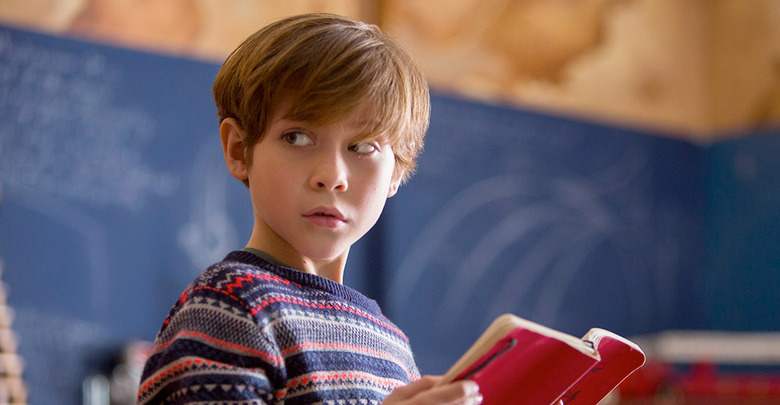 After breaking out in the hit drama Room, young Jacob Tremblay has become quite the popular little actor with audiences. His run on the red carpet during awards season for the aforementioned Oscar-winning film make him a beloved celebrity and his recent turn in the tearjerker Wonder made him even more endearing. But now he's going to get a little naughty.
The 11-year old Tremblay has signed on to star in Good Boys, a new R-rated comedy at Universal Pictures about a group of four 12-year old boys who play hooky from school and "embark on a day-long adventure fraught with comedic peril." And the talents on the page and behind the camera offer some hope that this will be a hilarious romp.
Variety has news on Good Boys, which Universal has just picked up from writers Lee Eisenberg and Gene Stupnitsky, who you might know as writers, directors and producers of dozens of episodes of the hit NBC comedy The Office. The duo will be making their feature directorial debut on the project.
When it comes to writing, Eisenberg and Stupnitsky have limited experience on the big screen. Their only feature screenplays we've seen in theaters have been Bad Teacher and Year One, neither of which inspires an immense amount of confidence (even though the former was a box office hit superior to the latter in every way). The duo was also behind a draft of Ghostbusters 3 that clearly never got made.
In addition to their work on The Office, they also created and wrote Stephen Merchant's underrated HBO comedy series Hello, Ladies. Television has been a better showcase for their talents so far – they've yet to bring their small screen magic to the big screen in a truly satisfying way. Maybe that will change with Good Boys.
Seth Rogen, Evan Goldberg and James Weaver will be producing the movie through their Point Grey production banner, which shouldn't be surprising since Variety describes the movie as being in the same comedic vein Superbad and Sausage Party. Good Universe's Nathan Kahane will also be executive producing.
While there's undoubtedly laughs to be mined from seeing someone as adorable as Jacob Tremblay get a little risque, hopefully the script delivers more than raunchiness. Now we just have to wait and see what other young actors get cast alongside Jacob Tremblay. Maybe some of the youngsters from Stranger Things or IT could end up joining the crew. Stay tuned.