Exclusive: Find All The Easter Eggs At Ape Meets Girl & Vance Kelly's Fantastic New Art Show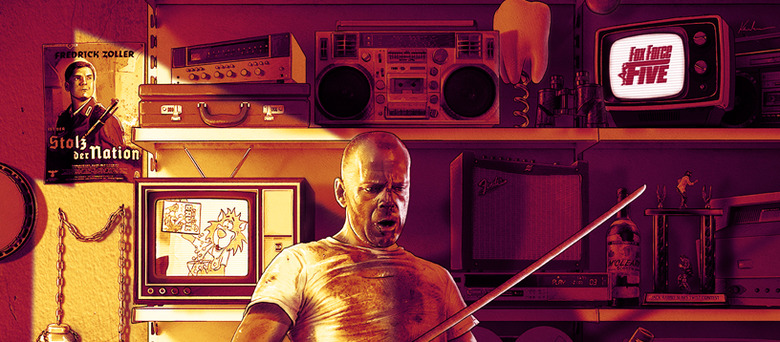 Hero Complex Gallery is doing spring the right way with the kind of Easter egg hunt that cinephiles like you and me enjoy the most.
Artists Ape Meets Girl (AKA Kevin M. Wilson) and Vance Kelly are teaming up for a special gallery show called Easter Eggs, and if you're familiar with their artwork, like the Gremlins print we featured not too long ago, than you know exactly what to expect. Their artwork pays tribute not just to a single movie but dozens of movies by laying Easter eggs referencing other films throughout.
Hero Complex Gallery is playing this show pretty close to the vest, but they've exclusively given us two new pieces that will be debuting. One will make sci-fi fans very happy while the other one will be a must-have for any Quentin Tarantino Afficionado.
First up, here's Ape Meets Girl's Pulp Fiction piece from the Hero Complex Gallery Easter Egg art show:
Even though this is a Pulp Fiction print, if you look around the shop, you'll find a slew of props, references and Easter eggs from all of Quentin Tarantino's other movies. There's a poster on the wall for the Nazi propaganda film from Inglourious Basterds, a license plate that says "PSY WGN" as a reference to the Pussy Wagon truck from Kill Bill Vol. 1, a wanted poster for the Gecko brothers from From Dusk Til Dawn, some Red Apple cigarettes on the counter and tons more.
The one on the left is the regular edition while the one on the right is the variant. We don't have the edition size or price on this particular pieces, but that information will be available when the online sales begin on Thursday after the gallery opening on Wednesday, March 21.
For all you sci-fi fans there's Vance Kelly's crowded Sci-Fi Cantina piece with tons of familiar faces: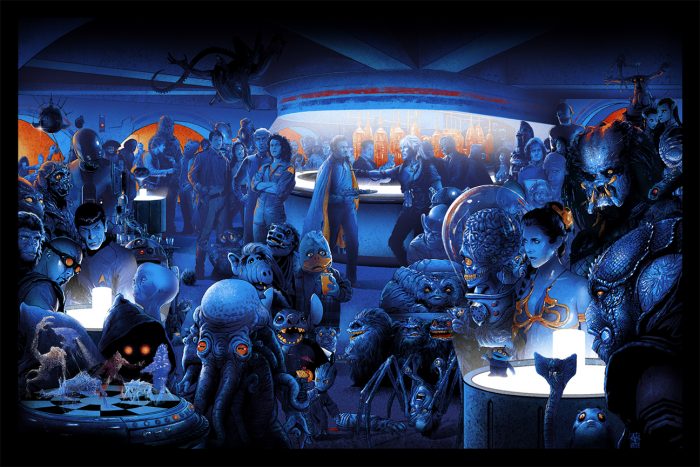 There are endless characters from all your favorite sci-fi movies and TV shows in this bar. Yes, there are plenty of creatures from the Mos Eisley cantina from Star Wars, but you'll also spot Ripley from Alien, Barf from Spaceballs, Frank from Men in Black, a little toy alien from Toy Story, Mork from Ork from Mork and Mindy, Jake and Neytiri from Avatar, Dr. Lazarus from Galaxy Quest and tons more. There's even a little Porg in there from Star Wars: The Last Jedi.
Plus, there will be artist proof prints of the previously released Gremlins and Blade Runner prints:
As for the rest of the pieces, you'll have to wait and see them when the entire gallery is available online this Thursday. Or you can go to the gallery opening yourself at Hero Complex Gallery on Wednesday at 2020 South Robertson Blvd in Los Angeles. Both Kevin M. Wilson and Vance Kelly will be in attendance to sign prints, and they'll also be at WonderCon to sign prints that will be on sale at the show, too.
We'll be sure to have a post collecting all the other new pieces (we're pretty sure there's one from Anchorman: The Legend of Ron Burgundy on the way), so stay tuned.