'Silicon Valley' Creator Says T.J. Miller ''Just Wasn't Working'' On The HBO Series Anymore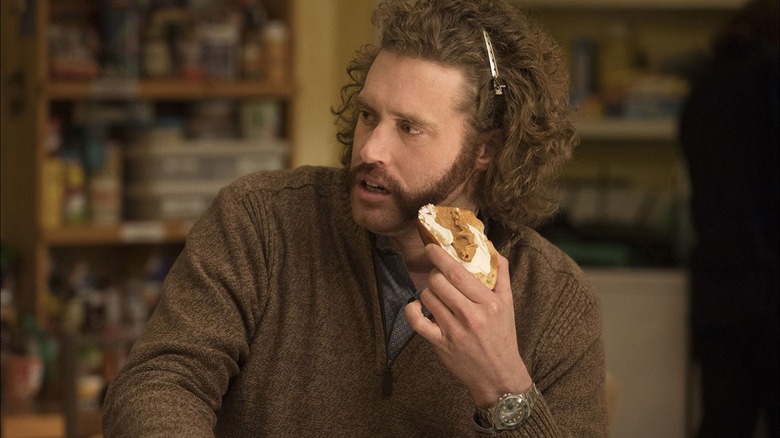 HBO
Last May, we learned that comedian T.J. Miller would not be returning for the fifth season of Mike Judge's HBO comedy series Silicon Valley. About a month later, there was an extended discussion with Miller about why he left the show and how the tech world comedy series would continue without his character, the bombastic, obnoxious Erlich Bachman. However, it sounds like there may have been more going on behind the scenes that resulted in the supposedly mutual decision for Miller to leave the series.
In a new feature on the fifth season of Silicon Valley, coming to HBO later this month, Mike Judge opened up about what happened with T.J. Miller that resulted in him leaving the show. His departure didn't have anything to do with the sexual assault allegation levied against him since the announcement about Miller leaving the show came months before that surfaced. Instead, it was Miller's behavior on set and his perceived propensity to partake in certain vices that made it difficult and sometimes even impossible to work with him. And when you have a cast and crew relying on you to be ready to work, that just doesn't fly.
The Hollywood Reporter sat down with Mike Judge to discuss Silicon Valley at large, but first they wanted to get the elephant in the room out of the way. Judge offered up this when asked about the situation:
"There are a lot of different ways you can find out somebody doesn't want to do the show anymore. And it's not fun to work with someone who doesn't want to be there, [especially when] they're one of the main people and you've got however many crewmembers and extras and people who are [not paid as well] and they're all showing up before 7 a.m., and then are just like, 'Oh, OK, we're not shooting today.'"
Other insiders and crew members told THR that Miller was often late to table reads and shoots, forcing schedules to be completely thrown off. Additionally, he would arrive being unfamiliar with the script, falling asleep in between takes. Although many people who talked about Miller's work on the show praised his talents, they also acknowledged that he became too difficult to work with, and the trade off just wasn't enough to warrant keeping him around. Judge says, "It just wasn't working."
Aside from the practical issues, writers were having trouble figuring out the best way to keep Erlich around Pied Piper. He just didn't seem to serve a purpose in the story anymore. Plus, removing Erlich from the equation would force other characters to evolve and change, and it would also allow the rest of the cast to step up and fill the void.
Executive producer Alec Berg came up with a little sports metaphor to discuss Miller's departure and how the cast would move forward:
"These guys are the Golden State Warriors of comedy. So, it's like, yeah, we've lost Andre Iguodala but we still have Steph Curry and Kevin Durant and Klay Thompson and some other guy on the Warriors whose name I don't know. But I don't feel like we can't win championships anymore because we've lost. T.J. wasn't LeBron."
What Does T.J. Miller Have to Say?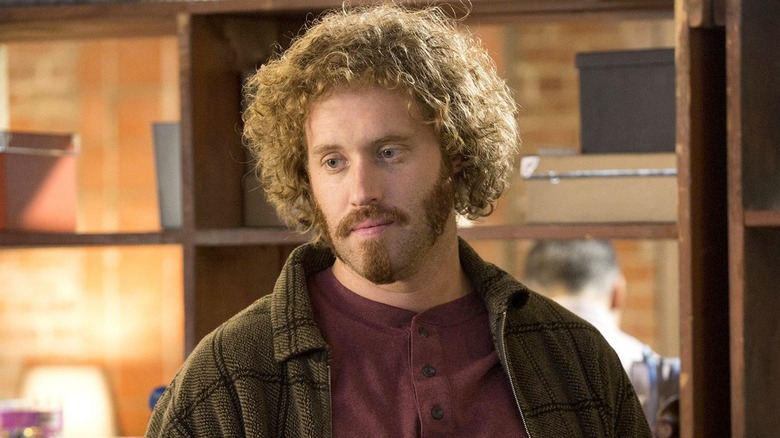 HBO
The Hollywood Reporter reached out to T.J. Miller for his side of the story, and he seems to be self-aware enough about the difficulties he created. But from his perspective, it wasn't substance abuse that cause this behavior, but rather overworking himself because of his passion for the stand-up comedy side of his career:
"In real life, I'm not always high like Erlich is. And this will blow your readers' minds, but I'm not high when I work because it gets in the way of the comedy. I also am not a guy who's blackout-drunk, bumping into things on set. ... What was occurring was I was out doing stand-up all the time, even if it meant I only got three hours of sleep. So, the thing I have a problem with? It's pushing myself to do too much."
Though it's customary for those with substance abuse problems to deflect and not address them directly, Miller's dedication to stand-up has always been his modus operandi. It's the part of his career that he's consistently the most excited about while things like movies and TV shows allow him to keep it up and also fuel his material. This is something he's talked about extensively on the podcast You Made It Weird with Pete Holmes and various other interviews.
Miller also previously learned that he suffered from a neurological condition, which might explain some of his behavior:
That doesn't necessarily mean that Miller doesn't also have problems from substance abuse, but it sounds like it might be more of a cocktail (no pun intended) of unintentional self-destruction from working himself too hard. In fact, stand-up may also contribute to it thanks to all the nights out on the road, where the only thing comedians do is hang out at bars before and after shows.
Miller doesn't seem to be too self-involved as far as having an inflated sense of ego. In response to being told about that sports metaphor Alec Berg came up with, Miller asked to have it repeated before laughing hysterically and saying, "Oh, that's great. And it makes me like him more [because] he's so good at being an a**hole."
Is This the End for T.J. Miller?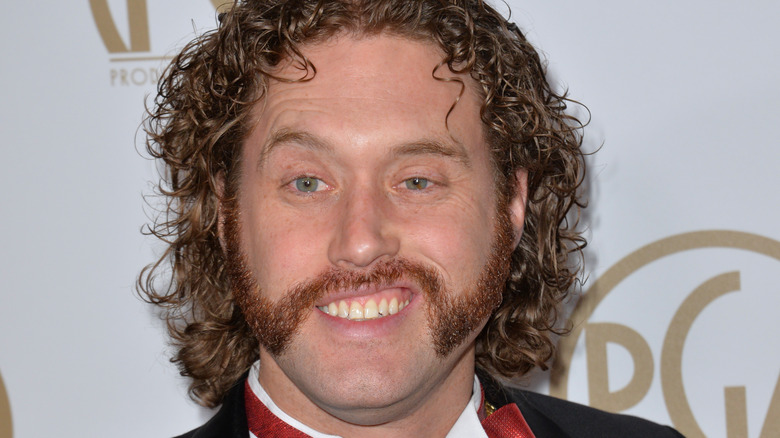 Jaguar PS/Shutterstock
T.J. Miller has always behaved rather eccentrically. We're talking about a guy who went out of his way to create a viral audition tape to land a role in Yogi Bear 3D, and it worked. He's always looking for the next hilarious thing to do, even if it ends up being funny only to him. But that doesn't mean he's without some problematic behavior traits making his working environment more difficult then it needs to be.
Let's not forget that Miller also has a sexual assault accusation that was levied against him towards the end of last year. But he responded to the anonymous accusation by saying the woman in question "began again to circulate rumors online once [my and Kate's] relationship became public. Sadly she is now using the current climate to bandwagon and launch these false accusations again. It is unfortunate that she is choosing this route as it undermines the important movement to make women feel safe coming forward about legitimate claims against real known predators."
It appears, for now, the situation was murky enough to keep Miller from suffering the fate of other Hollywood figures accused of sexual assault. It's not up to us to decide whether these claims are true, but with multiple complaints about T.J. Miller's transgressions arriving on top of each other, it seems like he might need to make some changes or else risk losing his career.