'Legion' Season 2 Trailer: FX's Wacky And Amazing X-Men Series Is Back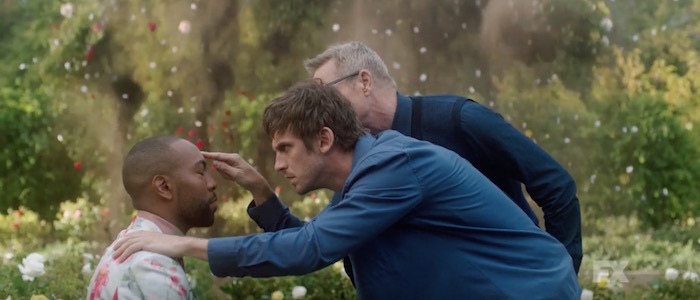 Remember X-Men: Apocalypse? No one does. That disaster has been wiped away by the triple whammy of Deadpool, Logan, and Legion, all of which prove that the X-Men are alive and well on the big and small screen. In fact, they've never been better. Filmmakers have realized Marvel's mutant characters offer a blank canvas for all kinds of wild and diverse storytelling. And they're taking advantage of it. Finally.
But no one does it better than Legion. FX's mind-bending superhero series was one of the most visually inventive and ambitious anythings to arrive in 2017 and the new trailer promises that the first season was just a warm-up. This thing looks nuts, and I wouldn't want it any other way.
Created and run by Fargo mastermind Noah Hawley, Legion is a superhero show unlike any other. Although Dan Stevens plays David Haller, a frequent X-Men antagonist and sometime antihero, the show isn't interested in traditional heroics. In fact, this is a show fascinated by the day-to-day lives of super-powered characters, whose abilities skew their perception of the world and each other. It's surreal and beautiful and terrifying and haunting and amazing.
And Hawley bends and shapes traditional narrative structure into pretzels and mazes and shapes you didn't think were possible for this kind of story. It's weird and wonderful and man-oh-man, you should be watching it.
Legion Season 2 Trailer
The Legion season 2 trailer is light on plot, but that's appropriate. This show has always been light on story and heavy on character and mood. It's less interested in providing definitive answers and more interested in asking the most fascinating questions. Even with the introduction of a proper villain (who spent most of season 1 lurking in the recesses of David's mind), Legion looks to be doubling down on its delightful eccentricities.
Hallucinatory nightmare scenes? Bizarre, slow-motion action? Elaborate dance numbers? That's my Legion.
In other words, I'm less interested in learning why David was abducted at the end of season 1 and more interested in just leaning back and getting pulled into the current of the journey. We'll know more when the show returns on April 3, 2018.
Legion follows the story of "David Haller," a man who believed he was schizophrenic but discovered he might be the most powerful mutant in the world. With help from a team of specialists, David harnessed his unique abilities and learned he'd been haunted by a malicious parasite. Now, David is all that stands in the way of "Amahl Farouk" from attaining infinite and world-ending power.