FilmStruck Adding Warner Bros. Classics To Streaming Library And New TCM Selects Collection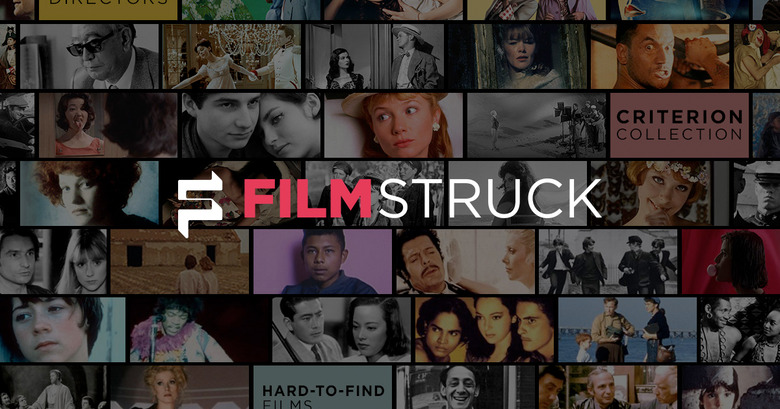 It's difficult to keep up with all the streaming services out there. For many viewers, Netflix and Hulu have enough content to keep them satisfied, perhaps with Amazon Prime or HBO Now tossed in there for good measure. But for cinephiles who are looking for more rare film findings, there's a fantastic option out there that's just gotten even better.
FilmStruck is a streaming service for movie lovers. The joint venture between the Criterion Collection and Turner Classic Movies delivers a curated rotation of arthouse, indie, foreign, cult and classic films. The subscription service has always included the option to access many titles from the aforementioned upscale collectible film collections, and now they're teaming with Warner Bros. Digital Networks to provide access to a slew of classic films from the Golden Age of Hollywood.
Today, FilmStruck announced the new deal with Warner Bros. Digital Networks that will provide subscribers with access to a bunch of films from the Warner Bros. classic film library at no additional cost. Some of these titles include, but are not limited to: Casablanca, Rebel Without a Cause, Singin' In the Rain, Citizen Kane, The Music Man, Bringing Up Baby, The Thin Man, Cat People, A Night At The Opera, An American In Paris, and Who's Afraid Of Virginia Woolf.
For anyone who was previously subscribing to the Warner Archive digital streaming service, that subscription will now be folded into a FilmStruck subscription effectively immediately.
TCM Select and More
There will also be plenty more titles available thanks to TCM Select, a new featured collection offering the most iconic films from the Golden Age of Hollywood. They'll also have introductions from Turner Classic Movies host Ben Mankiewicz that will have rare archival content and bonus materials that will only be available to FilmStruck subscribers.
Furthermore, FilmStruck will have a new lined-up of curated themes featuring some of these newly available classic movies. For example, if you've been dying to see all of the films that teamed up Fred Astaire and Ginger Rogers, you can do that. If you want to watch a bunch of film noir classics, here you go. Or if you want to binge movies featuring classic movie stars like Bette Davis or Spencer Tracy, this is your chance.
Just like Netflix and Hulu, the FilmStruck library changes every single month. You can check out a full list of the new titles coming to the service, incluidng some of the Warner Archive titles, over here.
This sounds like the perfect expansion of FilmStruck for cinephiles who were maybe on the fence about getting a subscription. Personally, I know I've been looking for more access to classic film libraries, and this may be the thing that convinces me to get a FilmStruck subscription.
How to Get FilmStruck
If this is your first time hearing about FilmStruck, here's how the subscriptions break down:
FilmStruck – $6.99/month – offering hundreds of constantly refreshed, hard-to-find and critically acclaimed arthouse, foreign and cult films, plus TCM Select, an exclusive rotating collection of the most iconic movies from the Golden Age of Hollywood, supplemented with hosted introductions, rare archival TCM content and bonus materials
FilmStruck + The Criterion Channel – $10.99/month – offering everything in the FilmStruck subscription plus unlimited access to Criterion's entire streaming library of films and special features, along with channel-exclusive original programming such as filmmaker profiles, master classes, and curated series by celebrated guests from the film world and beyond
Annual Subscription – $99/year for FilmStruck + The Criterion Channel (a $30 annual savings)
The FilmStruck app is easily accessible through Roku, Google Chromecast, Apple TV 4th generation devices, Amazon Fire TV, web, iOS and Android devices.