Toy Fair 2018: Check Out The Coolest Movie & TV Toys Coming To Shelves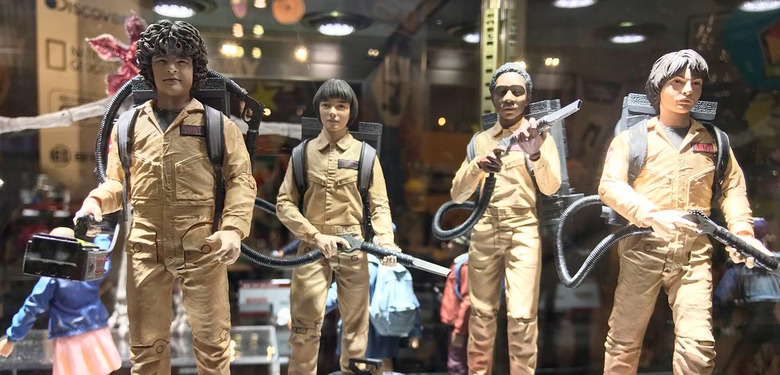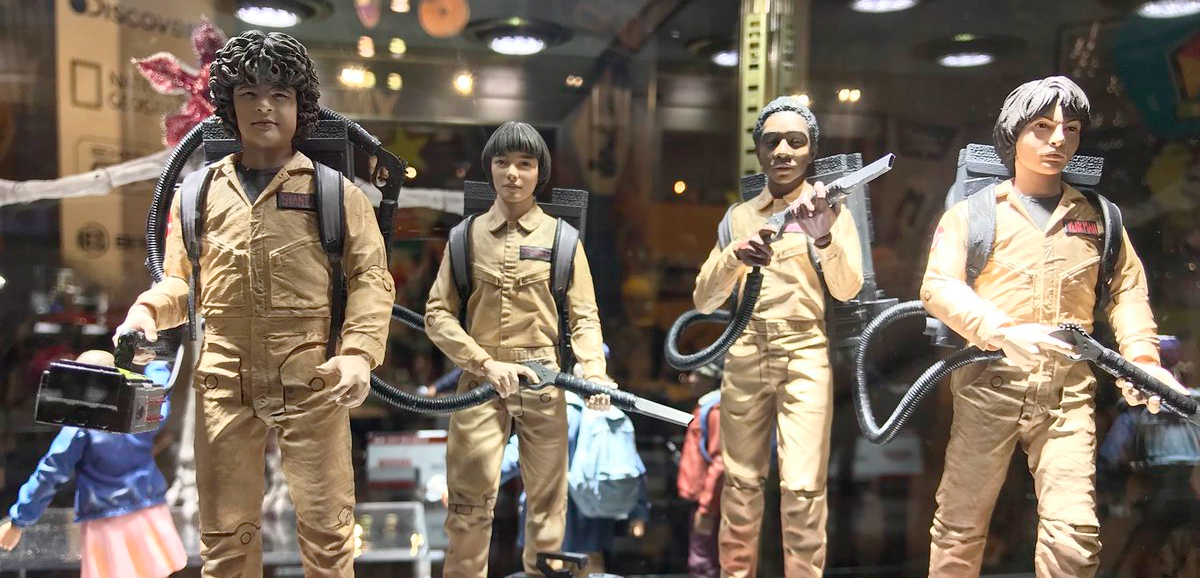 This past weekend, Toy Fair 2018 kicked off in New York City. Tons of new toys were shown off by a myriad of manufacturers, and that includes new action figures and collectibles from some of our favorite movies and TV shows. Here are the best reveals for new releases from Stranger Things 2, Ant-Man and the Wasp, Avengers: Infinity War, Pacific Rim: Uprising, Stephen King's It, Black Panther, Star Wars, The Real Ghostbusters, and more.
Below, check out the new toys that we're most excited about. Thanks to ToyArk for their extensive photos.
Stranger Things 2
McFarlane Toys already has an action figure line out for the first season of Stranger Things, but of course they're going to have a whole new set of them to collect for the second season. For fans of the punk rock Eleven with moody eye shadow and slicked back hair, there's a figure you'll want to get your hands on. There's also a new version of Dustin with his demogorgon pal Dart and an Upside Down version of Will.
But easily the best new action figure addition to the Stranger Things line-up is a four-pack of all the boys decked out in their Ghostbusters costumes from Halloween. There's even a homemade ghost trap as an accessory that comes with a little baby Dart inside of it. The new figures look to be arriving sometime in the fall
Star Trek
McFarlane Toys is also delivering some awesome new Star Trek figures this summer from two different generations of the long-running sci-fi franchise. There's a new Captain Kirk figure with a great likeness of William Shatner, and also Captain Jean Luc Picard from Star Trek: The Next Generation. Unfortunately, it doesn't look like he has alternate hands for him to perform the famous facepalm meme or his patented "make it so" hand gesture.
Outside of action figures, there's also an awesome replica of the phaser from the original Star Trek on the way. That'll be a good substitute for those who can't afford the more premium prop replicas sold by more high end collectible companies.
Stephen King's IT
Next up, NECA has two new figures bringing to life the different screen versions of Pennywise the Dancing Clown from the miniseries adaptation in 1990 and last year's big screen adaptation. Each comes with their own interchangeable hands and accessories, including their signature balloons. Both are 7-inch figures and are expected on shelves in August.
Marvel Legends Infinity Gauntlet
With Avengers: Infinity War on the way, there are plenty of new Marvel toys coming to shelves in the next few months. One of those items will be a Marvel Legends replica of the Infinity Gauntlet. It fits over your hand and is articulated so that you can form a fist with the glove. It also features electronic sounds and light-up Infinity Stones. If you're interested in seeing it in action, check out this video posted by Marvel's Ryan Penagos:
Oh no wait the #MarvelLegends Series Infinity Gauntlet from @HasbroNews is the greatest toy ever. #ToyFair2018 #InfinityWar pic.twitter.com/J9WPHBfzHh

— Ryan Penagos (@AgentM) February 17, 2018
The Infinity Gauntlet will be available this spring and will cost you $99.99.
Hasbro's Interactive Furreal Chewbacca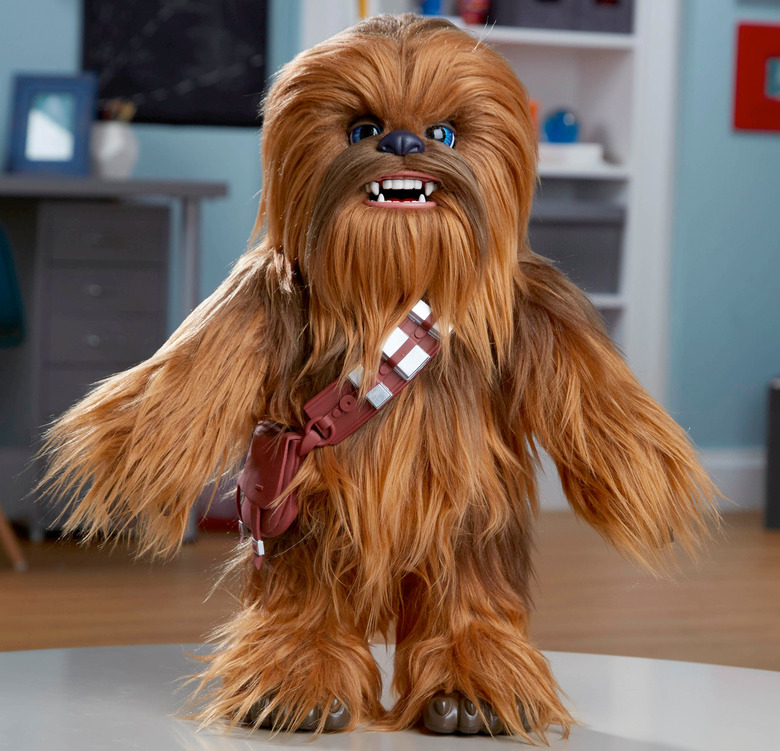 Looking to make Chewbacca a family friendly pet, Hasbro has a new interactive toy featuring more than 100 sound and motion combinations. He responds to external movements, included being petted, as well as sounds. It sounds a little hokey, but check out this guy in action:
This #Chewbacca toy from @HasbroNews is the greatest thing ever. #ToyFair2018 pic.twitter.com/RwOt945Kef

— Ryan Penagos (@AgentM) February 17, 2018
This new Chewbacca comes from the FurReal Friends line of toys, and it'll cost a pretty penny, with a price tag $129.99. It will be on shelves this fall, but that's a small price to pay for a Chewbacca who will fall asleep when you rock him in your arms like a baby.
Marvel Legends: The First 10 Years Figures
Since Marvel is celebrating the first 10 years of the Marvel Cinematic Universe, Hasbro is releasing some figures to commemorate some of the movies with figures that haven't been released in the Marvel Legends line before. Plus, there are some new versions of familiar characters, too.
As you can see, we're getting a figure of Ronan the Accuser from Guardians of the Galaxy, which has never been released before. Gwyneth Paltrow's Pepper Potts also gets her own action figure, complete with one of Tony Stark's Iron Man armor hands, and she comes with Ben Kingsley as the fake version of Mandarin. That Red Skull figure is cool as hell too, and it's nice to see Lady Sif getting her own figure with Thor.
As of now it's not clear when these figures are hitting shelves, but it will surely be sometime this year.
Marvel Legends Ant-Man and the Wasp
Aside from celebrating the first 10 years of the Marvel Cinematic Universe, there's a new line of figures coming for the release of Ant-Man and the Wasp coming later this year. That includes two new Marvel Legends figures for both Ant-Man and his new partner, The Wasp. Check them out:
Each of them will likely come with extra accessories, but they're not pictured here. I hope that head sculpt of Paul Rudd comes with the figure, because it's hilarious.
Marvel Legends Black Panther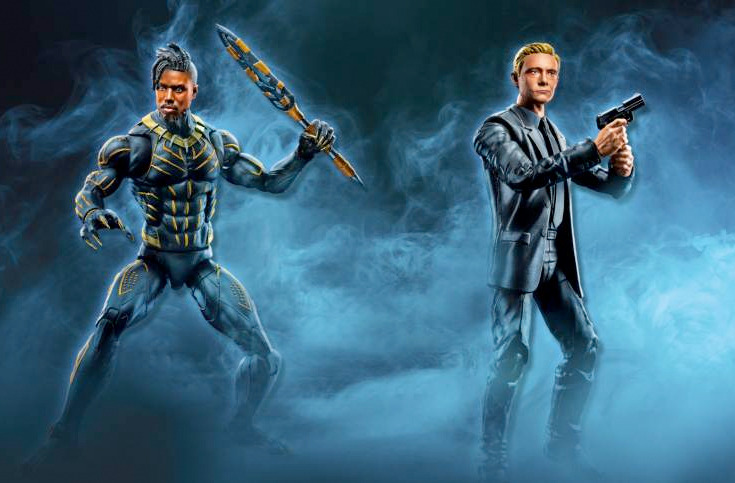 Even though there's a whole set of Black Panther figures in the Marvel Legends line-up, there are a couple that were apparently held back. There's a new version of Killmonger with his face revealed while wearing his own Black Panther suit, and Agent Ross (Martin Freeman) finally gets his own figure, though his hair doesn't look quite right since it's far more blonde than it appears in the movie. Still, they'll make a nice addition to the Black Panther figure ensemble.
Star Wars Black Series Figures
The Black Series of Star Wars figures from Hasbro continues to grow, and there are some fine additions coming this year. As you can see, there's a new Princess Leia from The Empire Strikes Back, a Gamorrean Guard from Return of the Jedi, CC-3636 (aka Commander Wolffe) from The Clone Wars, as well as Zuckuss the bounty hunter. These are easily the best quality Star Wars figures for their price, and I'm glad to see more of them.
Don't forget, there are also the new Solo: A Star Wars Story figures we featured a little while ago too.
Star Wars Force FX Riot Baton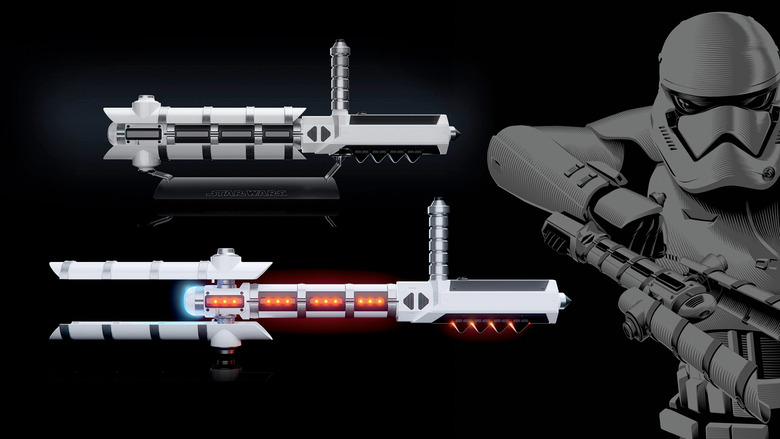 The signature weapon of a certain Stormtrooper became famous when he took on Finn armed with a lightsaber. It's certainly one of the cooler weapons to be given to a Stormtrooper, and this looks like a pretty slick little prop replica. It'll be awesome to yell traitor while spinning this baton around. Much like the Kylo Ren helmet and Poe Dameron pilot helmet, this is part of the Black Series line-up of prop replicas.
The Real Ghostbusters Figures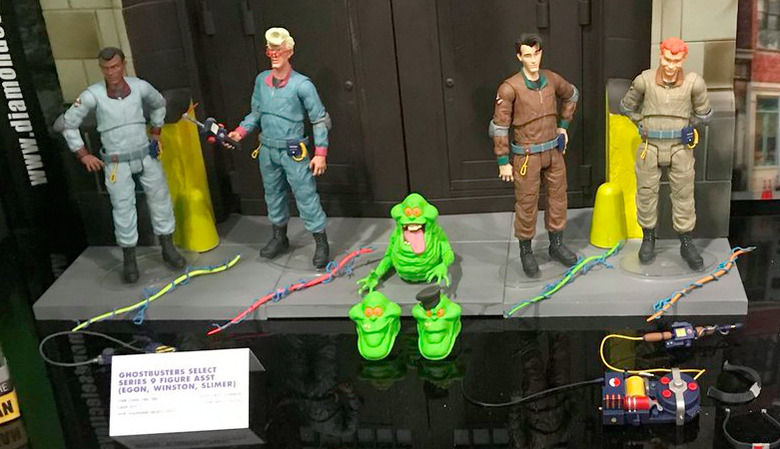 Diamond Select Toys is already knocking their Ghostbusters merchandise out of the park. Their first line of figures allowed fans to build an impressive diorama of the rooftop scene from the first film. A new line of figures from Ghostbusters II will allow fans to build the front of the Ghostbusters firehouse. But they're not done there, because now The Real Ghostbusters are getting their own new line of figures.
The animated version of the Ghostbusters are being turned into detailed action figures that look much better than any of the toys that were available for kids to get their hands on back in the late 1980s. They're all properly color coordinated, including having different colored proton pack streams. Speaking of which, the proton packs look awesome too. These figures are supposed to arrive in two waves, one this summer and one this fall. Thanks to Twitter user @FakeEyes22 for the picture above.
Pacific Rim Uprising Figures

Diamond Select Toys is also knocking their line of Pacific Rim Uprising figures out of the park. All of the signature Jaegers are getting their own figures, and it looks like there's an interesting evolution of the kaiku, because there appears to be an armored monster that looks like a kaiju wearing Jaeger armor. That should be interesting. Some figures are on shelves now while others will arrive later this year. If you're into some pricier Pacific Rim figures, check out the assortment Bluefin will have available over here.
Funko POPs: Saturday Night Live, Coming to America and More
The army of Funko POPs continues to grow, and there are plenty of cool new lines coming soon. Saturday Night Live is finally getting some Funko POPs, though they've started with more of the recent characters instead of the classics. But there are some other classic comedy POPs coming, with figures for Coming to America and The Princess Bride. There's also Atomic Blonde, Grease and Super Troopers. Another Nickelodeon set is coming in the form of Doug, but unfortunately, the designs are based on the Disney version of the animated series and movie, so that's a bit of a bummer.
Buddy the Elf
If smiling is your favorite, then you'll probably want to get your hands on this Buddy the Elf figure on the way from NECA. To be honest, the face is a little creepy, but it's meant to be stylized like the Christmas Vacation figures of Clark Griswold that they've released previously. Buddy comes with a cloth elf wardrobe, a bottle of maple syrup and a bag full of spaghetti for lunch.
***
Those are all the cool toys that caught our eye from Toy Fair 2018. If you want to take a closer look at all the figures on display, we recommend heading over to ToyArk to see their full photo coverage of the convention.