'The Incredibles 2' Trailer: Your Favorite Superhero Family Is Back In Action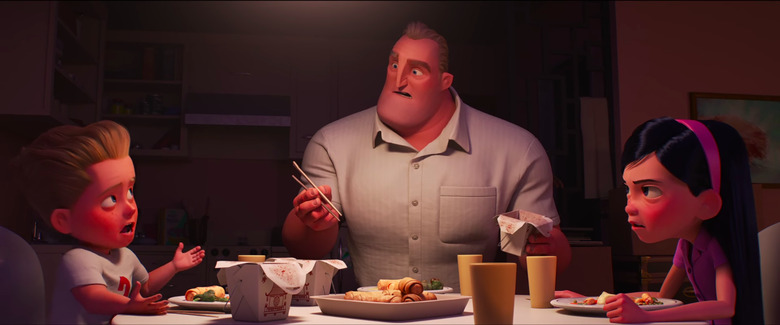 This summer sees the release of The Incredibles 2, the highly anticipated sequel that Pixar fans have wanted to see since the first film hit theaters in 2004. Computer animation has come a long way since then, and even though our favorite superhero family looks a little more refined, it's still the same superhero family that we all love.
Disney and Pixar Animation  released a new The Incredibles 2 trailer in the middle of all the Olympics coverage tonight, and we finally get to see more of the Bob, Helen, Violent, Dash and Jack-Jack in action. It looks like The Avengers are going to have a run for their money this summer.
Watch The Incredibles 2 Trailer
Now that was worth the 14-year wait. The Incredibles 2 cranks the action and the domesticity up a notch as Elastigirl is tasked with giving superheroes their long-awaited PR makeover, forcing Mr. Incredible to take care of the kids. The trailer is like a giddy, superpowered take on Mr. Mom, as Robert Parr struggles with newfangled math strategies (damn you Common Core) and reading Jack-Jack bedtime stories. But this is the Incredibles after all, and there's a twist: Jack-Jack powers manifest and throw the whole household for a loop. Thank god for Brad Bird's fabulous designer Edna Mode, who comes armed with a suit perfectly tailored to Jack-Jack's many powers and a witty mantra: "When done properly, parenting is a heroic act. Done properly."
Craig T. Nelson is back as Robert Parr (aka Mr. Incredible) while Holly Hunter returns as his wife Helen (aka Elastigirl). Also returning is Sarah Vowell as the voice of Violent, but Huck Milner has stepped up to voice Dash since the actor who voiced him in the original movie has aged out of the role. Plus, don't forget that Samuel L. Jackson is back as Lucius Best (aka Frozone). Director Brad Bird is also reprising his role as superhero fashion designer Edna Mode.
New cast members include Bob Odenkirk as Winston Deavor, the leader of a world-class telecommunications company who has an infatuation with supers. He's likely the film's secret villain, perhaps along with his sister Evelyn, voiced by Catherine Keener. Evelyn is a tech genius and the real brainchild behind her brother's telecommunications company.
Plus, there's also a new super named Voyd, voiced by Sophia Bush. She's described as a young, overeager "wannabe" Super and a mega-fan of Elastigirl. She also has the ability to divert and manipulate objects around her by creating voids that allow the objects to appear and disappear, and shift in space. You can find out about more new characters here.
The Incredibles 2 Teaser Posters
Helen (voice of Holly Hunter) is called on to lead a campaign to bring Supers back, while Bob (voice of Craig T. Nelson) navigates the day-to-day heroics of "normal" life at home with Violet (voice of Sarah Vowell), Dash (voice of Huck Milner) and baby Jack-Jack—whose superpowers are about to be discovered. Their mission is derailed, however, when a new villain emerges with a brilliant and dangerous plot that threatens everything. But the Parrs don't shy away from a challenge, especially with Frozone (voice of Samuel L. Jackson) by their side. That's what makes this family so Incredible.
The Incredibles 2 arrives on June 15, 2018