Unproduced 'Planet Of The Apes' Screenplay By Rod Serling Becoming A Graphic Novel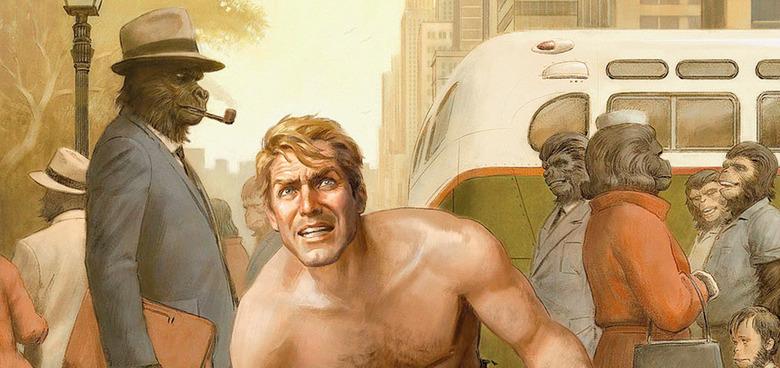 Over the past decade we've been lucky enough to experience one of the best sci-fi trilogies in recent memory in the form of the Planet of the Apes prequel franchise that began with Rise of the Planet of the Apes, continued with Dawn of the Planet of the Apes and recently concluded (at least for the time being) with War for the Planet of the Apes. But there is one old Planet of the Apes story that we've yet to see.
Before Planet of the Apes hit the big screen in 1968, it was first a script written by The Twilight Zone creator Rod Serling that adapted Pierre Boulle's novel. Instead of being set in a more primitive village, the original story would have unfolded in a modern city filled with apes in a sort of satire of contemporary life. It didn't move forward in this form because it would have been too expensive, but soon we'll be able to see the Rod Serling Planet of the Apes script in comic book form.
The Hollywood Reporter has announced that Boom! Studios and 20th Century Fox Consumer Products are turning the Rod Serling Planet of the Apes script into a graphic novel called Planet of the Apes: Visionaries. It will be released in August as part of their 50th anniversary celebrations for the franchise this year.
The graphic novel will use Serling's screenplay as the basis for the story that will be adapted by The Simpsons writer and comedian Dana Gould. Meanwhile, original concept art and make-up tests will inspire the artwork by Avengers: Origins artist Chad Lewis. Here's the full art revealed along with the announcement:
It might seem odd to have a comedian like Gould creating a comic like this, but his passion for Planet of the Apes is great. Gould says, "As someone who knows the original films by heart, I'm honored to present Rod Serling's original vision to the public. It's the world you know, yet it's also very different — very political, very Rod Serling. For me, this is all about him."
If we can't see what Rod Serling's original Planet of the Apes would have been like as a motion picture, this is the next best thing. Maybe if we're lucky, after some years have gone by, this adaptation could one day make it to the big screen. The technology certainly allows for this kind of story to be told in a somewhat less expensive manner. At the very least, we know there's still plenty of interest in the classic franchise. It might be a story worth telling as a way of continuing the new iteration of the series.
Don't forget, there's also a comic that mashes up the King Kong franchise with Planet of the Apes too.