'Solo: A Star Wars Story' Trailer Breakdown: I Thought We Were In Trouble There For A Second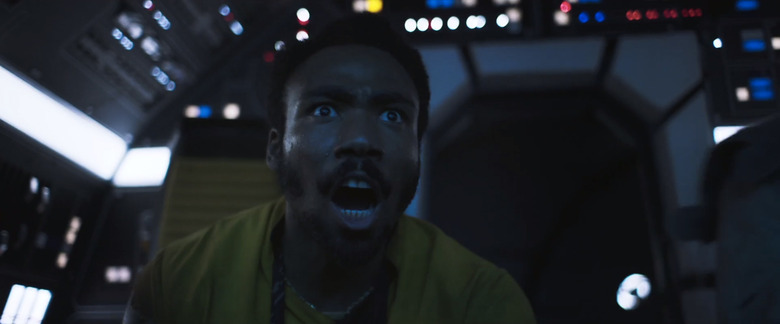 Last night's Super Bowl brought our first look at Solo: A Star Wars Story with a 45-second spot introducing the young Han Solo played by Alden Ehrenreich. But it was mostly a tease for the full trailer that arrived this morning with much more footage from the Star Wars spin-off origin story.
There's not much for us to glean as far as story details are concerned, but this is our first proper glimpse at anything from Solo: A Star Wars Story, and it does provide us with a few pieces of Han Solo's origin and more. So let's dig in with this Solo trailer breakdown.
The following breakdown features shots from both the Super Bowl spot and the longer trailer. We've put certain shots together when they reveal more as complements to each other, and featured other shots by themselves.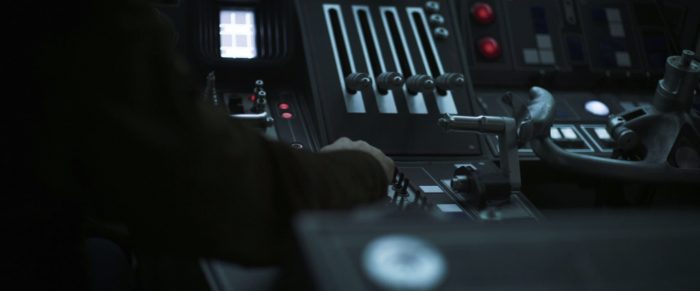 Both the Super Bowl spot and the official teaser trailer begin with the flips and clicks of the controls of the Millennium Falcon. For a split second, the sounds of the switches clicking made me think this trailer might be the first to use modern music since it sounded very similar to the beginning of "Time Has Come Today" by Chambers Brothers. It would have fit a Han Solo movie perfectly, but maybe it would have felt like a copycat of Guardians of the Galaxy.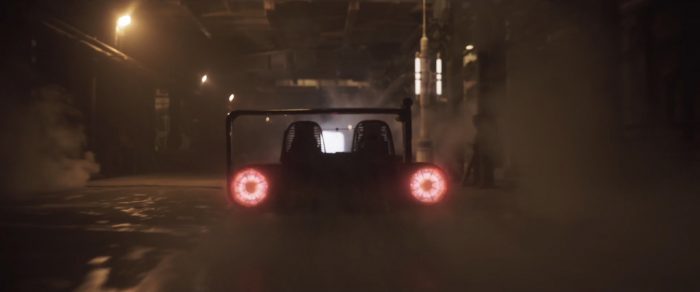 The trailer cuts to a shot of this speeder driving through some kind of industrial facility as Han's voiceover says "I've been running scams on the street since I was 10." It looks like not much has changed.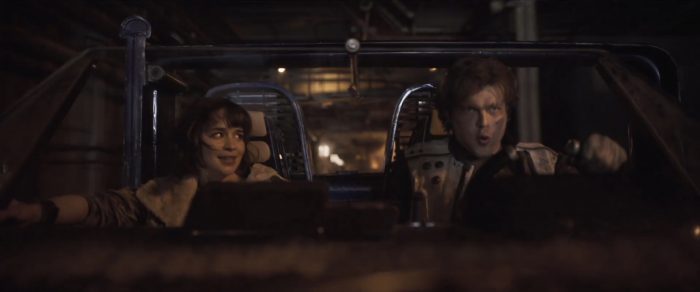 We see that Han is behind the wheel of this speeder, and he has Emilia Clarke in his passenger seat as a character named Qi'Ra, looking a little nervous and thrilled at the same time, glancing at Han with maybe a little bit of passion and admiration. Plus if you look carefully at the top of the windshield, there's a familiar memento from the original Star Wars trilogy that was quite prominent in The Last Jedi: Han's golden dice.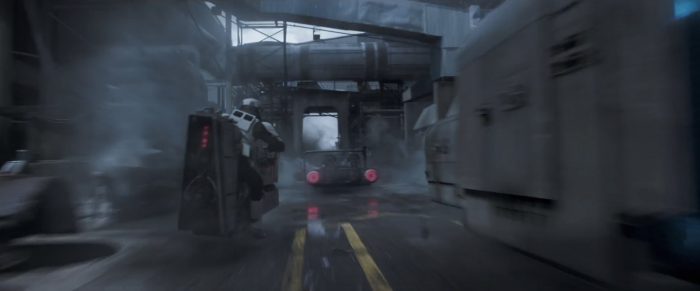 Next we see why Han is moving so fast in that speeder – there's a new kind of Imperial trooper in pursuit on a smaller speeder. During this sequence, Han's voiceover tells us "I was kicked out of the flight academy for having a mind of my own." More on that in just a moment.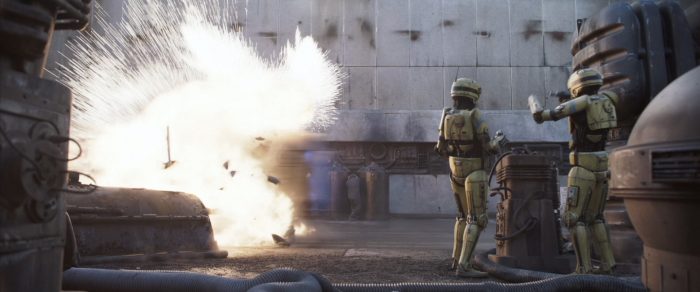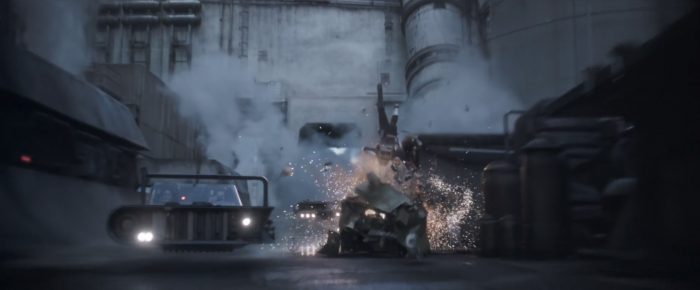 Now it appears he's making Imperials pay as he forces the pursuing Imperial tooper to crash, his body flipping into the air as the speeder explodes. Some new droids we've never seen before look on from the side.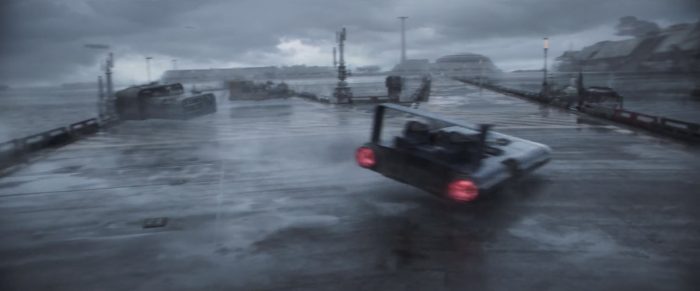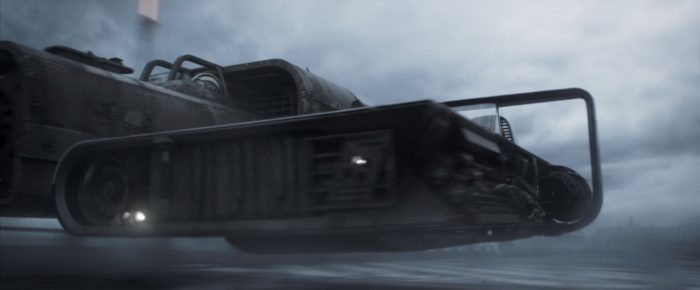 But that's not the end of the chase. It looks like another larger speeder ends up being in pursuit of Han. Clearly he's not beyond causing some trouble for the Empire after they gave him the shaft on his path to becoming the best pilot in the galaxy.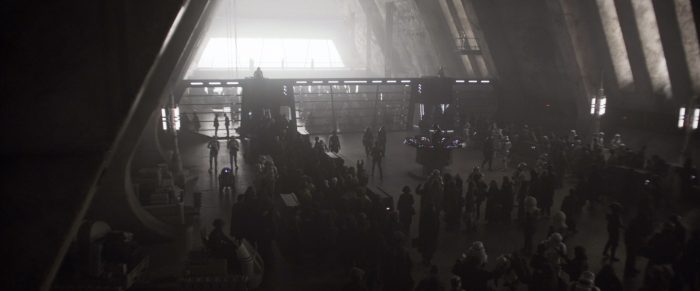 Speaking of which, the Super Bowl spot went in a different direction after the flips and clicks of the Millennium Falcon controls. It takes us to this Imperial controlled facility, looking like some kind of border crossing station of some kind.
During this sequence, an Imperial officer says "So you want to make a difference?" It's Han who says, "Yeah," and the Imperial officer responds excitedly, "You're gonna love it." We don't see Han's face or anything, but he's hidden under a winter hat. It looks like Han was willing to take any job he could get as a pilot, even if it meant working for the Empire.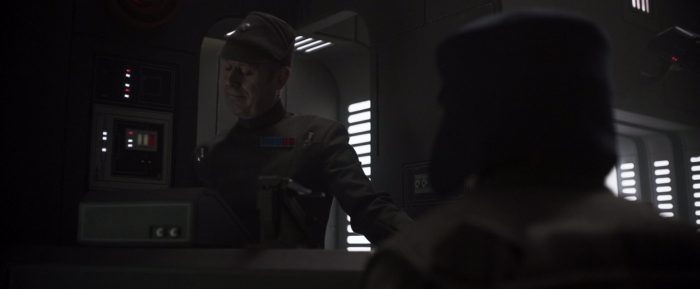 In another location, the Imperial officer asks, "Which branch are you interested in joining?" Without hesitation, Han says, "I'm gonna be a pilot. Best in the galaxy." The officer makes a bit of a smug facial expression in response. Clearly he's dealt with plenty of aspiring pilots who don't have what it takes. As we know, that wasn't the case with Han, but he still ended up scrubbing out of the academy.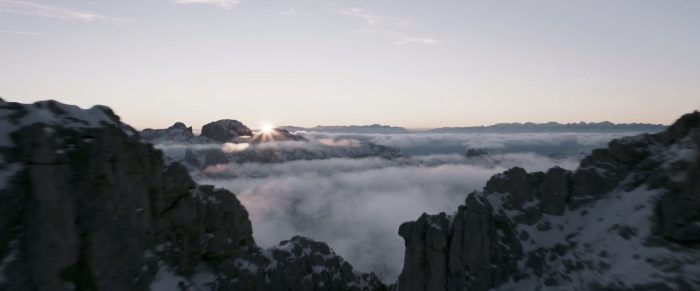 Back in the teaser trailer, we see a picaresque landscape of snowy mountains and a rising sun. This is very likely our first glimpse at Han Solo's home planet of Corellia. Though we've yet to see the planet in any of the movies, the stories from the Legends side of Star Wars described it as having snowy mountains, though not across the entire surface.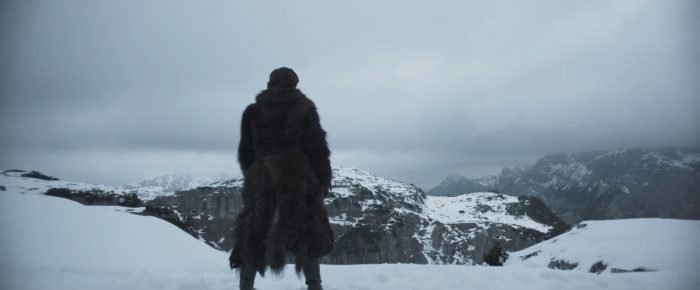 On those mountains, we see a recognizable hairstyle. The line about being the best pilot in the galaxy is used here again before we see...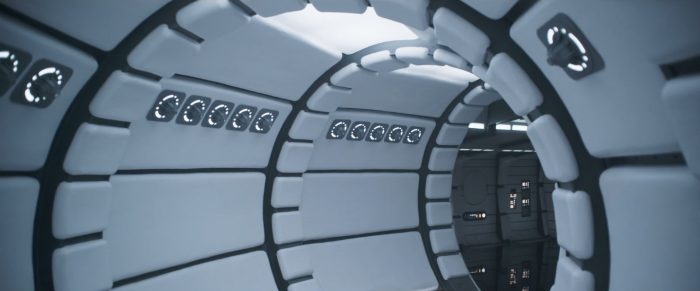 The Millennium Falcon. We've never seen it looking so clean before. Of course, that means that in the years since Solo: A Star Wars Story takes place that Han and Chewie haven't done a very good job of keeping the ship clean. Of course, they're probably much more concerned with their smuggling work than housekeeping, so we can't really blame them.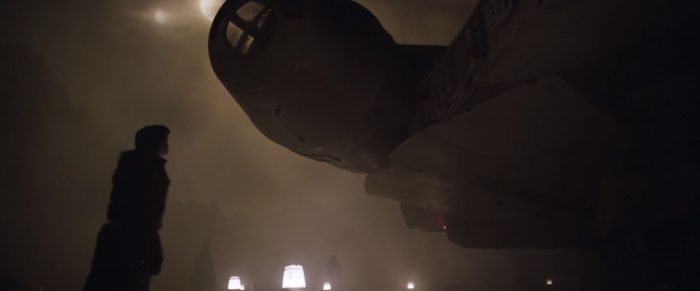 On the exterior of the ship, Han looks up at the cockpit that he'll end up spending most of his life in. The framing of this shot and the vibe it gives off makes it seem like this is the first time Han has seen the Millennium Falcon, which means it still belongs to Lando Calrissian. But we'll get to that scoundrel later.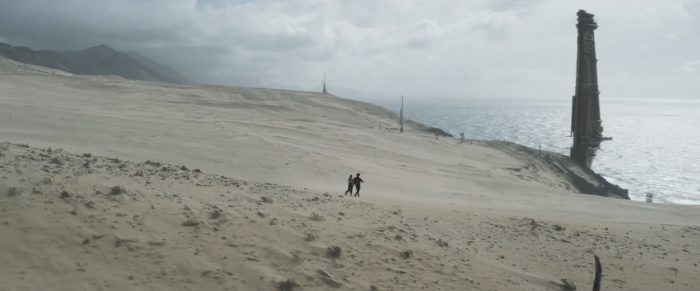 This appears to be another area of Corellia. The planet has different climates not unlike Earth, and here it's clearly a little warmer than the snow-capped mountains we saw before. It's hard to tell, but it looks like that's Han walking with Qi'Ra, perhaps after that speeder chase from earlier in the trailer. We're not sure what that structure is on the side of the cliff. Perhaps it's where Han Solo lives, or maybe it's some kind of military post.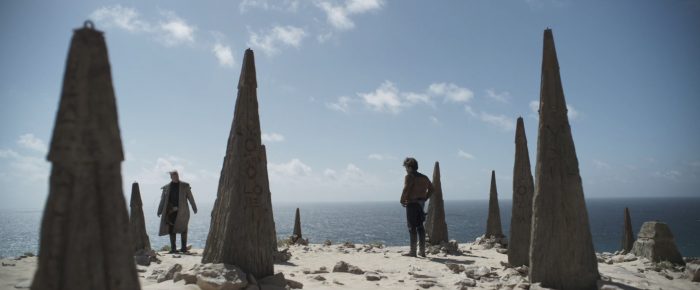 It looks like someone is waiting for Han on the coast. They're standing among cone-shaped cenotaphs. There's engravings on the structures, but it's not easy to make out what they say. It appears to possibly be in the Star Wars language Aurebesh, but knowing that doesn't make it any easier to translate. Could those be gravestones for Han's parents and other members of his family?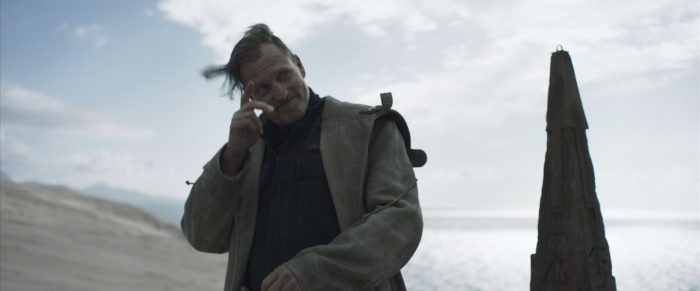 Waiting for him among those cenotaphs is Woody Harrelson as Tobias Beckett. He's been described as a mentor of Han's, and he's come to him with some kind of job that he's putting together a crew for. The job isn't described, but the prospective team members are shown in succession.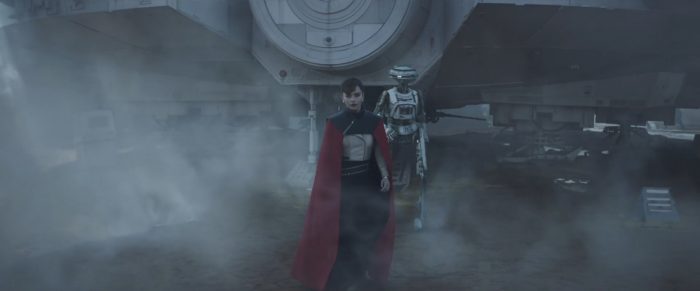 Here's another shot of Emilia Clarke as Qi'Ra looking rather regal in a red, flowing cape. Could she be a figure of some importance? Maybe she's part of the Republic. But then again, people have always had a unique fashion sense in the Star Wars universe, so maybe this is just an outfit women wear across the galaxy. She's standing outside of the Millennium Falcon and there's a droid just behind her closer to the ship, but we'll see more of that character later.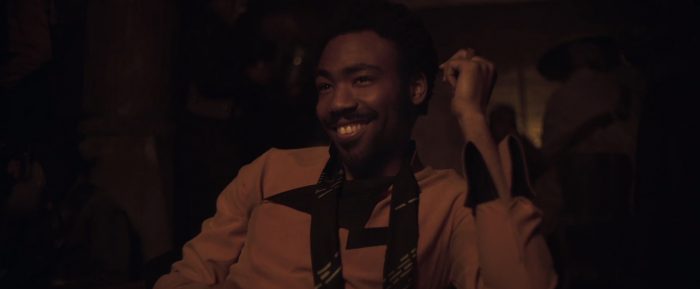 Check out this amazing shot of Donald Glover as Lando Calrissian. He just oozes charisma, and you can tell he's going to give an amazing performance. It's not entirely clear where he is in this shot, but there's another shot later in the trailer that might give us an idea.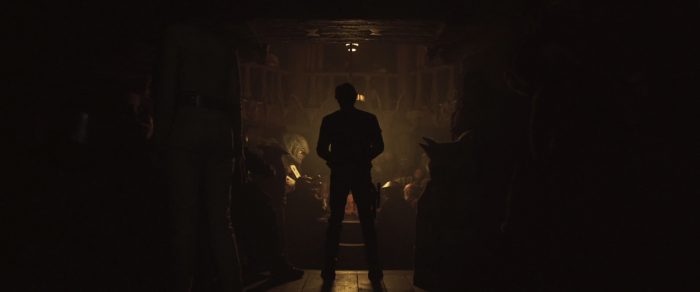 Here Han stands in what appears to be a cantina of some kind. It doesn't appear to be Mos Eisley, but there are plenty of aliens around. Also, if you look at the warm lighting, it appears to be the same as the above shot of Lando Calrissian. So perhaps this is where we see Han and Lando together for the first time in the movie. That smile Lando has certainly looks like one he might give to Han upon seeing him enter the bar.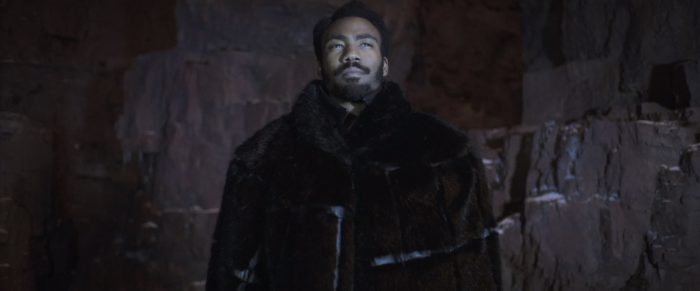 The Super Bowl spot features a different cool shot of Lando as light flashes in front of him. Look at that fur coat he's wearing. Lando Calrissian might be the most fashionable man in the Star Wars universe.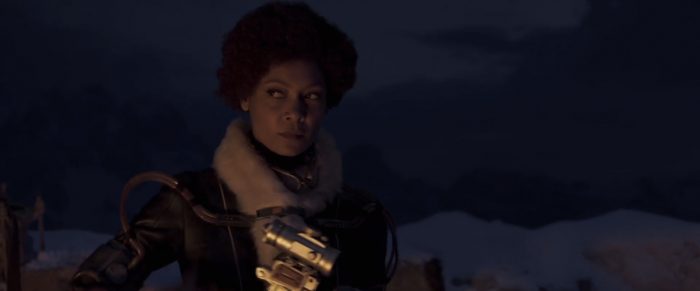 Here's a character that we haven't seen before. In fact, we have no idea who Thandie Newton is playing in the movie at all. Her character name hasn't been revealed, though there's a theory that she might be playing Han Solo's "wife" Sana Starros in the movie (more on that over here). She certainly looks the part, and she looks a little pissed off as she prepares a weapon in her hand. Supposedly a caption from a high-resolution version of this image from Lucasfilm calls this character "Val" but we haven't actually seen a photo with that caption yet, so don't take that as official.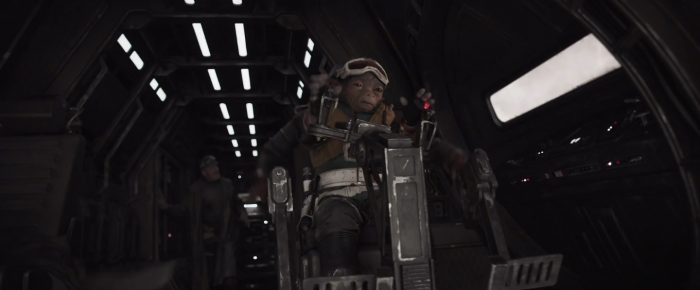 Then there's this cool alien. It pulls the cover off the controls of a ship of some kind. The controls look like the same ones we see Han manning later in the trailer. Could these be the ships used in some kind of smuggling ring?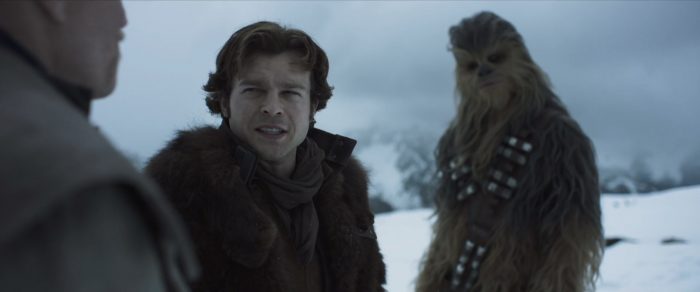 We're not sure if all those people are meant to actually be part of the team Beckett is putting together or if just some clever editing used to introduce more characters, but either way, Chewbacca appears for the first time to sign on for the job. Or does he? This shot is from a completely different scene. It's likely Beckett doesn't ask Han to join his team in that beach scene at all. Furthermore, we still have no indication as to when or how Han meets Chewie, but it's clear they're already good friends in this scene.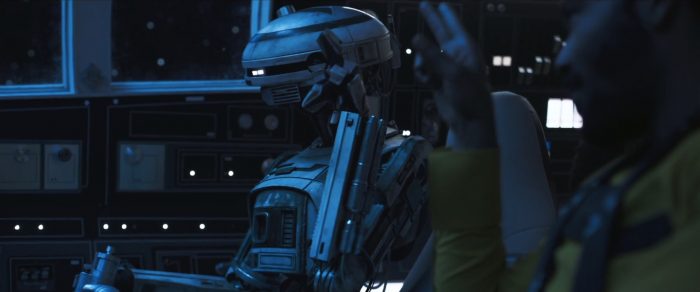 Speaking of good friends, Lando Calrissian has a droid pal. We still don't know what it's called, but there's a good chance this is the character played by Phoebe Waller-Bridge, not unlike Alan Tudyk's role as K-2SO in Rogue One. Though there's always a chance she could be playing that alien we saw up above too, but word on the street from Jedi News is that this is the character Waller-Bridge is playing and her name is L3-37 Either way, it's clear these Lando and this droid have been hanging around each other for awhile with the little salute they give each other, which should look familiar to Return of the Jedi fans.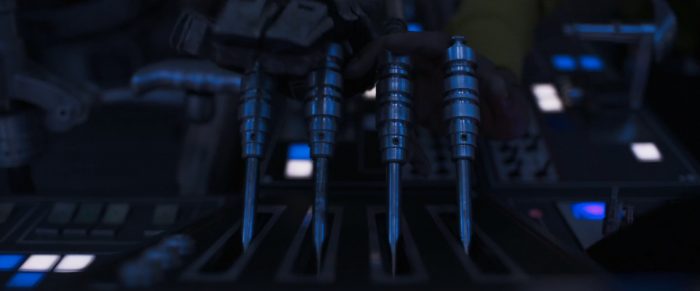 Then they both push up the Millennium Falcon controls together to take the ship to light speed. If these two are such a great duo, one has to wonder what happens to the lady droid between now and Empire Strikes Back. Is she not going to make it out of Solo alive?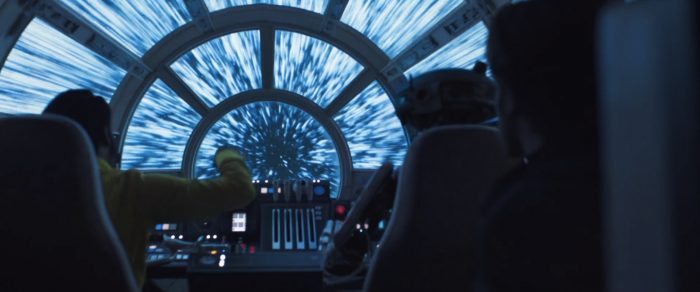 It looks like Han has joined them for this particular trip, but he's sitting in one of the backseats, so he hasn't won the Millennium Falcon from Lando just yet. But Lando does appear to be wearing the same yellow outfit from that earlier shot, further pointing to him meeting Han in that dimly lit cantina.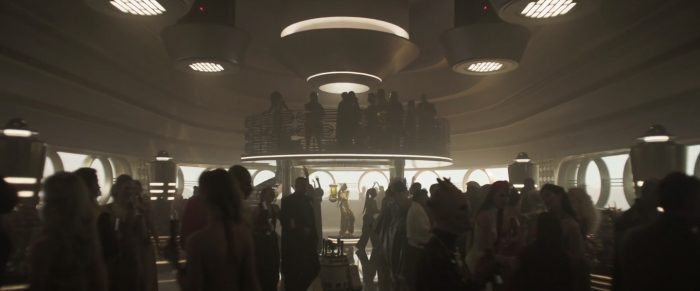 That's not the only cantina we see in the trailer and Super Bowl spot either. Here's another much more fancy bar, one that we've seen in Ron Howard's behind the scenes photos back when Paul Bettany joined the cast. Perhaps this establishment belongs to Bettany's character, whoever he's playing, though we don't know exactly what we're doing here.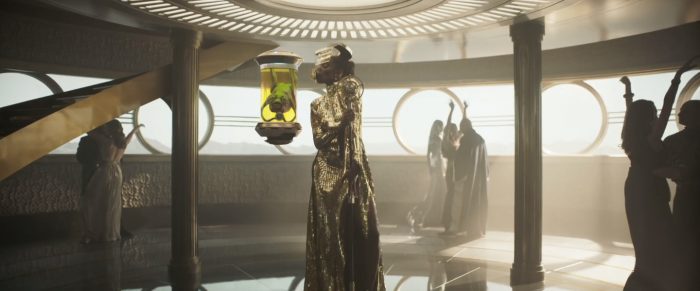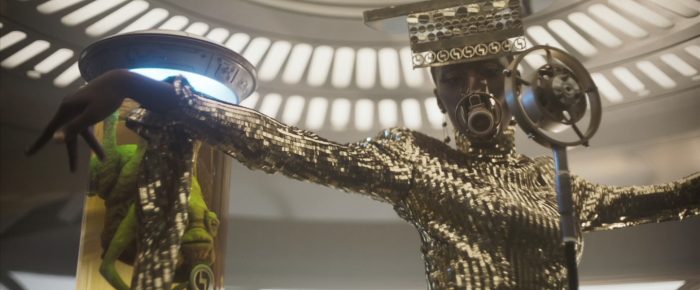 There's live entertainment in this bar, just like Mos Eisley. A black woman in golden wardrobe and some kind of mouth device sings into a microphone, almost like some kind of 1920s jazz club. There's also an alien floating in some kind of greenish solution who appears to have a voice device on it, so we might  be looking at a duet.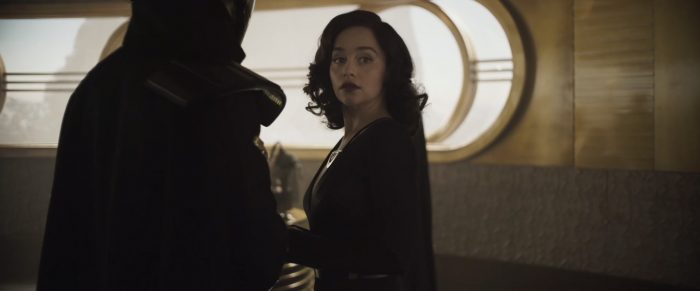 Qi'Ra happens to be at this establishment, so again it's clear she's one of the more elite members of the galaxy's society. Part of me wonders if her character is someone Han palled around with when he was a bit younger, not knowing that she was from upper class society, and then she ended up leaving Corellia, only for them to be reunited sometime later, perhaps awkwardly. Maybe there's a bit of a Romeo and Juliet situation happening here where Qi'Ra's parents didn't want her hanging out with a ruffian like Han Solo.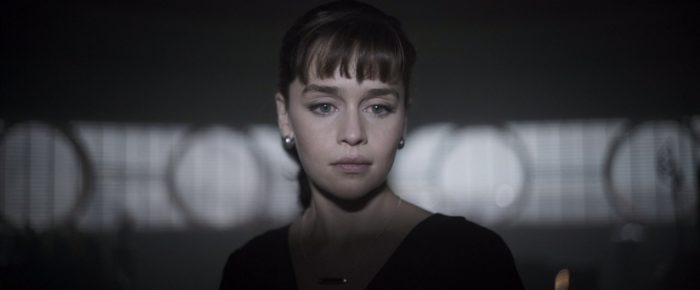 The Super Bowl spot features a different close-up shot of Qi'Ra. Initially I thought this shot was from the same location since the windows appear to be the same, but there are added shadows indicating more lines in those windows, so that might not be the case.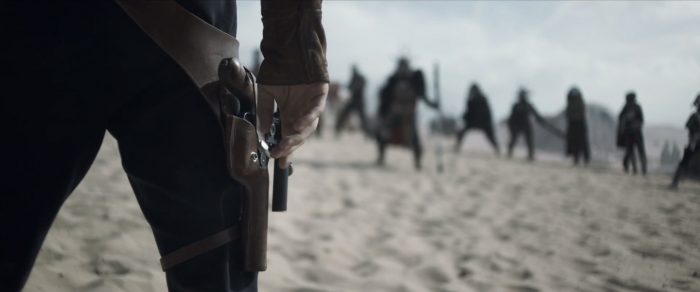 Switching gears, we get a shot of Han Solo's trusty blaster at his side, and it almost feels like a tribute to Indiana Jones in Raiders of the Lost Ark. However, there's a shot very similar to this in Lawrence Kasdan's movie Silverado too. Then again, this is a common shot in a lot of westerns, so it might not be a specific reference. Han's on a beach somewhere, but seemingly not anywhere near where we saw him on the beach with Beckett before.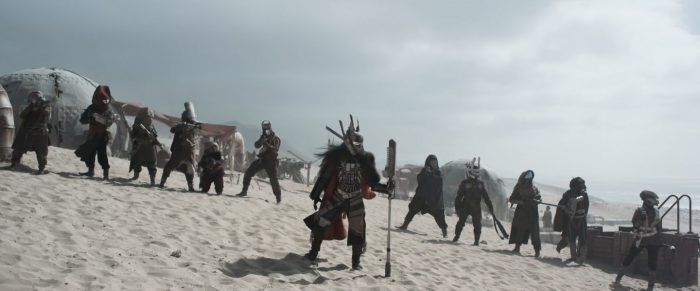 It's some kind of rural village featuring what appears to be a gang of masked soldiers. They each have different helmets, masks and weapons, and they appear to be standing in opposition to Han Solo, though we don't know why.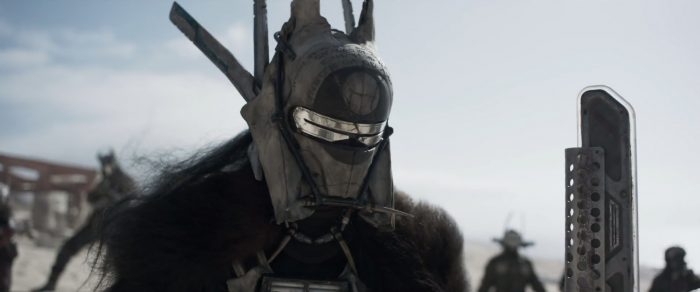 Here we get a close-up of who might be the primary villain of the film. That's a pretty badass helmet, and it looks like there's Aurebesh engraved on it. However, it's really hard to tell what the helmet says. Star Wars fans will have to inspect it further to see if they can make out what it says.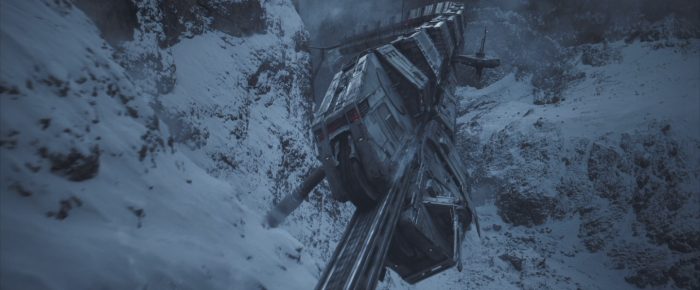 We get to see this villain in action in a sequence that was only in the Super Bowl spot. There's a double-sided cargo train that goes through the snowy mountains, and a couple of characters engage in a battle on top (or bottom?) of it.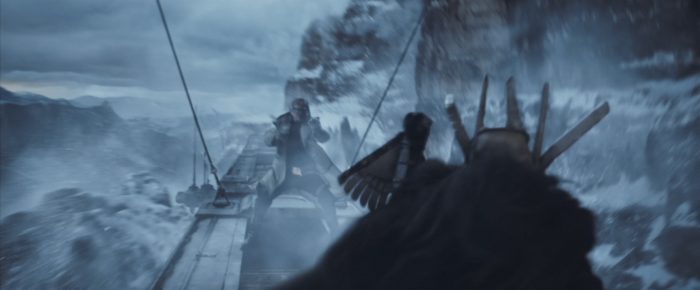 It looks like that's Woody Harrelson as Beckett in the background, and he fires a couple laser blasts at this unknown villain on the train. Whatever is going on, maybe this is what Beckett needed a team for.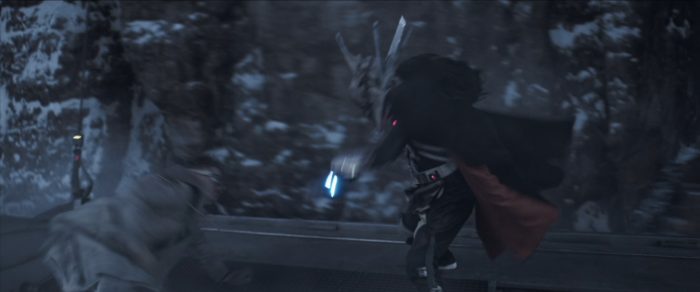 The villain avoids the laser blasts and uses some kind of staff to try to strike at Beckett, but he only hits the train causing sparks to fly around them. What exactly is on this train?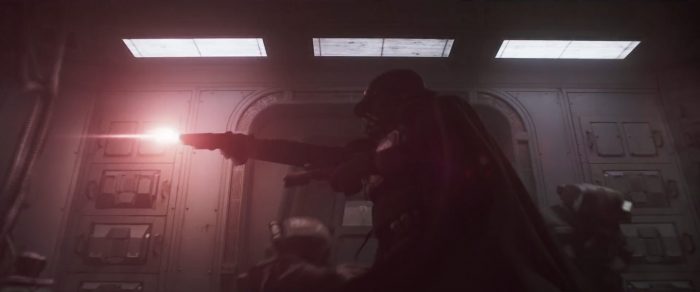 A random shot in the trailer features a concealed character beating up what appears to be either Imperial troops or maybe droids like the ones we saw earlier in the trailer. This could be the character Quay Tolsite, who we've only seen in LEGO form before. The character wears a cloak and mask of some kind. But then again, there was a TIE Fighter LEGO set from Solo that showed Han Solo wearing a helmet and cape, almost like some kind of Imperial disguise, so maybe this is Han we're looking at.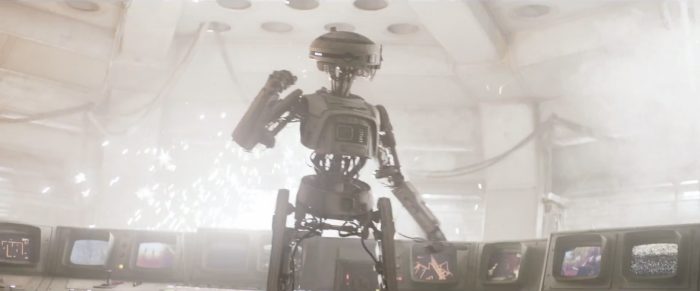 There's that droid again in a room as sparks fly and explosions go off. The monitors in the background don't give us any extra details, but it's always cool to see how loyal the production design is to the technology that was available to George Lucas during the time the original film was created.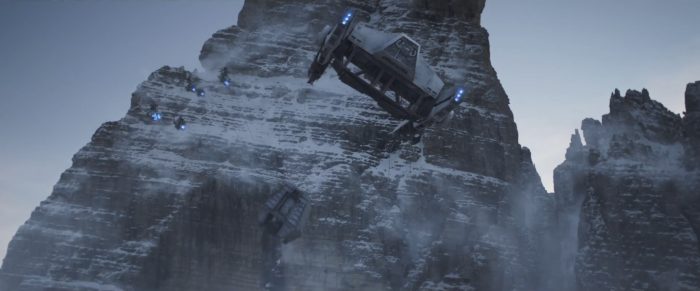 Here's a new ship we haven't seen before. It's flying through the mountains with some smaller ships escorting it. Could this be a ship that was just stolen from that cargo train? Or maybe a ship use to steal something that was on that train?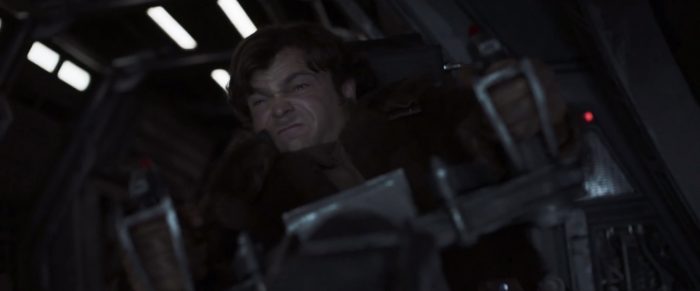 Whatever it is, Han Solo is giving everything he's got to piloting that ship, the same one that the alien from before was getting ready to pilot.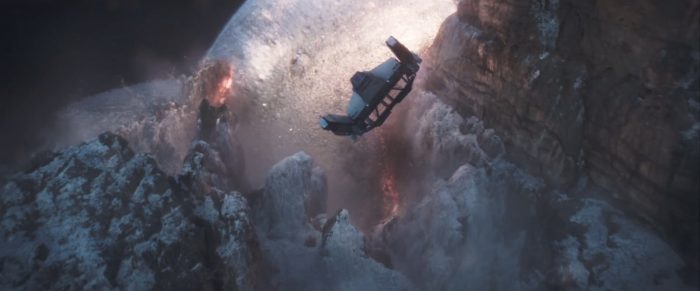 We cut back to the ship seemingly making a getaway as an explosion expands in the mountains in the background. We're made to believe that Han is at the helm of that ship, but that's not necessarily the case. Those shots could be from two different sequences.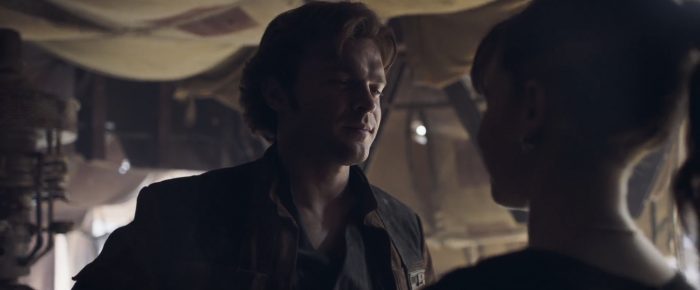 Alden Ehrenreich tries to give off some of that young Harrison Ford charm, but I'm not entirely sure it's working in this sequence. It's also not entirely clear where this scene is taking place.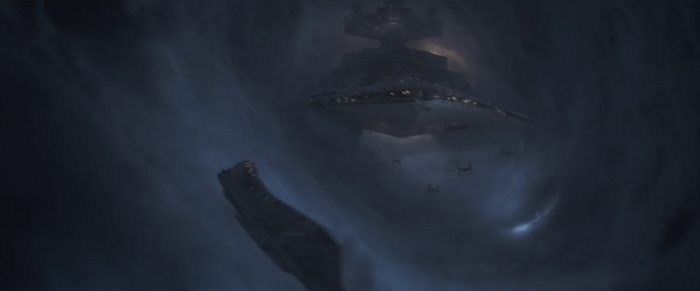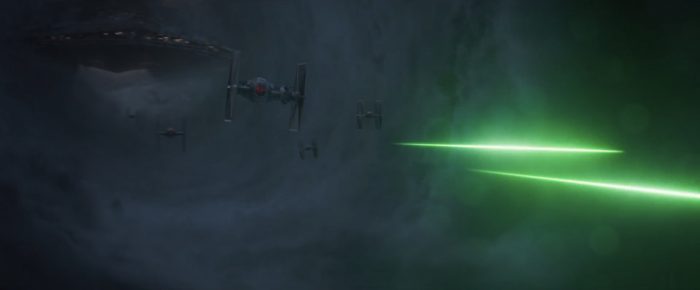 Bringing the trailer to a close, we get a fast-paced sequence featuring a Star Destroyer flying through some kind of vortex in space. Lightning flashes around it as TIE Fighters emerge from below, including a new one that has a small pod next to the cockpit, almost like a TIE Bomber, but not quite the same.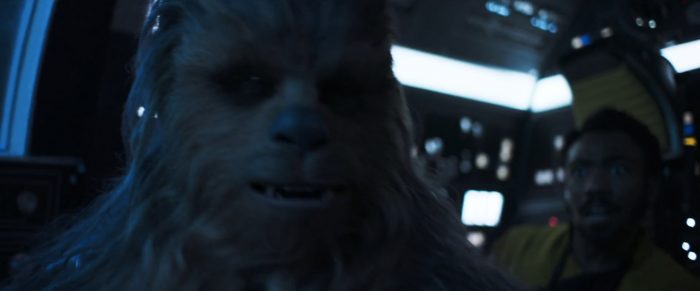 On the Millennium Falcon, Chewbacca is doing his best to help make a getaway, which makes it look like Han Solo has inherited the ship from Lando Calrissian, who looks on in the background with absolute terror. Donald Glover is going to be the best part of this movie.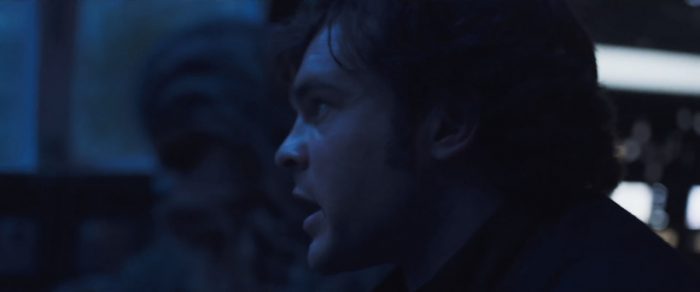 Han Solo is in the pilot seat of the Falcon, trying to get them out of this Imperial mess. As usual, he's got a trick up his sleeve to get rid of these Imperial fighters, and it's one we haven't seen before.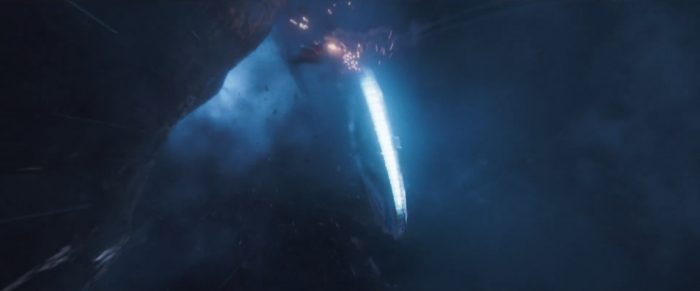 Han flips the Falcon and knocks one of the TIE Fighters off course, sending it careening into another ship and exploding. One has to wonder why Han never did that in the original trilogy, but maybe the Falcon already had too much wear and tear to pull it off years later.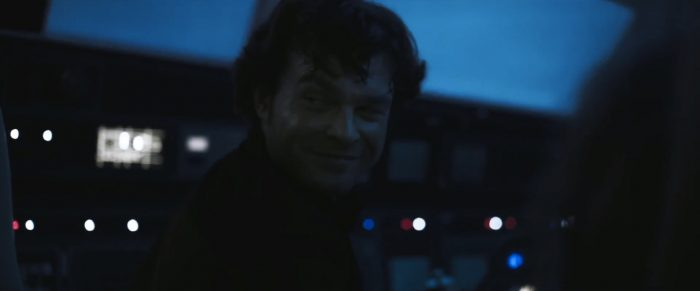 Here's the best indication of what kind of performance we'll get from Alden Ehrenreich as Han Solo. This is pretty close to the cocky charm that Harrison Ford gave to the smuggler, but it's almost a guarantee he won't be able to match it. That's not necessarily a bad thing, since I'm not sure there's anyone who could do that, but maybe the performance will still work for fans.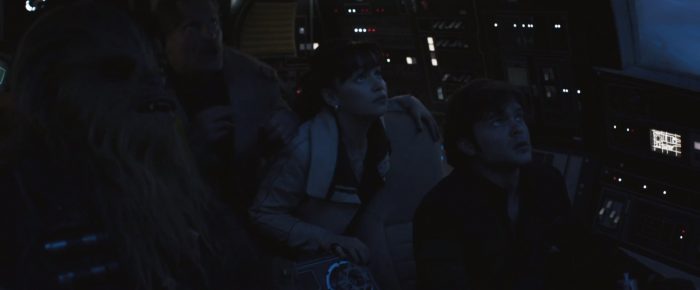 Even though it seems like the Falcon was out of trouble, of course there's another threat lingering around the corner. Everyone, including Woody Harrelson as Beckett, looks on in surprise, but no one is anywhere near as surprised as...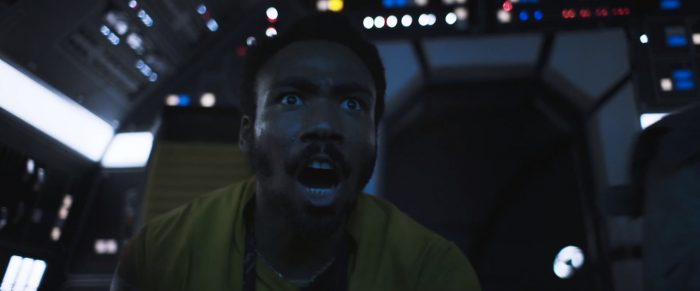 Donald Glover stealing another scene, yelling from the backseat of the Millennium Falcon, likely worried about Han Solo messing up the ship that used to be his.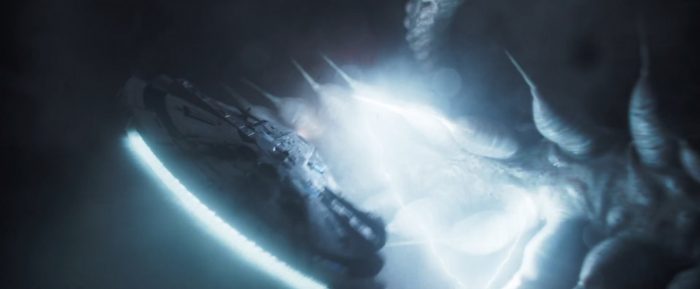 The Falcon has to maneuver through the giant tentacles of some kind of space monster. So that giant space worm from The Empire Strikes Back wasn't the first massive creature the Falcon had to contend with.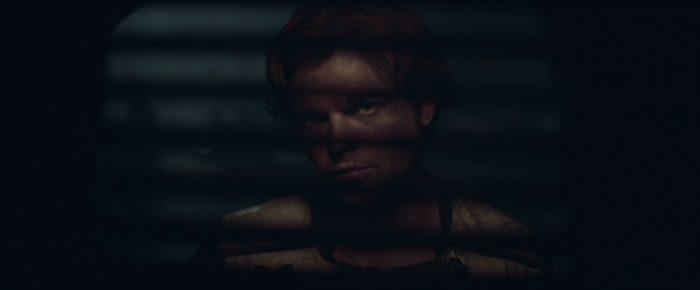 This was one of the final shots from the Super Bowl spot. The camera is looking through vents of some kind, or perhaps the grate of a locker door. After all, it looks like he might be wearing Imperial garb of some kind. Maybe this is from the time Han tried to be a pilot but ended up getting kicked out of the academy.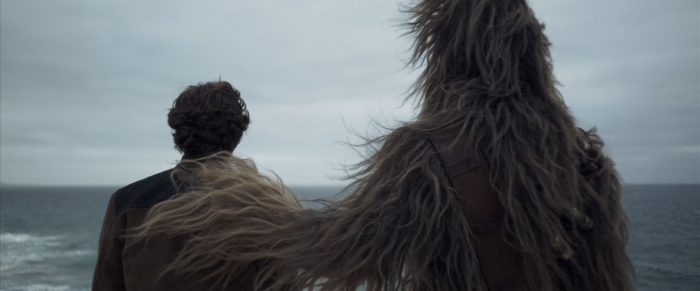 Finally, the last shot of the Super Bowl spot features Han standing with his buddy Chewie as they look out at the ocean. Chewie seems to almost be consoling Han for some reason. Could this have something to do with those cenotaphs we saw earlier? It's hard to say.
***
All right, that's it for our extensive breakdown of the footage from both the teaser trailer and Super Bowl spot for Solo: A Star Wars Story. Honestly, I like what we're seeing so far, but cutting a good trailer for a movie that has ultimately disappointed is a common occurrence.. Hopefully, Ron Howard has delivered something that will satisfy both Lucasfilm and even the most skeptical fans out there.
There's likely more to be revealed this week as Entertainment Weekly has been teasing new information about the movie is coming soon, so stay tuned to find out what else we learn.
What did you think of the first footage from Solo? Are you excited to see it on May 25, 2018?