Tom Hanks To Play TV Icon Mr. Rogers In 'You Are My Friend'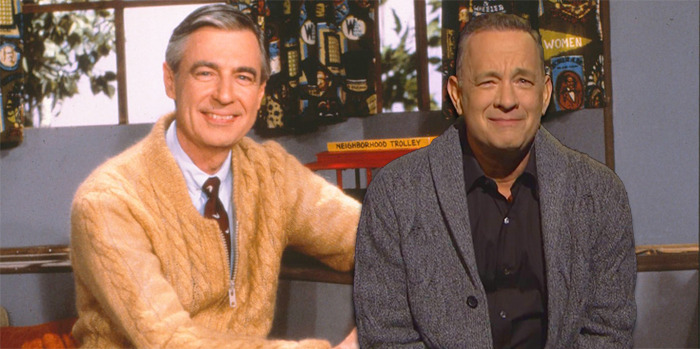 The 2018 Sundance Film Festival just debuted an incredibly moving portrait of television personality Fred Rogers in the documentary Won't You Be My Neighbor? (read our full review here). The buzz around the documentary was huge, and maybe it was enough to push another Mr. Rogers-centric project forward.
TriStar Pictures has picked up distribution rights to a biopic called You Are My Friend. But the big news is that national treasure Tom Hanks is attached to play the influential Presbyterian minister turned TV legend, Mr. Rogers.
Find out what we know about the Tom Hanks Mr. Rogers movie below.
Variety has news of You Are My Friend moving closer to production, with Marielle Heller, director of the Sundance selected Diary of a Teenage Girl, at the helm of the feature with a script from Micah Fitzerman-Blue and Noah Harpster, both writers on the Amazon series Transparent.
The film isn't a traditional biopic, as it follows the real-life friendship between Fred Rogers and journalist Tom Junod. The story follows a cynical reporter who is not too happy with being given an assignment to write a profile on Mr. Rogers. But after begrudgingly accepting, he finds that his time spent with the PBS show host has a dramatic change on his perspective on life. If you find that a little hard to believe, maybe you should watch this video in which Fred Rogers convinces a senator not to cut the funding for public television in a session of congress back in 1969:
This project has been kicking around for years since landing on the Black List back in 2013, when it was titled A Beautiful Day in the Neighborhood and written by Alexis C. Jolly, and it's fantastic to see that it's finally moving forward. Heller is obviously just as excited as we are, as she says:
"I'm thrilled to be making 'You Are My Friend.' The script knocked me out with its message of kindness and its exploration of the human spirit. As a mother, I am so inspired by the teachings of Fred Rogers and as a human I am in awe of his life's work. I can't wait to bring his story to the public and be a part of such a thoughtful, smart group of people who are all coming together to make this film, which truly feels to me like an antidote to our very fractured culture."
Indeed, after seeing Won't You Be My Neighbor?, it's easy to understand how a story like this can be so moving. Fred Rogers was the real deal when it came to his pure ambition: to make people feel loved. And there's no better person than Tom Hanks, easily one of the kindest men in Hollywood, to play Fred Rogers, especially after so perfectly playing Walt Disney in Saving Mr. Banks a few years back.
Marc Turteltaub and Peter Saraf will produced the film for Big Beach Films along with Youree Henley, and Leah Holzer will act as executive producer along with writers Fitzerman-Blue and Harpster. The hope is for production to begin this fall, which could mean a theatrical release date sometime in 2019, presumably with an eye towards being part of the awards discussion when the time comes.