New 'Dundee' Clip Adds Hugh Jackman To The Fake Super Bowl Movie Commercial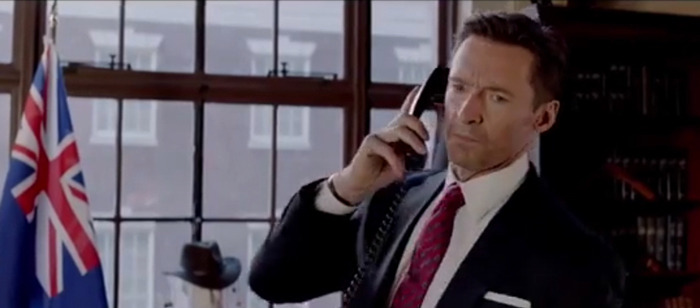 Just over a week ago, the internet was surprised to learn about the existence of a Crocodile Dundee sequel when a surprise trailer was released online featuring Danny McBride as the famous outback bushman's American son, who is coming to Australia in search of his missing father. No one was sure if this was a real movie, and the addition of Chris Hemsworth in further footage from the movie, dubbed simply Dundee, only added to that mystery.
Well, in the time since the first Dundee trailer was released, we've learned that this is unfortunately not a real movie, but instead some kind of elaborate advertising stunt for Australian tourism meant to be part of the commercial extravaganza that is the Super Bowl. But that doesn't mean we're any less interested in seeing just how far this fake Dundee movie goes. In fact, we have a new Dundee clip which adds Australian actor Hugh Jackman into the mix.
Watch the New Dundee Clip with Hugh Jackman
You didn't really think they'd bring back Dundee ... without me, did you?! #DundeeMovie pic.twitter.com/jHjcZSnGdn

— Hugh Jackman (@RealHughJackman) January 27, 2018
As you can see, Hugh Jackman posted the new Dundee clip to his Twitter this morning. Dressed in a nice suit with the Australian flag hanging in the background of what appears to be a fancy study, Jackman has a phone conversation with someone who apparently doesn't understand the difference between a kangaroo and a wallaby. Before hanging up, he calls them a wanker, and then asks someone off-camera how the surf is. Could Jackman be playing an Australian politician of some kind, perhaps even the prime minster? Hopefully we'll find out more once the full scope of this project becomes clear in the coming week.
If this commercial was able to land Chris Hemsworth and Hugh Jackman, there are likely other Australian talents who will be appearing in forthcoming clips. Perhaps Hemsworth's Thor: Ragnarok star Cate Blanchett will have a scene in the fake movie, or maybe Hugh Jackman's fellow Australia star Nicole Kidman will pop up. Who knows how far this goes?
The more clips we see from this fictional movie, the more I hope Australia has gone all-in and created a full feature length film meant to help advertise tourism in Australia. The idea of Danny McBride being an estranged American son that Crocodile Dundee never knew he had is such a ludicrous idea. Combine that with The Force Awakens-esque plot of having to find his missing father, and you've got the makings of a great comedy here.
Anyway, stay tuned to find out what is in store from Dundee leading up to the Super Bowl.