Theme Park Bits: A Terrifying Monorail Trip And Star Wars: Galaxy's Edge Seen From Space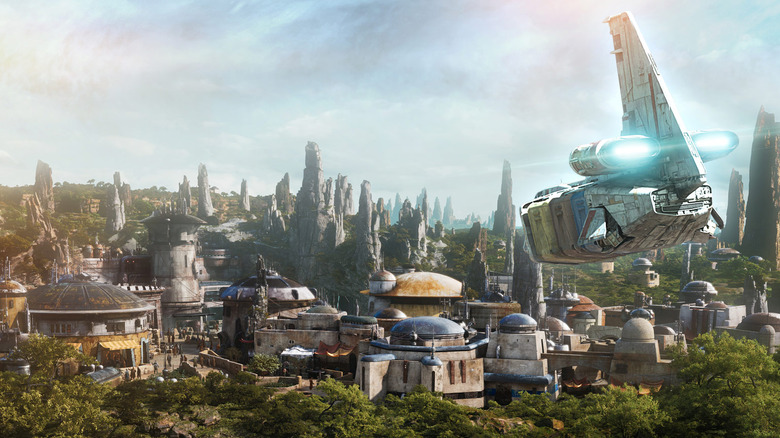 In this edition of Theme Park Bits:
What's it like to ride the monorail at Disney World with the door hanging wide open?
Find out about the connection between Disney Springs and Prohibition-era rum-runners.
See time-lapse satellite imagery of the Star Wars: Galaxy's Edge construction site.
A new patent would seem to indicate lightsaber-wielding could be in the future for Disney parkgoers.
Calling all Dick Tracy fans. Come in, Dick Tracy fans ...
And more!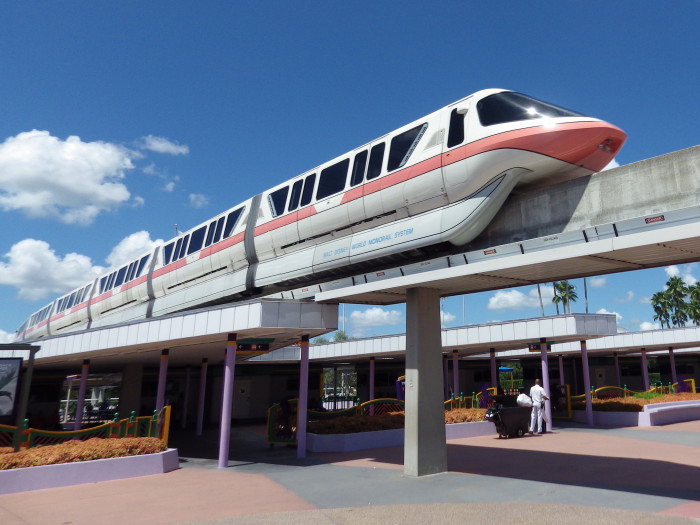 If you've ever ridden the Walt Disney World Monorail, then you've probably heard the spiel. "Please stand clear of the doors. Por favor mantenganse alejado de las puertas." Well, now there may be more incentive to stand clear of the doors, because a door on a monorail full of passengers actually popped open this week while the vehicle was in transit to Epcot. Thankfully, no one fell out of the monorail, but the incident has raised safety concerns. The Disney Blog has some embedded video of the incident as well as an interview with the passenger who shot the video.
VIDEO: Disney artist Will Gay paints "Japan's Gate" at Epcot ahead of International Festival of the Arts https://t.co/3DlcC8nOpL pic.twitter.com/rRJOftqJKJ

— Inside the Magic (@InsideTheMagic) January 5, 2018
In other Epcot news, the park has announced the menus for its International Festival of the Arts, which runs from January 12 through February 19.
Over at the Magic Kingdom, meanwhile, there may be hope yet for fans of Stitch's Great Escape. Rumor had it the attraction was being phased out quietly on January 6, but according to a Disney spokesperson, it is still considered to be in seasonal rotation at the park.
Last week we talked about the Edison nightclub, which is said to have been converted from the town's old power plant; this week, the fictional backstory for Disney Springs continues to grow with Enzo's Hideaway Tunnel Bar & Restaurant, a new venue housed in an underground cavern that once served as a secret gathering spot for rum-runners during the Prohibition era.
World of Disney store renovations announced for @Disneyland Resort, @WaltDisneyWorld https://t.co/pyw0fIBJ59 pic.twitter.com/okKgP3NFXa

— Inside the Magic (@InsideTheMagic) January 10, 2018
Beginning in mid-February, World of Disney, the bicoastal store at Disney Springs and the Downtown Disney District, is set to undergo a period of renovations.
If this Twitter thread is to be believed, it seems blockout dates for Cast Members signing in family and friends at Disneyland Resort may be on the rise in 2018.
Two original @Disneyland park experiences will receive updates beginning Jan. 8 – find out what's happening on Main Street, U.S.A., and at Dumbo the Flying Elephant: https://t.co/lfD4Ggmvf5 pic.twitter.com/cA8mFH8sMD

— Disney Parks (@DisneyParks) January 5, 2018
As of January 8, Dumbo the Flying Elephant and the Main Street, U.S.A. vehicles are under refurbishment at Disneyland. Dumbo's line is moving to a new shaded area and the streetcar track on Main Street, U.S.A. is being completely replaced.
Reservations are now available for events at the Disney California Adventure Food & Wine Festival. The full list of events from March 2 to April 12 is up on Disney Parks Blog.
Inside the Magic is right: there never seems to be a slow period for Star Wars news these days. Now comes news that Star Wars Launch Bay at Disneyland has been updated with new displays for The Last Jedi and Star Wars: Galaxy's Edge.
As it notes in the video description, Fresh Baked has taken the following of Star Wars: Galaxy's Edge construction to the next level with an analysis of satellite imagery of the construction site. Check it out in the video above if you've got nineteen minutes to spare...and just remember, someone could be analyzing satellite imagery of your house right now.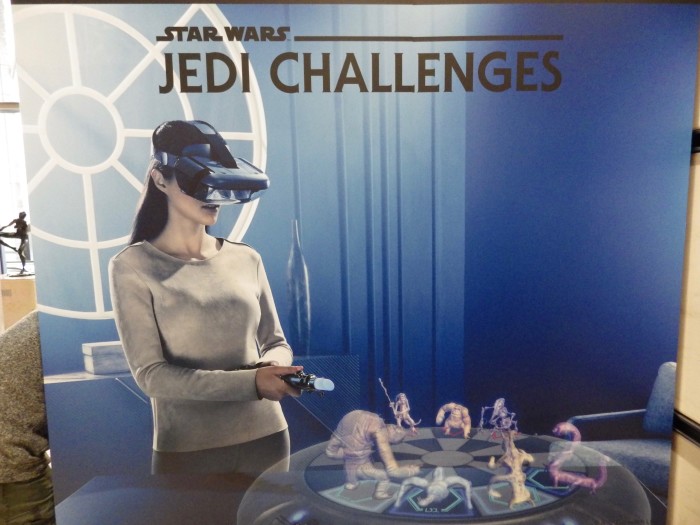 In another bit of Star-Wars-related news, Disney has filed a patent for lightsaber technology that sounds similar to what is already out there with Star Wars: Jedi Challenges, whereby a user can grip the actual hilt of a lightsaber and see the laser sword part of it projected through augmented reality. Sounds like we're definitely getting lightsabers at Galaxy's Edge.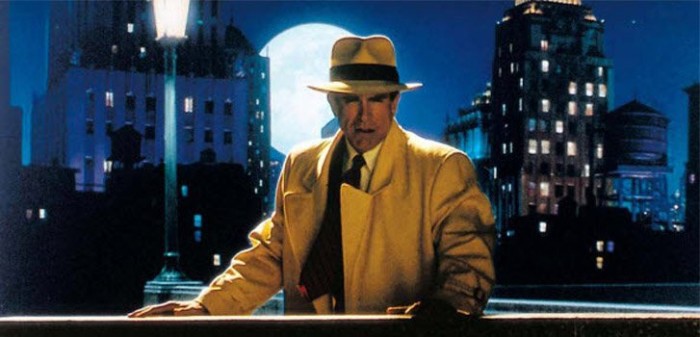 It's been years since I watched Dick Tracy, the 1990 Warren Beatty film based on the 1930s comic strip about a police detective who wears a two-way wrist radio and a yellow trench coat and navigates a vibrant, seven-color world with a girlfriend named Tess Trueheart and a rogues gallery of cartoonish, Tommy-gun-wielding mobsters who bear names like Flattop and Pruneface. But that is a film that I always loved when I was younger, and I could never understand why it held such a lukewarm legacy. At the very least, it is a film where the make-up, art direction, and original songs (by Stephen Sondheim) were firing on all cylinders, so much so that it won in all three of those categories at the Academy Awards.
It's always fun to think about theme park attractions that never were, and this week, Disney and more has a post up about the Dick Tracy CrimeStoppers attraction that almost came to be at Disney-MGM Studios (back when the park was still called that, before it made its name change to Disney's Hollywood Studios). Check it out if you're a fan of the movie or even just a fan of Imagineering concepts that never got the chance to live.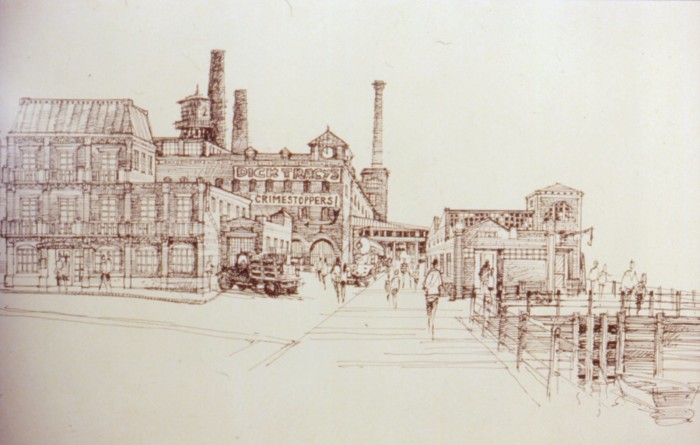 Some Universal bits:
A new constellation-themed parade has been announced for Universal Orlando's Mardi Gras 2018.
Universal Studios Hollywood has discontinued its California Neighbor Pass.
Johnny Rockets at Universal CityWalk Hollywood has closed for refurbishment.
Finally, if you missed our article about it, an English theme park has built a wooden rollercoaster themed to the 1973 horror classic The Wicker Man. "Fusing wood with fire for the first time ever on a wooden roller coaster" sounds like a safe recipe ...