2018 BAFTA Nominations Love 'The Shape Of Water' And 'Three Billboards', But Shut Out 'The Post'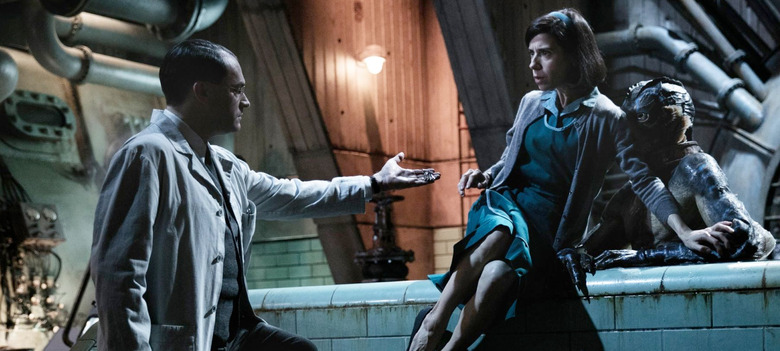 After the Golden Globes were handed out last weekend, it's time for the more significant, meaningful awards to take the spotlight. Today we have the 2018 BAFTA nominations, the equivalent of the Academy Awards for our friends in the United Kingdom.
The Shape of Water led the pack by racking up 12 nominations, including being one of five nominees for Best Film. Joining Guillermo del Toro's masterpiece were also Three Billboards Outside Ebbing, Missouri and The Darkest Hour, both landing nine nominations each. However, not all the awards favorites were shown love with Steven Spielberg's The Post left out in the wind with zero nominations.
See the full list of 2018 BAFTA nominations below.
Other contenders that didn't make the cut for Best Film include Get Out, The Florida Project, Phantom Thread and Lady Bird. That's to be expected when the BAFTAs have stuck to having only five nominees for their Best Film category, especially when the awards tend to be a little more skewed towards films made in the United Kingdom and directed by British filmmakers. But those movies still ended up with respectable nominations in other categories.
Unfortunately, female directors were again snubbed. While Darkest Hour director Joe Wright was the only filmmaker from the Best Film pack who didn't end up with a Best Director nomination, the space was filled by Denis Villeneuve for Blade Runner 2049. There's no denying these filmmakers are worthy of their nomination, but it's sad that in a year when women directed some outstanding movies that they're still getting the shaft like this.
Plus, on the goofier side of nominations, BAFTA voters decided Paddington 2 (which qualified for the awards by being released in the UK before it arrived in the US) deserved some love. It somehow ended up in the Outstanding British Film category and Hugh Grant even got an award for Best Supporting Actor. As charming as the Paddington films are, that just seems a little silly to me.
Anyway, here's the full list of 2018 BAFTA nominations:
Best FilmCall Me by Your NameDarkest HourDunkirkThe Shape of WaterThree Billboards Outside Ebbing, MissouriOutstanding British FilmDarkest HourThe Death of StalinGod's Own CountryLady MacbethPaddington 2Three Billboards Outside Ebbing, MissouriBest Director
Denis Villeneuve, Blade Runner 2049
Luca Guadagnino, Call Me by Your Name
Christopher Nolan, Dunkirk
Guillermo Del Toro, The Shape of Water
Martin McDonagh, Three Billboards Outside Ebbing, Missouri
Best Actress
Annette Bening, Film Stars Don't Die in Liverpool
Frances McDormand, Three Billboards Outside Ebbing, Missouri
Margot Robbie, I, Tonya
Sally Hawkins, The Shape of Water
Saoirse Ronan, Lady Bird
Best Actor
Daniel Day-Lewis, Phantom Thread
Daniel Kaluuya, Get Out
Gary Oldman, Darkest Hour
Jamie Bell, Film Stars Don't Die in Liverpool
Timothée Chalamet, Call Me by Your Name
Best Supporting Actress
Allison Janney, I, Tonya
Kristin Scott Thomas, Darkest Hour
Laurie Metcalf, Lady Bird
Lesley Manville, Phantom Thread
Octavia Spencer, The Shape of Water
Best Supporting Actor
Christopher Plummer, All the Money in the World
Hugh Grant, Paddington 2
Sam Rockwell, Three Billboards Outside Ebbing, Missouri
Willem Dafoe, The Florida Project
Woody Harrelson, Three Billboards Outside Ebbing, Missouri
Best Original ScreenplayGet OutI, TonyaLady BirdThe Shape of WaterThree Billboards Outside Ebbing, MissouriBest Adapted ScreenplayCall Me by Your NameThe Death of StalinFilm Stars Don't Die in LiverpoolMolly's GamePaddington 2Outstanding Debut by a British Writer, Director or ProducerThe Ghoul – Gareth Tunley (writer/director/producer), Jack Healy Guttman & Tom Meeten (producers)I Am Not a Witch – Rungano Nyoni (writer/director), Emily Morgan (Producer)Jawbone – Johnny Harris (writer/producer), Thomas Napper (director)Kingdom of Us – Lucy Cohen (director)Lady Macbeth – Alice Birch (writer), William Oldroyd (director), Fodhla Cronin O'Reilly (producer)Best Film Not in the English LanguageElleFirst They Killed My FatherThe HandmaidenLovelessThe SalesmanBest DocumentaryCity of GhostsI Am Not Your NegroIcarusAn Inconvenient SequelJaneBest Animated FilmCocoLoving VincentMy Life as a CourgetteBest Original MusicBlade Runner 2049Darkest HourDunkirkPhantom ThreadThe Shape of WaterBest CinematographyBlade Runner 2049Darkest HourDunkirkThe Shape of WaterThree Billboards Outside Ebbing, MissouriBest EditingBaby DriverBlade Runner 2049DunkirkThe Shape of WaterThree Billboards Outside Ebbing, MissouriBest Production DesignBeauty and the BeastBlade Runner 2049Darkest HourDunkirkThe Shape of WaterBest Costume DesignBeauty and the BeastDarkest HourI, TonyaPhantom ThreadThe Shape of WaterBest Make Up & HairBlade Runner 2049Darkest HourI, TonyaVictoria & AbdulWonderBest SoundBaby DriverBlade Runner 2049DunkirkThe Shape of WaterStar Wars: The Last JediBest Special Visual EffectsBlade Runner 2049DunkirkThe Shape of WaterStar Wars: The Last JediWar for the Planet of the ApesBest British Short AnimationHave HeartMamoonPoles ApartBest British Short FilmAamirCowboy DaveA Drowning ManWorkWren BoysEE Rising Star award (voted for by the public)
Daniel Kaluuya
Florence Pugh
Josh O'Connor
Tessa Thompson
Timothée Chalamet