Theme Park Bits: Hall Of Presidents Gets Trumped, Inside Club 33 At Shanghai Disneyland, And Visit Gotham City And Metropolis
In this edition of Theme Park Bits:
Get details on the new Up show coming to Disney's Animal Kingdom for its 20th anniversary.
More exciting news on the Star Wars: Galaxy's Edge development at Disney parks.
See surreal video of Trump sharing the stage with Lincoln in the Hall of Presidents.
Few have been able to glimpse what Shanghai Disneyland's Club 33 looks like inside ... until now.
Ever wanted to visit the Hall of Justice or Metropolis and Gotham City? Soon you'll be able to.
And more!
Since our last edition posted on December 10, the world of pop culture has been utterly consumed by a little movie called Star Wars: The Last Jedi. Life goes on, however, so we now resume our regularly scheduled Theme Park Bits, beginning this week with a round-up of the final set of announcements to come out of Disney Parks Blog's "12 Days of Disney Parks Christmas" countdown.
We're continuing our "12 Days of Disney Parks Christmas" with details about an all-new show coming to Disney's Animal Kingdom featuring Russell and Dug from "UP" – find out more: https://t.co/bLcOcRj7ke pic.twitter.com/qPdF7m6vma

— Disney Parks (@DisneyParks) December 11, 2017
On December 11, the blog announced a new show at Disney's Animal Kingdom, starting in spring 2018, featuring Russell and Dug from the Pixar film Up. On December 12, it posted a big breakdown of new Star Wars Day at Sea experiences.
Take a look at the working model of Pixar Pier – coming to Disney California Adventure park this summer! https://t.co/Fp0DAt1OUi pic.twitter.com/2DnkqNUOqt

— Disney Parks (@DisneyParks) December 14, 2017
On December 13, the blog revealed details for Terralina Crafted Italian, a restaurant coming to Disney Springs — where Cirque de Soleil also has a show based on Disney animation primed for the future. On December 14, the blog shared a neat look at a working model of Pixar Pier, the new themed land set to replace half of Paradise Pier at Disney California Adventure next summer.
To wrap up the "12 Days of Disney Parks Christmas," we're giving you an inside look at Star Wars: Galaxy's Edge! https://t.co/5WEgUT6qVh pic.twitter.com/dd2Xg3ExMw

— Disney Parks (@DisneyParks) December 17, 2017
If you missed it, our own Hoai-Tran Bui shared video giving a closer look at the Incredicoaster, a ride based on The Incredibles, while our own Ben Pearson shared the first look at Disney Parks' Millennium Falcon theme park ride. Disney Parks Blog actually wrapped up its Christmas countdown with some other cool updates on Star Wars: Galaxy's Edge (whose first merchandise has now been unveiled), like how they are "building a fleet of full-size X-wing starfighters," and how they have been researching "the exotic markets of Istanbul and Marrakech" to build a marketplace with merchant stalls overseen by alien species such as Toydarians. In the grand tradition of Star Wars, the Toydarians will, of course, sell toys.
What's a Toydarian look like, you ask? Well, does the name Watto ring a bell? Never forget Watto (or maybe I have that backwards and you should actually try hard to forget Watto and anything else associated with The Phantom Menace, save perhaps Darth Maul and "Duel of the Fates.")
I always knew Jon Voight would ascend to the presidency one day. pic.twitter.com/zAyfpQyWc0

— Courtney Theriault (@cspotweet) December 19, 2017
There's no escaping Star Wars, and in 2017, there's been no escaping Donald J. Trump, either. The 45th U.S. President has now taken his place in the newly reopened Hall of Presidents at the Magic Kingdom. As The Washington Post notes:
The new Trump figure, though, is shockingly off, prompting online critics to say it looks more like actor Jon Voight — or a hastily refashioned Hillary Clinton, as if work had begun prior to an Election Day surprise.
The Post, which is the very newspaper that figures into the Steven Spielberg film of the same name starring Tom Hanks and Meryl Streep, has commentary from both left-leaning and right-leaning cartoonists on the design of the Trump figure. This is one of those rare weeks where we have seen theme park news become the subject of late-night talk show jokes from the likes of Seth Meyers and Jimmy Fallon.
Thinking about jumping on the stage? Think again. There's been spikes installed to prevent such actions #HallOfPresidents pic.twitter.com/avYwWnKgul

— WDW News Today (@WDWNT) December 18, 2017
There are rumors that a new Disney World Monorail hotel might be built right at the main entrance to Epcot. Lest we forget, Epcot has a Guardians of the Galaxy attraction coming to it in the place where the Universe of Energy pavilion used to be. Florida parkgoers who need tiding over for their fix of Guardians via Disney can head on down to Miami, where Star-Lord, Gamora, and Groot, along with Iron Man will soon be setting sail again for the Marvel Day at Sea.
PHOTOS: @DisneyCruise Line's Marvel Day at Sea sailings from New York City this fall marked the first official appearance of Iron Man, Star-Lord, Gamora & Groot: https://t.co/wY0EYFqcgH pic.twitter.com/KgRSdiZ8iO

— Disney Parks (@DisneyParks) December 14, 2017
Across the ocean, Stan "The Man" Lee has been battling Hydra at Hong Kong Disneyland. Bopping over to Mainland China, Disney and more has posted what may very well be the Internet's first look inside Club 33 at Shanghai Disneyland. It all comes courtesy of a woman named Heather Concannon, who was able to succeed where others have failed and shoot exclusive photos of the private club's interior.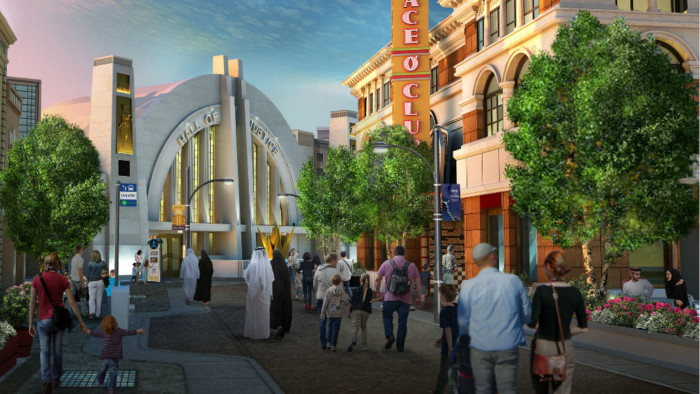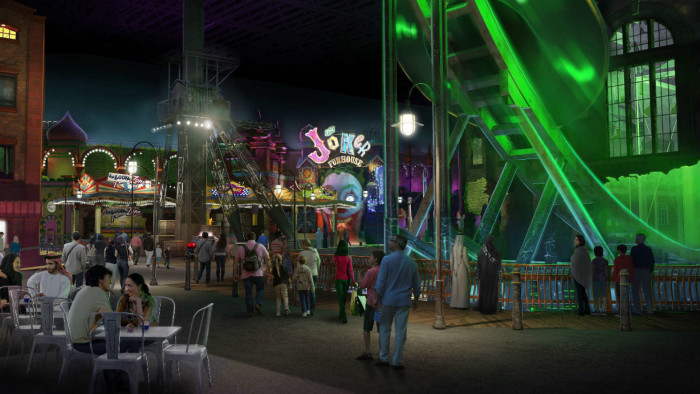 Disney and more also has the lowdown on Warner Bros. World Abu Dhabi, a new international theme park scheduled to open in 2018. At this park, you will be able to visit Metropolis and Gotham City, where Superman and Batman hang their capes, as well as Bedrock from The Flintstones and other lands "themed after iconic animated brands such as Looney Tunes and Hanna-Barbera."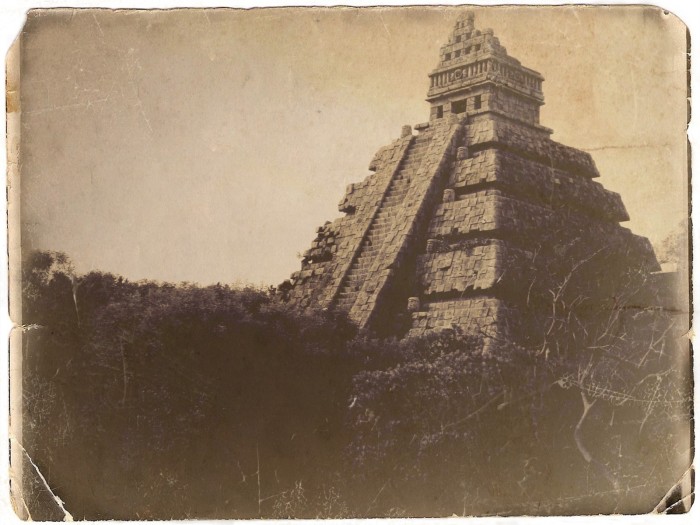 Can you identify the landmark above? It's the ride building for Indiana Jones Adventure: Temple of the Crystal Skull. As Disneyology notes, this version of the ride, which operates at Tokyo DisneySea, is arguably an "improved version of the Indiana Jones Adventure: Temple of the Forbidden Eye at Disneyland California." But don't take my word for it: see for yourself.
I've also got a feature up here on the site indulging in some speculation on how Disney California Adventure and Japanese theme parks could inform a 13th Disney park.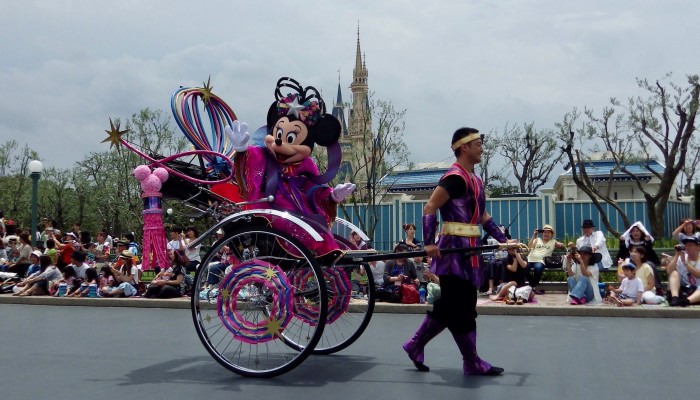 Finally, as The Disney Blog reports, in the midst of ongoing negotiations, Disney's largest group of unionized employees, which is made up of over 36,000 people, has rejected a new contract offer made by Walt Disney World.