'It: Chapter 2' Casting: Jessica Chastain And Idris Elba Are Both Down To Clown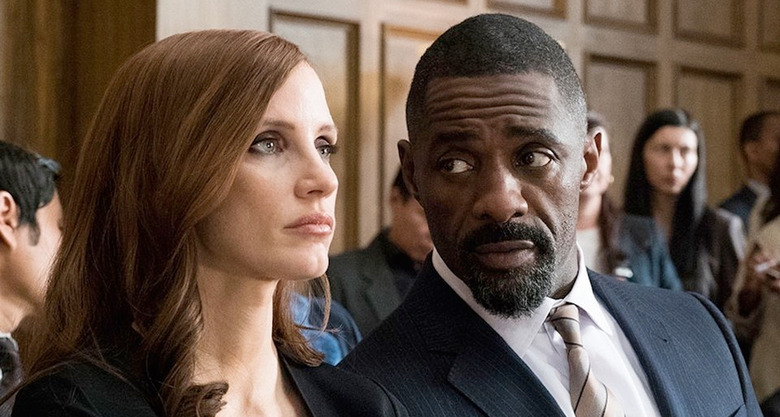 One of the biggest breakout box office hits of 2017 was the new adaptation of Stephen King's classic horror novel It. Directed by Andy Muschietti, the film finally brought the story to life on the big screen in a way fans had been waiting to see for decades. Not only did it make huge bank at the box office, but it was acclaimed by critics and general audiences alike, and the sequel is set to arrive in September 2019.
However, what's unique about It: Chapter 2 is that the story flashes forward 27 years after the events of first film and catches up with the kids in The Losers' Club after they have grown up. Most of them have left their cursed hometown of Derry, Maine, but they feel compelled to return when Pennywise the Clown makes a comeback and starts killing again. Since the casting of the kids in It was such an integral part of what made the movie so engaging, the casting of these characters as adults is critical, and two of the names from the wishlist of talent fans would like to see star in the movie have said they're down to clown: Jessica Chastain and Idris Elba.
ScreenRant recently sat down with both Jessica Chastain and Idris Elba as the two actors make the publicity rounds to promote Aaron Sorkin's directorial debut Molly's Game (you can read our review over here). The conversation eventually turned to the topic of It, because many fans have been clamoring for both stars to take roles as grown up versions of Beverly Marsh and Mike Hanlon, played by Sophia Lillis and Chosen Jacobs in the first movie. Here's the interview in question where the It Chapter 2 casting comes up:
Idris Elba hasn't actually hasn't seen the first It yet, which is shocking to Jessica Chastain, who goes on to accuse the Thor: Ragnarok star of being afraid of scary movies. However, once Chastain starts talking about the fact that she loved working with Andy Muschietti on his directorial debut Mama, not to mention that she's best friends with the director's sister and producer Barbara Muschietti, Elba quickly says, "Get me in. I love that movie."
As for Chastain's possible casting, it sounds like some wheels might already be spinning for her to take the role. Chastain continued the interview by saying, "Listen, of course, I want to work... they're my friends. They're like my family. Anything that they're doing I want to be a part of, so I hope we can make it happen."
Chastain is at the top of many wish lists for Beverly in It: Chapter 2, and all signs are pointing to it happening, so keep your fingers crossed. Elba would be a fine addition to the cast as well, but I don't think every actor in this movie can be an A-list star, so it might not be in the cards.
When it comes to the rest of The Losers' Club roles, we don't know who is in the running just yet. We have our own ideas of who should play the grown up version of these kids, but only time will tell who director Andy Muschietti fits into those roles. Hopefully, we'll find out sooner than later.
It: Chapter 2 is slated to arrive on September 6, 2019.