'Star Wars: The Last Jedi' TV Spot Reveals First Real Footage Of Benicio Del Toro's Character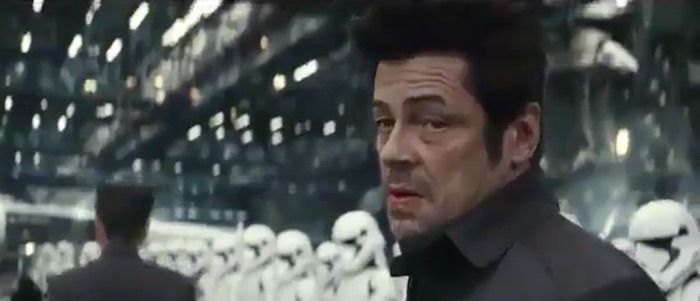 Disney and Lucasfilm already have your money next month. They know this. You know this. They can afford the luxury of keeping details about Star Wars: The Last Jedi in the dark. It feels like we're going into Rian Johnson's new movie mostly blind, which is an odd feeling in 2017.
So when a new international TV spot shows up offering our first real look at Benicio del Toro's mysterious Star Wars character, we can't help but take notice. Who is this guy? And why are the trailers hiding the fact that an Oscar-winning actor is among the new additions to the film's cast?
You can watch the new TV spot in the embed below. It's mostly footage we've seen before, but there is one brief shot of del Toro's mysterious "DJ" toward the end. Below, we're going to talk about little bit about what we know about the character, so if you're here for the footage and not the speculation, feel free to hightail it out of here after giving it a watch.
Still around? Groovy. Let's talk about DJ for a moment.
One of the only things we know for sure is that DJ (which may or may not be a name actually used in the movie) is a "splicer," the equivalent of a hacker in the Star Wars universe. We also know that he doesn't belong to either side of the war, existing in the gray area between the Resistance and the First Order.
While this is our first look at DJ in a trailer, in footage that actually comes from the finished movie, it's not our first look at the character overall. He was initially revealed in a Vanity Fair photo shoot, wearing a grungy coat and looking like he'd be right at home in the galaxy's most dangerous dive bar. But when we saw him in a behind-the-scenes video a month ago, he had spruced up a bit – he was dressed in the uniform of a First Order Officer, standing alongside John Boyega's Finn and Kelly Marie Tran's Rose Tico.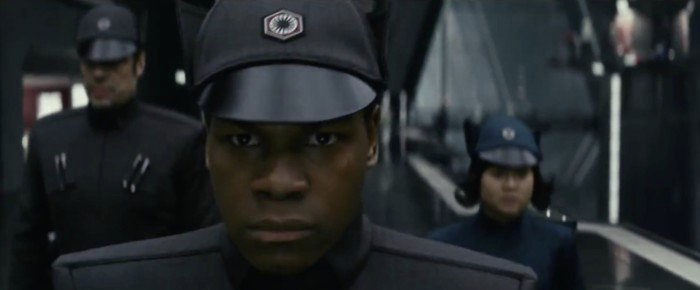 Since we know Finn and Rose aren't switching sides, that means DJ is undercover alongside this heroic duo, who most likely recruited him on the casino planet of Canto Bight. And since he's a splicer by trade, it looks like his skills were necessary for Finn and Rose to get this far in their dangerous undercover mission (the details of which remain unknown). With this knowledge, that means the look on DJ's face in the trailer (captured in the image at the top of the article) could translate to "Oh, man. These are a lot of Stormtroopers. What did you goody two shoes drag me into?"
Star Wars: The Last Jedi opens on December 15, 2017.