'The Room' Is Screening Nationwide To Prepare For 'The Disaster Artist' – And We Have Tickets To Give Away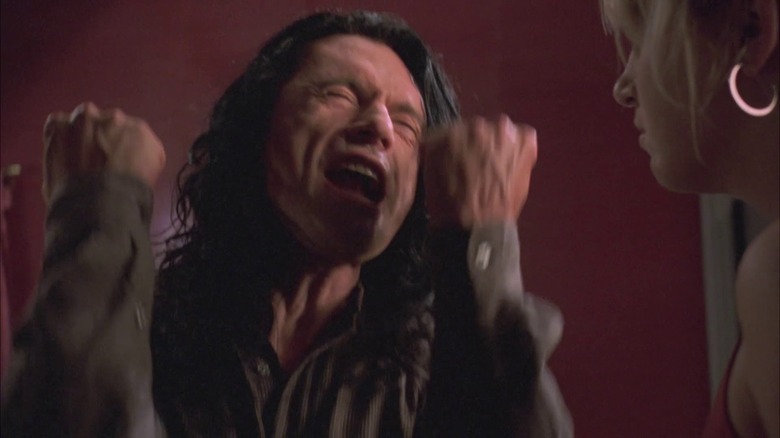 Since first baffling audiences in 2003, The Room has solidified its place in the pantheon of bad movies – it's the kind of disaster that makes you wonder if writer/director Tommy Wiseau is an alien who has never seen human beings interact before. Naturally, the story of how this movie got made is just as crazy as the movie itself and it's told in A24's excellent The Disaster Artist, which hits theaters in December.
But before that, A24 is hosting a nationwide series of The Room screenings to acquaint or re-acquaint audiences with Wiseau's must-see disaster-piece. And we have some tickets to give away!
40 cities across the United States will play host to The Room screenings on November 9, 2017 at 7:00 P.M. local time, and /Film is delighted to offer 50 admit-two tickets for each city. So clear your schedule and go get your tickets right here – it's first come, first served and when they're gone, they're gone!
One more thing: attendees at these screenings (with the exception of New York and Los Angeles) will be invited to see The Disaster Artist at a later date!
Here is a complete list of participating cities:
Atlanta
Austin
Baltimore
Boston
Buffalo
Charlotte
Chicago
Cincinnati
Cleveland
Columbus
Dallas
Denver
Detroit
Houston
Indianapolis
Kansas City
Las Vegas
Los Angeles
Madison
Memphis
Miami
Milwaukee
Minneapolis
Nashville
New Orleans
New York
Omaha
Orlando
Philadephia
Phoenix
Pittsburgh
Portland
Raleigh
Sacramento
Saint Louis
Salt Lake City
San Antonio
San Diego
San Francsico
Seatlle
Tampa
Washington D.C
And here's a teaser for the screening series, which also features snippets of footage from The Disaster Artist. It's astonishing how good James Franco is as Tommy Wiseau in this movie and even more astonishing to know that he apparently directed the entire movie in-character as the oddly-accented and eccentric (to say the least) filmmaker.
When I saw The Disaster Artist at SXSW earlier this year, I was blown away by how funny, charming, deranged and downright honest it was. Since then, the film has screened several more times and won even more fans, including /Film's own Ben Pearson. We're very excited about this movie and can't wait for more people to see it. And while you don't have to see The Room to appreciate The Disaster Artist, it does set the stage quite well. It begs you to ask "How did this get made?" and then Franco's film pops up and says, "Here you go!"
Plus, The Room needs to be seen with an audience. At home, you think you're going crazy while you watch it. In a crowded auditorium, you can really appreciate just how insane this movie really is as you realize that everyone else is seeing the same thing you are.
The Disaster Artist opens on December 1, 2017 in limited release before going wide on December 8. Here's the trailer: