'Saga' Funko Pops Offer An Adorable Take On The Best Comic Being Published Right Now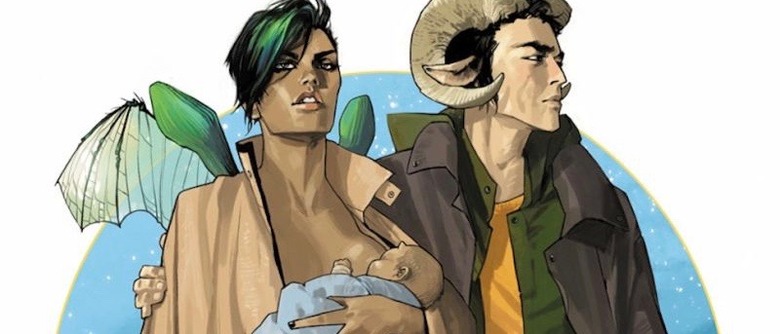 Whenever someone new to comics asks me for a recommendation, a place to jump in and start reading, my go-to answer is Saga. Writer Brian K. Vaughan and artist Fiona Staples' science fiction epic is sweeping and romantic, violent and irreverent, hilarious and heartbreaking, diverse and frank, sexy and disgusting. Imagine Star Wars, but instead of opening with a Star Destroyer chasing down the Death Star plans, it opens with a lead character worried that she's just crapped her pants while giving birth and her husband reassuring her that she did not. It's magical.
And like anything with even the smallest foothold in popular culture, Saga is getting its own line of Funko Pop figures. And yes, they're adorable.
Nine Saga Funko Pops were announced, offering several versions of Lying Cat, Alana, Marko, Prince Robot IV, Izabel, and The Will. You can check them out in the gallery below. Note that the Izabel figure is a Hot Topic exclusive and that the bloody Lying Cat is a Previews exclusive (so talk to the folks at your local comic book shop if you want to secure one).
I have a love/hate relationship with these little vinyl figures, mainly because I tell myself that I don't need any more of them and still continue to buy them anyway because they're inexpensive and cute and really do help fill the tiny spots on your shelves that need a little bit of character. Plus, the character designs in Saga are so distinct that it's impossible for these figures to look like anyone else, a common problem with some Pop figures.
The Saga Funko Pops will be available in February. If all of this has you intrigued and you want to know a little more, here's the description of the series:
SAGA depicts two lovers from long-warring extraterrestrial races, Alana and Marko, as they flee authorities from both sides of a galactic war. Traveling with their newborn daughter, Hazel, they encounter astonishing aliens, fearsome bounty hunters and a host of allies and enemies alike as they try and keep their new family safe.