Watch: Meet The New Cast Members Of 'Saturday Night Live' Season 43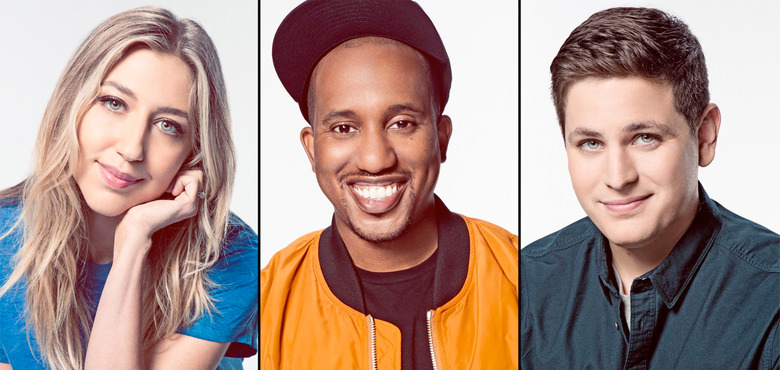 The 43rd season of Saturday Night Live is in full swing. We've already had three episodes with hosts Ryan Gosling, Gal Gadot and Kumail Nanjiani ushering in some laughs (be sure to check out our reviews of each new episode over here), and there's plenty more to come throughout the rest of the year.
Throughout this season, we'll be keeping an eye on the three new featured players making their debut on the show: Chris Redd, Heidi Gardner and Luke Null. We were introduced to them just before the new season began at the end of September, but now a series of videos from behind the scenes of the late night sketch series allows us to get to know the new Saturday Night Live cast members a little bit better.
Saturday Night Live had the three new featured players try to answer 43 questions (because it's the 43rd season) in just one minute. It's the fastest way for us to find out more about each of the cast members, even if they don't get anywhere near hitting 43 answers.
Like many Saturday Night Live cast members, Redd laid his comedy roots in Chicago by doing comedy at Second City. There he was a member of the touring company and co-wrote The Art of Falling, an improv-sketch-dance hybrid show that was pulled off with Hubbard Street Dance Chicago.
Taking the advice of Judd Apatow, Redd moved to Los Angeles and in addition to his role in Popstar, he's also appeared in the Netflix shows Love and Wet Hot American Summer: 10 Years Later. But you probably recognize him most from his scene-stealing performance as Hunter the Hungry in Popstar: Never Stop Never Stopping.
As another Midwesterner transplanted to Los Angeles, Heidi Gardner hails from the famous comedy house The Groundlings. Currently, Gardner can be heard on the animation series Supermansion on Crackle, and in her series of questions, she shows that she's quite the sports fan. Maybe that's something we'll see her show off on SNL in some form.
Finally, Luke Null shows that he's not exactly the quickest on his feet, or at least not as quick as Chris Redd and Heidi Gardner at answering these questions. But since he's from Chicago, I'm gonna cut him a break, and I'm pulling for him to make a splash on the series, something that can be extremely difficult to do for featured players in their freshman year.