'Justice League' Featurette: Putting The Super In Superhero Team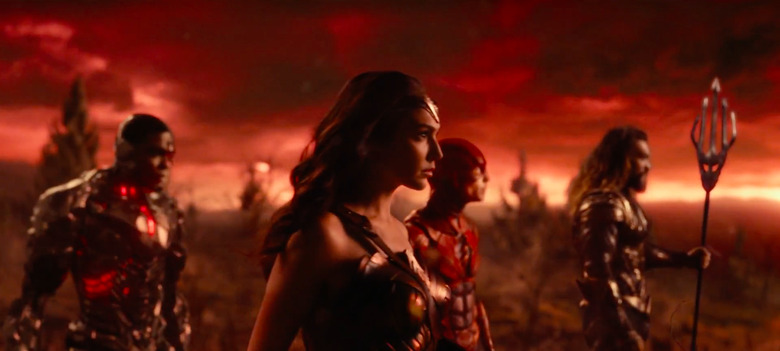 A troubled production and an uneven final trailer can't stop the actors from just having plain fun in Justice League.
The cast are all grins in this "first look" (which is weird because it's not really a first look) at the Warner Bros. superhero team-up film, which boasts a mood a hundred times more ebullient than most of the DC films have been thus far. Cobbled together from a group interview with stars Ben Affleck, Gal Gadot, Ezra Miller, Jason Momoa, and Ray Fisher, as well as what looks like set interviews and sit-downs, the Justice League featurette explores how these super friends came to be.
"I'm putting together a team," Affleck's Bruce Wayne growls to Miller's Barry Allen in the featurette — a scene we've seen a few times before. "People with special abilities."
"Stop right there, I'm in," Barry suddenly interrupts.
Surprised, Bruce stutters, "You are? Just like that?"
"Yeah. I need...friends."
And just like that, begins a beautiful friendship and "the greatest superhero team ever," according to Fisher.
Justice League Featurette
The featurette cuts together some new footage of the team getting together — Bruce and Diana showing Barry the Bat Signal, a few more fight scenes of Cyborg and Aquaman — with concept art of the DC superheroes and interviews with the cast describing their characters.
Affleck: "Bruce is actively trying to find these superhumans that he knows are out there."
Gadot: "This is the first time after many years that she starts working in a team again to make the world a better place."
Fisher: "Half man, half machine, Cyborg is the perfect combination of technology and the human heart."
Momoa: "Aquaman he comes from two different worlds. He's human and Atlantean."
Miller: "Flash has the ability to experience time more slowly. Honestly, I'm having too much fun."
There's not too much new footage, but I am adoring the family dynamic that is slowly emerging between Bruce, Diana, and Barry. And the featurette wisely focuses on the chemistry of the team over the confusing visual carnage from the last trailer.
Here's the synopsis for Justice League:
Fueled by his restored faith in humanity and inspired by Superman's (Henry Cavill) selfless act, Bruce Wayne (Ben Affleck) enlists newfound ally Diana Prince to face an even greater threat. Together, Batman and Wonder Woman work quickly to recruit a team to stand against this newly awakened enemy. Despite the formation of an unprecedented league of heroes — Batman, Wonder Woman, Aquaman, Cyborg and the Flash — it may be too late to save the planet from an assault of catastrophic proportions.
Justice League is directed by Zack Snyder and is set to hit theaters on November 17, 2017.