'Batman Ninja' Anime Arrives In 2018 From 'Afro Samurai' Creator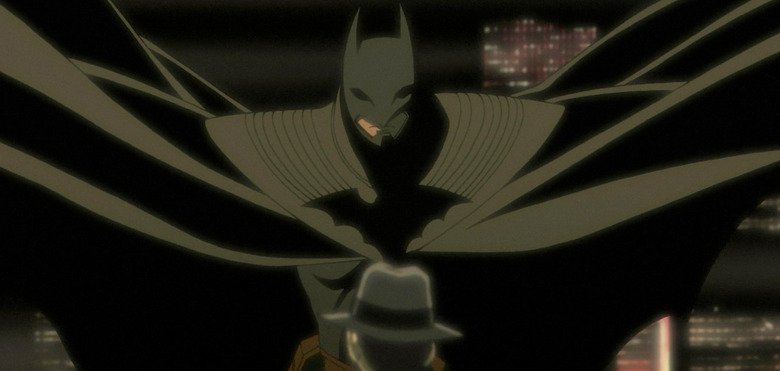 While DC Entertainment is just beginning their expansion into standalone live-action films featuring the most popular superheroes from DC Comics, the DC Universe Original Movies from Warner Bros. Animation are have been bringing some of the biggest comic book storylines to life for the past decade. Soon fans will see a Victorian spin on The Dark Knight in Batman: Gotham by Gaslight, and now we have word of Batman getting an anime makeover in another animated feature.
Batman Ninja is a new direct-to-video animated movie that will reimagine Batman as a ninja, complete with anime style animation. Sweetening the deal is the fact that Afro Samurai creator Takashi Okazaki is working on the Batman anime, which will have a panel at New York Comic-Con next weekend revealing more about the Batman Ninja anime.
ComicBook.com found out about Batman Ninja and has this official description of the NYCC panel:
"Warner Bros. Japan and Warner Bros. Home Entertainment team for an eye-popping addition to the Batman animated legacy with Batman Ninja, a spectacular, all-new anime film coming in 2018. Be among the first to witness the premiere of colorful footage from this imaginative take on Batman and many of his connected characters. Panelists will include director Jumpei Mizusaki, character designer Takashi Okazaki, screenwriter Kazuki Nakashima, English-language screenwriters Leo Chu & Eric Garcia and some potential special guests."
As we said, Takashi Okazaki is best known for creating the badass Afro Samurai. Meanwhile, director Junpei Mizusaki is best known for his work on the anime adaptation of JoJo's Bizarre Adventure, and writer Kazuki Nakashima has worked on the likes of Kamen Rider Fourze and Kill La Kill. That should satisfy anime fans who likely don't want this to be a weak imitation of the popular animation style from Japan.
As for who those special guests are, it will likely be the voice actors bringing Batman and other DC Comics characters to life, but that's just speculation on our part. Since previous animated DC movies have used voice talent from the the DC Comics animated TV shows, it wouldn't be surprising if some of those talents were involved in this project, but we'll have to wait until next weekend to find out more.
The previously released Batman: Gotham Knight featured a segment called "Field Test" that had a style that was as close to anime as The Dark Knight has come (seen up top), but Batman Ninja will be a feature length anime arriving sometime in 2018. Hopefully the release date will be announced at NYCC.
As soon as we learn more about Batman Ninja, we'll let you know.