This Year's DC TV Crossover Is 'Crisis On Earth-X' With Evil Supergirl, Flash And Arrow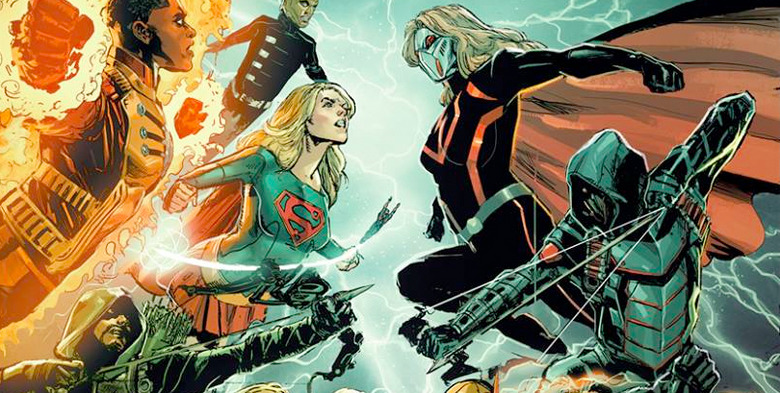 With Supergirl, Arrow, The Flash and DC's Legends of Tomorrow all situated at The CW, it's now customary to have all of the superheroes check into each others' shows for a major crossover event. Last season was the first time Supergirl was brought into the mix, and this season, we'll see new iterations of the DC Comics superheroes getting in on the action, this time as super-powered villains.
The CW and Warner Bros. Television have announced this season's four-part crossover will be titled Crisis on Earth-X, and they've even commissioned legendary comic artist Phil Jimenez (Infinite Crisis) to create a comic book cover teasing the epic TV event coming this November. Find out details on the Crisis on Earth-X crossover below.
First up, here's the comic book cover designed by Phil Jimenez for Crisis on Earth-X: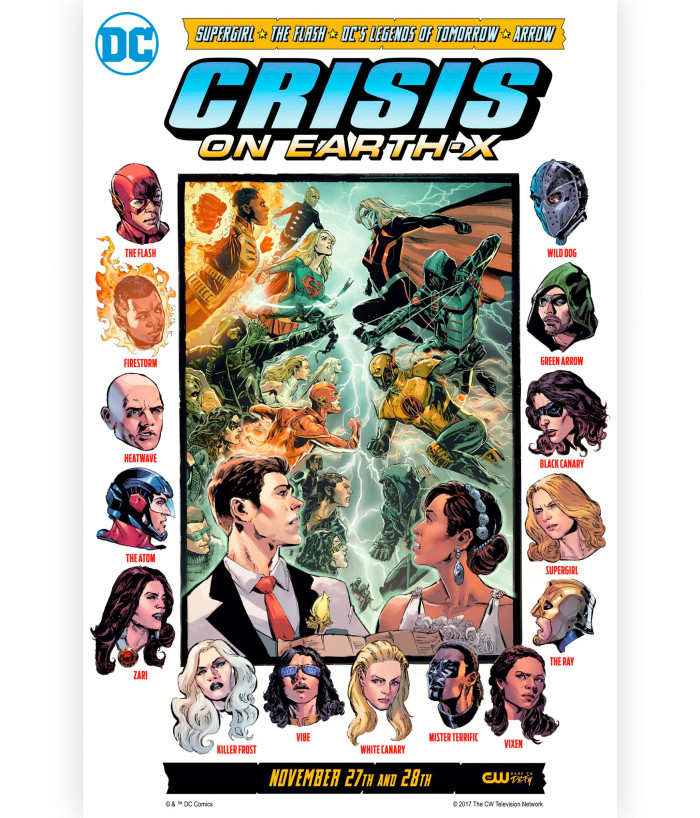 In the foreground, you'll notice that Barry Allen (Grant Gustin) and Iris West (Candice Patton) are getting married. All of their superhero friends (including Stephen Amell as Green Arrow and Melissa Benoist as Supergirl) are in town to celebrate their nuptials, and that just so happens to be when villainous versions of Supergirl, The Flash and Green Arrow from Earth-X crash the party and threaten to do more than just ruin the Scarlet Speedster's wedding.
The evil versions of Supergirl, The Flash and Green Arrow look pretty slick, and hopefully those outfits look just as good when they're realized on screen. Furthermore, although it hasn't been formally announced, it seems pretty likely that Grant Gustin, Stephen Amell and Melissa Benoist will all be playing their respective evil counterparts, which should be fun for the superhero stars. But there's also a new character joining the fight against these bad guys.
The CW already has an animated adaptation of DC Comics superhero The Ray in the works for CW Seed, the network's online content channel. But before that, the character will be entering the live-action world of the DC Comics TV universe (or Arrowverse) as a member of the Freedom Fighters, a group of heroes who fight against the oppression of the people in Earth-X, an alternate reality where Nazi Germany won World War II.
Russell Tovey (Quantico, Looking) has been tapped to play The Ray, aka Ray Terrill, who will be the first gay superhero to lead their own series. TV Line has the official description of The Ray for those who may not be familiar with the character:
"Raymond 'Ray' Terrill was a reporter who discovered a group of government scientists working on a secret project to turn light into a weapon of mass destruction. But before he could report on his findings, the project head exposed Ray to a "genetic light bomb." The bomb failed to kill him and instead gifted Ray with light-based powers. With these abilities, Ray realized he could go beyond reporting on injustice — he could take action to help stop it. Calling himself The Ray, he was recruited by Uncle Sam and the Freedom Fighters to fight violence and oppression wherever it exists."
You can see The Ray on the poster along with some interesting details for fans who have been keeping up with all four of the DC Comics shows on The CW. For example, Captain Cold (Wentworth Miller) will be involved in some capacity, and Zari (Tala Ashe) from DC's Legends of Tomorrow is wearing a certain amulet that might indicate her transformation into the superhero Isis. Plus, you'll see that Mister Terrific, Black Canary, and Wild Dog, all characters whose fate was unclear in the cliffhanger ending from Arrow last season.
All you hardcore fans of the show can glean other details at your leisure, but you'll be waiting for awhile to see what happens in this four-part, two-night crossover event, because it won't air until 9pm Eastern time on both Monday, November 27 and Tuesday, November 28. Otherwise, Supergirl returns on Monday, October 9, The Flash and DC's Legends of Tomorrow come back on Tuesday, October 10 and Arrow gets a new night, premiering on Thursday, October 12.
Are you excited for Crisis on Earth-X with Supergirl, Arrow, The Flash, and DC's Legends of Tomorrow?