New 'Star Wars: The Last Jedi' Trailer Arrives Next Month According To Blabbermouth Mark Hamill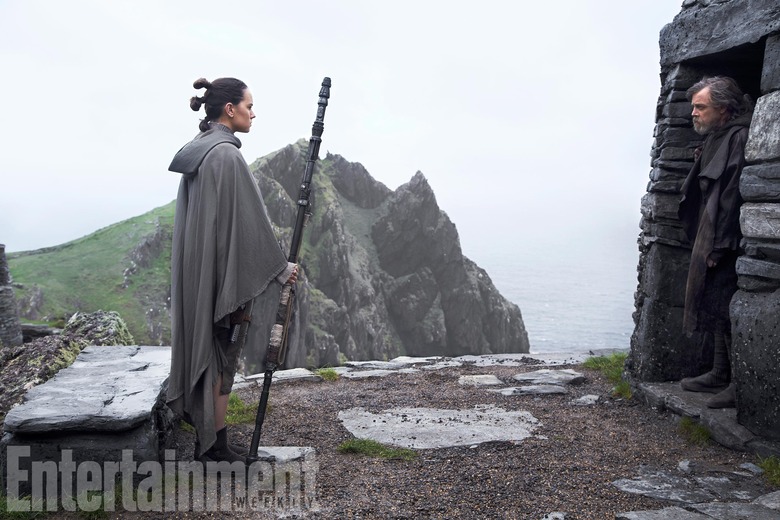 Mark Hamill has been in the "pleasing fans with his mere appearance" business for 40 years, but he's only been in the "adhering to incredibly strict and sometimes insane levels of studio-enforced secrecy" business for about four years. So yeah, it looks like Luke Skywalker accidentally let slip when the new Star Wars: The Last Jedi trailer will slip. Oops. Looks like someone is getting sent back into exile again...
In a now-deleted tweet, Hamill responded to a fan's question about a new trailer by saying "Watch Monday Night Football on Monday, October 9th – for no reason in particular." And while the tweet itself is gone, the internet, like the Force, is what gives us power. It's an energy field created by all living things with access to wifi. It surrounds us and penetrates us; it binds the galaxy together. In other words, the internet is forever. Sorry, Mr. Hamill.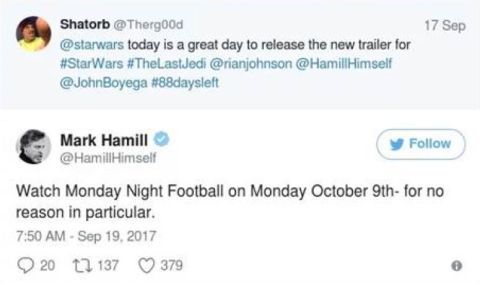 Clearly, Hamill received a stern phone call from Disney's lawyers, reminding him of the small explosive planted in the base of his neck that will detonate if he ever says too much. However, this revelation isn't that surprising in the grand scheme of things – the full trailer for Star Wars: The Force Awakens debuted during Monday Night Football back in October 2015. It's just smart marketing. Millions of Americans watch football and millions of Americans don't visit movie news sites every single day and need to be reminded that the next chapter of the sequel trilogy opens on December 15, 2017.
Anyway, after being reminded that his life is a brittle twig in the claws of a corporation with the power to destroy entire star systems, Hamill started singing a different tune on Twitter:
I have no idea. Disney will announce when they are ready. #WaitForVIIITrailer

— Mark Hamill (@HamillHimself) September 19, 2017
Still, feel free to head to Las Vegas (or to the shady neighborhood bookie of your choice) and put good money on the new Star Wars: The Last Jedi trailer arriving on October 9, 2017. Expect it to be online moments after it finishes airing for the sports fans on television.
Star Wars: The Last Jedi is written and directed by Rian Johnson and stars Daisy Ridley, John Boyega, Oscar Isaac, Adam Driver, Mark Hamill, Carrie Fisher, Benicio del Toro, Laura Dern, Andy Serkis, and a variety of alien creatures and droids. It is coming out on December 15, 2017, but you probably already knew that. In the meantime, you can revisit the first trailer right over here and read our extensive trailer breakdown of that footage right over here.