Watch Stephen Colbert's 2017 Emmys Opening Number, Monologue & Other Highlights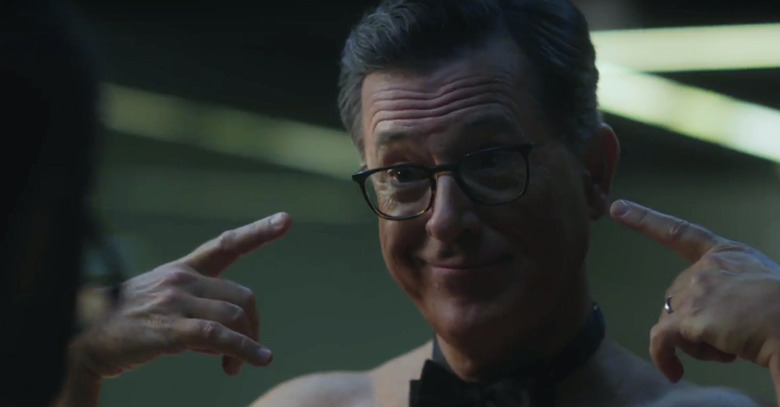 The 69th Primetime Emmy Awards were broadcast on CBS last night, handing out awards to HBO's Big Little Lies and Veep, Hulu's The Handmaid's Tale, Netflix's Black Mirror, NBC's This Is Us, FX's Atlanta, and many more (get the full list of winners right here). But if you weren't able to watch, we have the best moments from the show for your viewing pleasure.
The Late Show host Stephen Colbert served as master of ceremonies, opening the show with a musical number and an extensive monologue that featured one surprising guest that not only shocked people, but also made them feel a little uncomfortable. Plus, we get to see Emmy come to life thanks to Ru Paul, and Stephen Colbert breaks down during his hosting gig and needs a little Westworld check-up.
Check out the 2017 Emmys opening monologue, musical number and more below.
First up, here's the opening musical number, thanks to the folks at Pitchfork:
If you're not keeping up with all the hip music the kids like to listen to these days, that's Chance the Rapper who helps out with this musical number, along with the cast members of This Is Us, Stranger Things, Veep, Black-ish, The Americans and more. There's no doubt that the world is better on TV right now, but I probably could have done without seeing a demogorgon clapping it's terrifying mouth to the beat of this musical number.
After the musical opening, Colbert took to the stage to tell some jokes with an extensive monologue about the state of television, making no attempts to pull back on jabs directed toward Donald Trump and his administration of buffoons. One of the members of the administration even stopped by for a quick bit, with former White House communications director Sean Spicer appearing to hype up the Emmy viewing audience. Melissa McCarthy (who brilliantly played Spicer on Saturday Night Live) didn't look too pleased with his appearance and much of the audience looked shocked that he was there, with many online thinking that this joke just didn't have the impact the writers hoped it might have.
Throughout the rest of the night, there were some other fun bits, such as Stephen Colbert glitching as a host, forcing him to get checked out by Bernard (Jeffrey Wright) from Westworld. If you ever wanted to see a nude Stephen Colbert wearing just a bowtie, then this was a dream come true.
Stephen Colbert also took the time to interview Emmy herself, as played by drag queen icon Ru Paul, who sadly didn't take home the Emmy for Outstanding Reality Competition Program last night. Ru Paul looked positively fabulous, and we would be so lucky to have a trophy that looks so great.
Finally, the Television Academy paid tribute to all those amazing talents that we lost in the year since the last Emmy awards. There are some on-screen giants here, as well as some amazing talents from behind the camera. One person we probably could have done without honoring in any capacity, however, was the sexual harasser Roger Ailes.
***
All in all, this was a rather tame and lame Emmy ceremony. It's not as if these awards shows are particularly exciting, but even the more entertaining moments weren't all that remarkable. The winners themselves were easily the best part, with plenty of first-time winners, diverse talents honored, and a powerful showing by Hulu, knocking out not only the cable and broadcast networks, but Netflix too. We'll see what impact this has on the future of television as time goes on.
If you'd like to see more highlights from the 2017 Emmy awards, check out the CBS YouTube channel, which has some of the speeches from winners and other moments from the broadcast.