The Morning Watch: 'Ghostbusters' May Be About Nothing, More 'Rick & Morty' Non-Canonical Adventures & More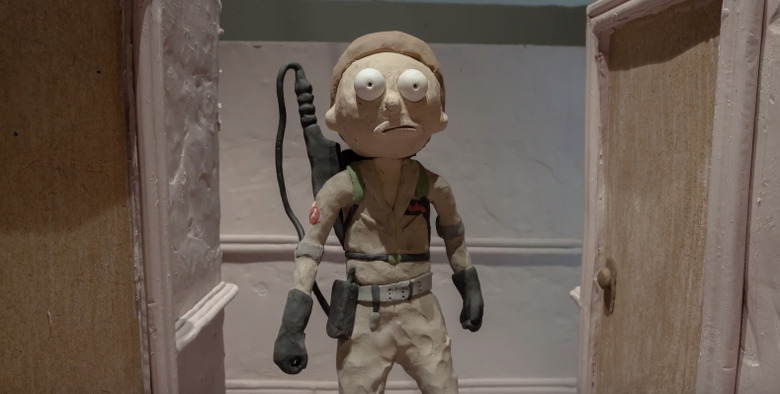 (The Morning Watch is a recurring feature that highlights a handful of noteworthy videos from around the web. They could be video essays, fanmade productions, featurettes, short films, hilarious sketches, or just anything that has to do with our favorite movies and TV shows.)
In this edition, a video essay proposes that Ghostbusters might actually be about nothing. Plus, watch more of Adult Swim's claymation bumpers featuring the non-canonical adventures of Rick and Morty, and a lengthy diatribe about why Star Wars is better than Star Trek by Conan associate producer Jordan Schlansky in a bit on the late night talk show that mistakenly goes on for far too long.
Before you get upset and think this video essay is trying to say Ghostbusters doesn't have a plot or story, that's not the case. Instead, the video essay argues that Ghostbusters doesn't really have any deeper meaning, subtext or themes to give the film a message. It's pointed out that there don't seem to be character arcs for Ray (Dan Aykroyd), Egon (Harold Ramis) and Venkman (Bill Murray), which is hard to argue with. But though that may sound like it's a flaw, it might be more impressive that a movie like Ghostbusters can be so good without adhering to that element of storytelling. You can be the judge of that.
You might remember that we've featured the claymation non-canonical adventures of Rick and Morty before, but since then, even more of them have appeared on Adult Swim. In total, there have been 16 brief stop-motion shorts that put Rick and Morty in some of the most iconic scenes from sci-fi and horror films. Lee Hardcastle has rounded them all up into a single video for you to enjoy. Hopefully there will be even more of these as time goes on.
Finally, in a segment that was cut from Conan, associate producer Jordan Schlansky was forced to dress as Spock and celebrate the anniversary of Star Trek. This was a cruel move by Conan O'Brien, because Schlansky is a die hard Star Wars fan. Before the producer went into the forced celebration of Star Trek, he was asked to explain why Star Wars is better. The bit was planned so Conan would stop Schlansky in what would turn into a long improvised rant. But Conan didn't realize he was supposed to stop the bit, resulting in a 7-minute diatribe about Star Wars that is quite masterful. But we're not choosing sides in this battle.