'Mouse Guard' Movie To Be Helmed By 'Maze Runner' Director Wes Ball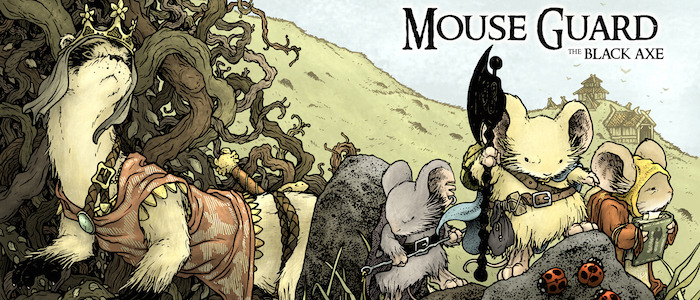 It looks like 20th Century Fox is planning to stay in the Wes Ball game. With the director of the Maze Runner movies seeking to cap off the series with the third and final film next year, the studio has recruited him to bring the celebrated comic book series Mouse Guard to the big screen. And this is good news. Because Ball really feels like he could be a Big Deal and occupying him with a fantasy epic about battle-ready mice may be the best way to keep someone like Lucasfilm from stealing him away.
Deadline has the news of Ball joining Mouse Guard, which is being written by Gary Whitta (The Book of Eli and Rogue One: A Star Wars Story) and produced by Matt Reeves. That second name is especially relevant since they also report that the film will make use of the performance capture technology Reeves and his team of brilliant visual effects artists perfected on Dawn of the Planet of the Apes and War for the Planet of the Apes.
Because Ball has only directed movies based on young adult books – The Maze Runner, Maze Runner: The Scorch Trials, and the upcoming Maze Runner: The Death Cure – I feel like people haven't caught on to him yet. After all, he's just some guy making YA movies, right? Just another guy following the wave of the Hunger Games series, right? Wrong! Or at least I think so because the Maze Runner movies are so much better than they have any right to be — mainly because they're so damn well directed. Ball may be a relative newcomer to the world of feature filmmaking, but there's a confidence to his action and pacing and sense of character that makes the Maze Runner movies feel so much more compelling than your average YA adaptation. I've been waiting for someone to hand him $100 million and letting him just got nuts. Mouse Guard could be the moment Ball steps up and starts really wowing us.
Mouse Guard is based on the beloved comic series written and illustrated by David Petersen. Since it began its run in 2006, the series has followed the titular group, a team of mice warriors in a medieval fantasy setting who tirelessly fight to protect their fellow rodents from all manners of threats. While I have not read the comics, I'm familiar with the world through the traditional tabletop RPG adaptation of the series, which is equal parts charming and fascinating. This has the potential to be something extraordinary and really cool, a combination of adorable animals, exciting adventure, and geeky fantasy.
And the news that it will be a motion capture film is especially interesting. There are no human characters in the world of Mouse Guard, so Ball and Fox are essentially setting out to make a photo-realistic animated movie, similar to what Disney and Jon Favreau are doing with the new Lion King. Are we seeing the emergence of a new medium? Movies that don't feature a single live-action character but take place in worlds that are intended to be as realistic as possible?
In the meantime, Maze Runner: The Death Cure opens on January 26, 2018.