'Downsizing' Teaser Introduces The Cast Of Alexander Payne's Shrunken Society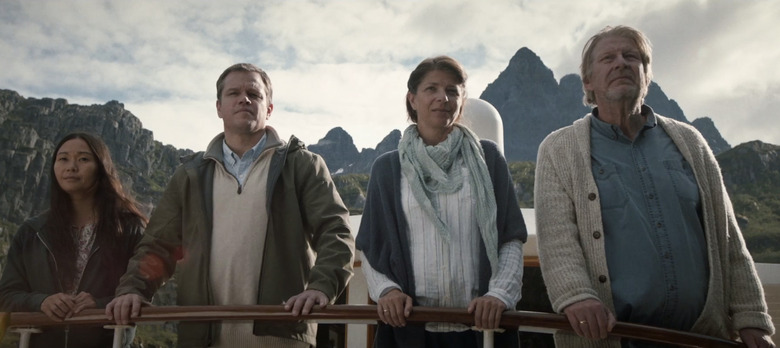 Director Alexander Payne has brought us plenty of outstanding quirky dramatic comedies, ranging from the dark laughs in Election to the family struggles of Nebraska with a little bit of cynical romance in-between with Sideways. Now he's heading into sci-fi territory with his latest film, and the first teaser has arrived online.
Downsizing takes place in a future where scientists have figured out how to shrink humans down to about five inches tall as a way to deal with the overpopulation of the planet. Smaller societies mean less space required, and Matt Damon and Kristen Wiig are ready to embark on a new life as tiny people. Get your first look at the little civilization and the rest of the cast in the Downsizing teaser below.
This teaser is meant to advertise the arrival of the full trailer on September 12, something that usually isn't done for non-blockbusters, but since the premise is so intriguing, I like that they're giving audiences a taste of the story before the full trailer debuts. All of this footage is likely in the theatrical trailer, but it serves as a satisfying introduction to the movie that will likely bridge the sci-fi genre with Alexander Payne's typically quirky character sensibilities.
Details on the story have been somewhat scarce, but the description of the film from the Toronto International Film Festival program, where the movie will premiere on September 9, gives us a little more insight into the story:
Matt Damon plays an agreeable everyman trying, like so many other Americans, to get by in a tough economy. For him and his wife (Kristen Wiig), life's material desires seem forever out of reach. As those around them realize that miniaturization is not just a solution to resource depletion but also a way to get rich, they begin to contemplate living in a mansion the size of a doll's house. What could go wrong?
As the teaser indicates, joining Matt Damon and Kristen Wiig in the movie are Christoph Waltz, Hong Chau and Jason Sudeikis. But the cast also includes Laura Dern, Alec Baldwin, Neil Patrick Harris and Margo Martindale. That's a fantastic ensemble, and in the hands of Alexander Payne, this movie should be one to keep an eye on during awards season this winter.
Here's the official synopsis for Downsizing from Paramount Pictures:
When scientists discover how to shrink humans to five inches tall as a solution to over-population, Paul (Matt Damon) and his wife Audrey (Kristen Wiig) decide to abandon their stressed lives in order to get small and move to a new downsized community — a choice that triggers life-changing adventures.
Downsizing arrives in theaters on December 22, 2017.