'Kingsman: The Golden Circle' TV Spots: Is Statesman Compensating For Something?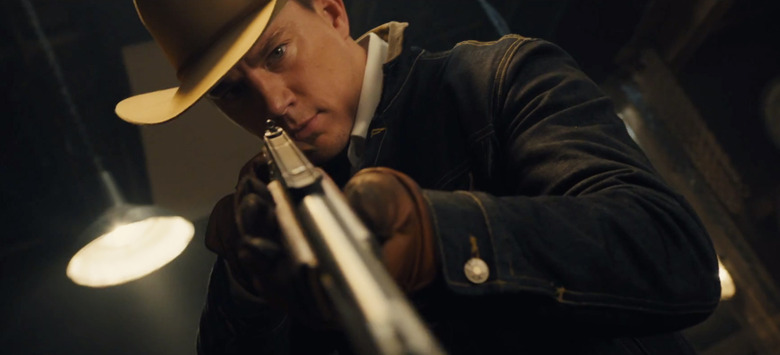 We're just under a month from the return of Kingsman, the British secret agent organization that saved the world from a diabolical scheme involving mind control. This time there's a new threat who strikes a crushing blow against Kingsman, leaving them without a headquarters and in desperate need of allies. That's where Statesman comes in
Kingsman: The Golden Circle has Kingsman taking refuge with their American cousins known as Statesman, who operate out of a whiskey distillery. Both organizations were founded at the same time, and working together may be the only way to stop a deadly new villain. However, even though Kingsman and Statesman must work together, it's clear there are some differences that make for a somewhat confrontational working environment. You'll see what I mean in a batch of new Kingsman The Golden Circle TV spots below.
As you can see, there are several differences between Kingsman and Statesman. First, there are baseball hand grenades, Statesman whiskey certainly has more bite to it than the Kingsman are used to, and Channing Tatum's character is clearly a little less reserved about the proceedings. But Eggsy (Taron Egerton) takes a special notice of a certain item carried by Pedro Pascal's character, which may give some indication as to why Statesman feel like they have to drive around in such big cars.
Kingsman: The Secret Service was a thoroughly enjoyable and refreshing action comedy when it arrived a few years ago, and I'm glad the irreverent humor and gratuitous violence appears to be on par with what we saw in the first film. Here's hoping director Matthew Vaughn can deliver another unique adventure that doesn't just lazily tread the same territory as the first film.
If you'd like to see more from Kingsman: The Golden Circle, check out the most recently released red band trailer right here, and check out our full rundown of all the footage shown at San Diego Comic-Con back in July.
Kingsman: The Secret Service introduced the world to Kingsman – an independent, international intelligence agency operating at the highest level of discretion, whose ultimate goal is to keep the world safe. In "Kingsman: The Golden Circle," our heroes face a new challenge. When their headquarters are destroyed and the world is held hostage, their journey leads them to the discovery of an allied spy organization in the US called Statesman, dating back to the day they were both founded. In a new adventure that tests their agents' strength and wits to the limit, these two elite secret organizations band together to defeat a ruthless common enemy, in order to save the world, something that's becoming a bit of a habit for Eggsy...
Kingsman: The Golden Circle hits theaters September 22, 2017.