'American Made' Featurette: Tom Cruise Dabbles In Drugs, Guns And Money Laundering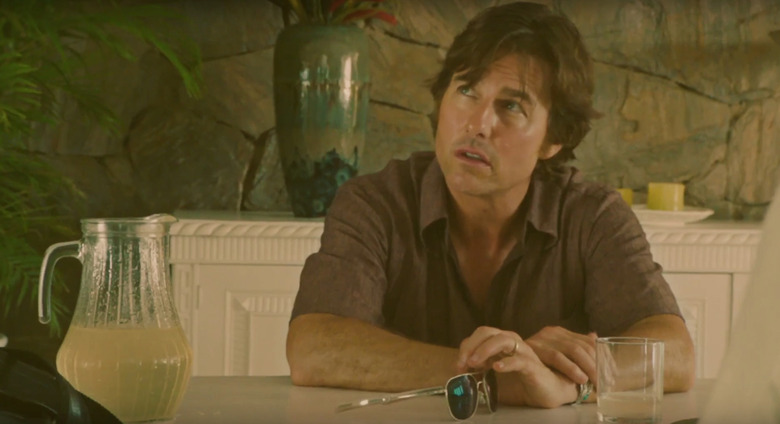 Right now Tom Cruise is out of commission with a broken ankle, halting the production of Mission: Impossible 6 for anywhere from six weeks to three months. But if you still need your fix of Cruise in the meantime this fall will deliver a big dose of the international superstar in the true story of an airline pilot turned drug and gun trafficker and money launderer for the government.
American Made tells the real story of a man named Barry Seal who was recruited by the CIA to do some shady business dealings with some of the most notorious drug kingpins of the 1980s, and he was paid handsomely for it. For those who maybe don't know about the true story, a new American Made featurette shows Tom Cruise and director Doug Liman recounting what they learned about the real Barry Seal, complete with new footage from the movie itself.
There's an element of Catch Me If You Can in this movie, and it sounds like quite the compelling story. Plus, for those who like Tom Cruise when he's doing his own stunts, American Made has him taking on quite the dangerous and crazy one. Cruise is a trained pilot himself, so he did a bit of real flying in this movie. But in one sequence, his character has to leave the cockpit to unload some stuff from the plane while it's flying in mid-air. That's something Cruise really did. He flew a plane, left the cockpit to throw something out the back of it, and then went back to the cockpit.
Here's hoping that Cruise recovers from his recent Mission: Impossible 6 set injury with flying colors so he can still pull off some of these stunts that he loves doing so much on the big screen. In the meantime, you can watch the American Made trailer over here and read the official synopsis below:
In Universal Pictures' American Made, Tom Cruise reunites with his Edge of Tomorrow director, Doug Liman (The Bourne Identity, Mr. and Mrs. Smith), in this international escapade based on the outrageous (and real) exploits of a hustler and pilot unexpectedly recruited by the CIA to run one of the biggest covert operations in U.S. history.
Based on a true story, American Made co-stars Domhnall Gleeson, Sarah Wright, E. Roger Mitchell, Jesse Plemons, Lola Kirke, Alejandro Edda, Benito Martinez, Caleb Landry Jones and Jayma Mays.
The film is produced by Imagine Entertainment's Academy Award®-winning producer Brian Grazer (A Beautiful Mind), Cross Creek Pictures' Brian Oliver (Black Swan) and Tyler Thompson (Everest), Quadrant Pictures' Doug Davison (The Departed), and Kim Roth (Inside Man). Gary Spinelli wrote the screenplay.
American Made hits theaters on September 29, 2017.