Guillermo Del Toro's Official Tequila Looks Like A Prop From One Of His Movies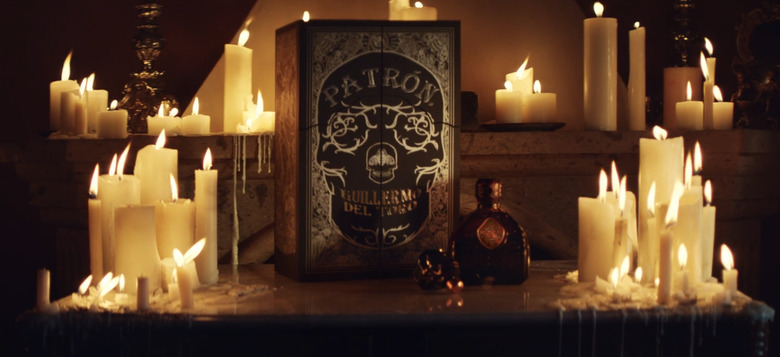 There's already a Hellboy whiskey that was released earlier this year, but if you're looking for something a little harder, former Hellboy film franchise director Guillermo del Toro has something that you might want to get your hands on.
Beloved horror, fantasy and sci-fi filmmaker Guillermo del Toro has teamed up with the tequila company Patrón to offer his own extra añejo tequila for the ages. Before you think this is just an instance of another celebrity trying to make some extra cash by slapping their name on a bottle of alcohol, you should understand that del Toro comes from Jalisco, Mexico, which is the home of tequila itself. Plus, once you see the bottle, you'll see that del Toro put the same kind of effort into this little endeavor as he does his motion pictures.
Check out Patrón's Guillermo del Toro tequila below.
Here's what Guillermo del Toro had to say about his tequila in the official press release:
"Tequila courses through the veins of my native land, Jalisco. It represents a communion between spirit and earth, steeped in time and tradition, and a source of pride that roots us and defines us both. Through the years, I have been offered many collaborations in designing and executing different products. I have never been tempted. This creation has been an adventure, and a privilege."
Plus, del Toro got to design the packaging, and it's right in his wheelhouse:
The press release goes on to describe the package and the aged tequila inside:
"The most striking detail inside the box is the centerpiece glass bottle, which upon closer examination reveals not one, but actually two bottles. It resembles what looks like a fantastical winged creature straight out of one of del Toro's iconic films. A limited-edition 750ml bottle of extra añejo tequila sits upside down as the "torso," while the second, a 100ml bottle of aged orange liqueur, sits on top, a skull exquisitely carved into the crystal. The spirit in the larger bottle is a remarkable blend of rare Patrón tequilas aged for an average of more than five years in a combination of different new and used oak barrels. Complementing that tequila is the smaller bottle, a first-of-its-kind aged Patrón orange liqueur produced from aged Patrón tequila."
You can get your hands on the Guillermo del Toro tequila right now at various liquor retailers, but there are limited quantities available with a suggested retail price of $399 per bottle. But if you're Guillermo del Toro fan who love tequila, you couldn't ask for a better item. For more, check out the official press release right here.