'Avengers: Infinity War' Cast Members Didn't Receive The Entire Script During Production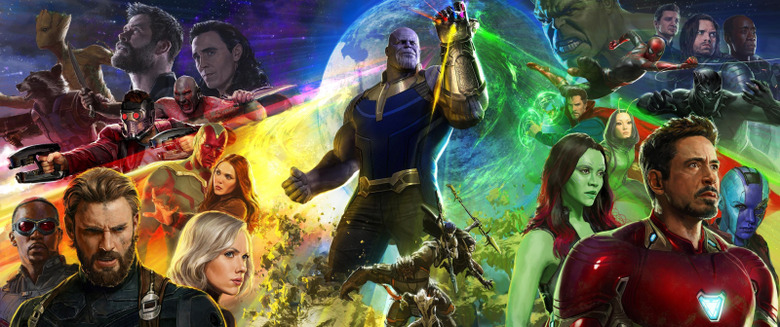 Marvel Studios is notoriously secretive when it comes to their big screen endeavors, and when it comes to the next assembly of The Avengers, they're not even trusting the cast members who play Earth's mightiest heroes to keep their mouths shut.
Avengers: Infinity War is done shooting and production on Avengers 4 is underway. We've already gotten a taste of what The Avenger sequel will bring to the table next summer with the footage that played at both The D23 Expo and San Diego Comic-Con, but when it comes to hearing new details about the movie, we may not be able to rely on the cast members to accidentally spill secrets as often as they did before. That's because directors Anthony & Joe Russo didn't give their cast the entire Infinity War script and only provided them with the relevant pages and information they needed to effectively deliver the best performance.Elizabeth Olsen recently appeared on The Late Show with Stephen Colbert where she was immediately asked by the nerdy Stephen Colbert if there was anything she could reveal about the next Avengers movie. Olsen couldn't really say anything more than revealing the lengths to which Anthony & Joe Russo went to ensure that secrets weren't known by too many people (the relevant part starts around 1:09):
If you can't watch the video, here's what Olsen had to say during the interview:
"This time, they actually decided to not give us scripts. They gave me my pages and then they explained other things that are happening... I'll be so shocked and surprised. I'll be like 'Oh I see, that's what was happening to the world at that time.'"
Interestingly enough, Dave Bautista recently said that he didn't read the entire Avengers Infinity War script as well, but he made it sound like it was a personal choice he made. Responding to a fan on Twitter, Bautista posted this:
I chose not to read it. Gods honest truth! I want to sit there with my bucket of popcorn and bag on M&M's and be surprised! #fanboy https://t.co/sg0nOGoDuQ

— Dave Bautista (@DaveBautista) August 2, 2017
Even if Bautista made the choice not to read the script as opposed to being deprived the opportunity to do so, one member of the Marvel Cinematic Universe is being kept more in the dark than the others. Apparently Spider-Man: Homecoming star Tom Holland likes to run off at the mouth a little too much with spoilery information. In fact, Holland is so much of a security risk when it comes to giving away secrets that the Russos wouldn't even tell the actor who he was fighting in a particular scene. Holland told the BBC awhile back:
"Yeah, there is one moment in Avengers where I don't know who that person is. And I'm fighting him, and there's nothing more embarrassing than pretending to fight a 'monster' in front of 200 people, in Spandex. You know, literally like dodging stuff and trying to web him. They're all like, 'That's Great Tom, more energy. More Energy. Jump. Jump."
When you consider the fact that the Avengers: Infinity War cast includes Robert Downey Jr., Josh Brolin, Mark Ruffalo, Tom Hiddleston, Chris Evans, Chris Hemsworth, Jeremy Renner, Chris Pratt, Elizabeth Olsen, Sebastian Stan, Benedict Cumberbatch, Paul Bettany, Samuel L. Jackson, Chadwick Boseman, Cobie Smulders, Benedict Wong, Zoe Saldana, Karen Gillan, Vin Diesel, Dave Bautista, Pom Klementieff, Scarlett Johansson, Don Cheadle, Tom Holland, Bradley Cooper, and Anthony Mackie, that's a lot of people to give the entire story of Infinity War too. Statistically speaking, it's just smart to limit how much those people know about the movie. So some of them won't know what's happening until they see the movie like the rest of us.
Avengers: Infinity War hits theaters next summer on May 4th, 2018.