Wonder Woman Will Be Part Of 'Flashpoint', Which Could Be A Big Deal [Updated]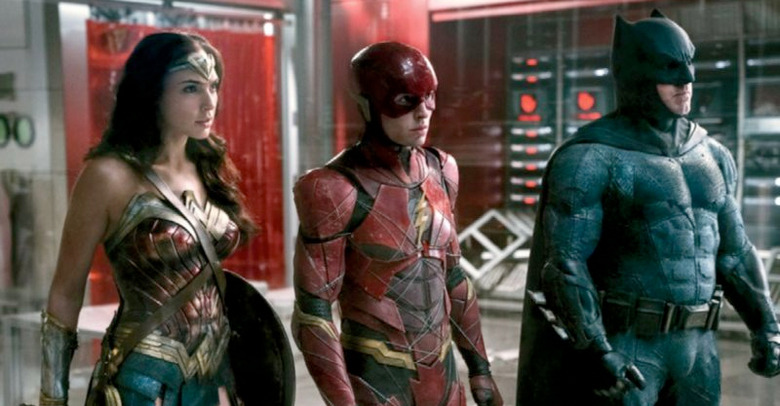 Update: Buried in a Deadline article about actress Gal Gadot being cast in a film called Deeper, the outlet says Gadot will reprise her role as Wonder Woman in the upcoming Wonder Woman 2, "the Justice League films and the spinoff for The Flash." Our original article from August 6, 2017 follows.
During the Warner Bros. Pictures panel at San Diego Comic-Con, a surprising reveal came when referencing the first solo feature film for The Flash in the DC Extended Universe. The title of the movie, scheduled for release in 2020, was named as Flashpoint in a flash series of moving title cards that unfurled before the DC Comics part of the Warner Bros. panel began.
The reveal of Flashpoint as a title in development was a huge deal, mostly because that story arc has a massive impact on the DC Comics universe. The storyline imagines a DC Comics universe where Barry Allen (who will be played by Ezra Miller) didn't get his speedster powers and never became The Flash, which also ends up effecting the rest of the members of Justice League, and if a new rumor is to be believed, we'll get to see how that impacts at least one of those superheroes in the Flashpoint movie.
Buried in a Forbes article discussing the box office success of Wonder Woman and looking at the future of the DC Extended Universe, there's the mention of Gal Gadot reprising her role as Diana of Themyscira in Flashpoint. Furthermore, they go on to say that it's not just The Flash's solo movie, but "another superhero team-up featuring several additional DC superheroes." If that's true, this could be a big deal for the DC Extended Universe.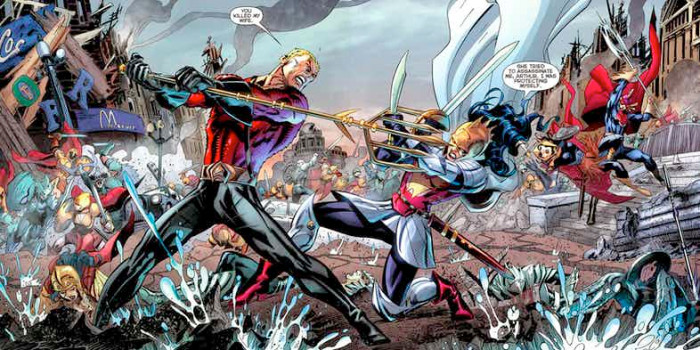 How Big Will Flashpoint Be?
Any DC Comics fan will tell you that Flashpoint has a drastic impact on the characters and historic moments in the entire universe. There's no Justice League, Superman is being held in government captivity, Thomas Wayne has become a different, more violent version of Batman after his wife and son are killed, and there's a massive war between Atlantis and the Amazons, pitting Aquaman and Wonder Woman against each other. All of this is caused by Barry Allen preventing the murder of his mother in the past, and thus creating this alternate universe.
If the Flashpoint movie follows this same storyline, this has the potential to be a blockbuster event akin to Captain America: Civil War or maybe more accurately, X-Men: Days of Future Past. Perhaps as Barry Allen explores his powers, he realizes his time traveling ability and ends up selfishly trying to change the trajectory of his family's life, unknowingly changing the entire DC Extended Universe. Then he's forced to fix his transgressions through time in order to get the universe back to normal, not unlike Back to the Future Part II.
Many fans have speculated that using the Flashpoint storyline would allow Warner Bros. Pictures and DC Entertainment to replace Ben Affleck as Batman within the narrative structure of the DC Extended Universe without shaking things up too much. Considering that when The Flash fixes the events of Flashpoint in the comics it spawned The New 52 series of stories, that's a fair assumption. But it would also mean that The Flash movie would probably be the biggest cinematic event in the DC Extended Universe yet.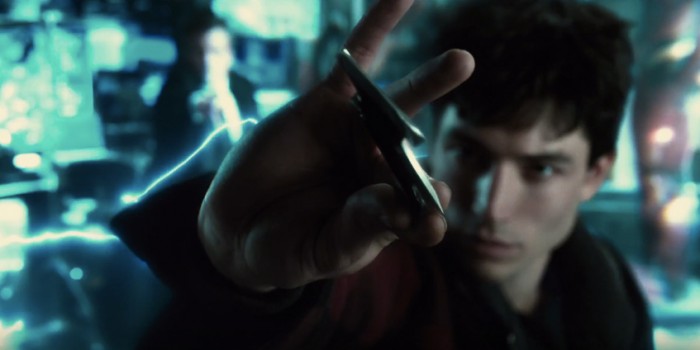 Flashpoint May Be Less Complex But No Less Important
Though the Flashpoint storyline is a big one for DC Comics, that doesn't necessarily have to be the case for the big screen. After all, we've seen how large comic book arcs like Marvel's Civil War have been changed and isolated to single film narratives. So while Flashpoint may have a big impact on the DC Comics universe, the way the story plays out on the big screen might be much more isolated and focused on The Flash.
Remember when we compared the Flashpoint storyline to Back to the Future Part II because Barry Allen did something in the past that drastically changed the future? Let's not forget that Warner Bros. has been courting Robert Zemeckis to direct. So what if instead of being this grand, blockbuster that has the entire DC Comics universe upended, the story is more centralized on Barry Allen and how his life is affected because his decision to change the past has resulted in him having no relationship with any of the superheroes of the Justice League?
As we've seen in the Justice League trailers, Barry Allen is kind of a lonely kid. He even mentions that he doesn't really have many friends so he's immediately on board for Bruce Wayne's proposal for him to join a superhero team. So if what Barry Allen changes in the past causes him to never get the attention of Justice League, changing the face of superheroes in the DC Extended Universe? That's something he would want to fix.
ScreenRant has an interesting idea of how this might play out with Diana taking a key role as a counterpart to Barry Allen, guiding him through the darker, alternate universe where the Justice League never came together. They point out that Barry Allen's powers were a big part of what convinced both Wonder Woman and Batman that there was something bigger at play. Without seeing footage that was found on Lex Luthor's computer, she may never have decided to help Batman and Superman fight Doomsday. And if that doesn't happen, then Justice League as we'll see it come together this fall would never be formed.
Before we knew The Flash movie was called Flashpoint, it was said to be a time traveling buddy movie involving The Flash and Cyborg. But now that Wonder Woman has proven to be the most successful superhero in the DC Comics line-up, she might prove to be a better counterpart than Cyborg. After all, the latter's solo movie that was once scheduled for release in the next few years was nowhere to be seen in the line-up of titles at San Diego Comic-Con, so maybe Cyborg isn't quite the pillar character that Warner Bros. hoped he'd be.
***
This is all speculation for now, but the fact that other DC Comics superheroes will appear in Flashpoint indicate that we'll see the iconic comic storyline play out in some capacity. Whether it's on an epic scale involving the entire universe or on a more isolated scale like Back to the Future, we'll have to wait and see.
For now, all we know about The Flash movie is that it will be called Flashpoint, it will star Ezra Miller as Barry Allen, as well as Kiersey Clemons as Iris West, Billy Crudup as Barry's father Henry Allen, and Ray Fisher as Cyborg, and it will arrive sometime in 2020. Stay tuned for more.