'Ingrid Goes West' Red Band Trailer: Aubrey Plaza Is A Sycophantic, Sociopathic Stalker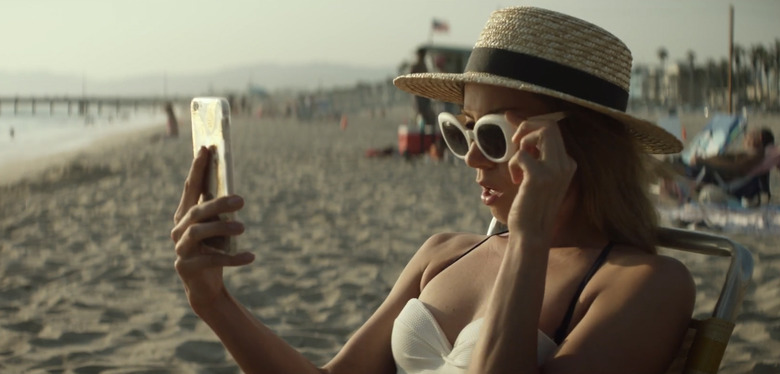 If you're looking for some motivation to stop scrolling through Facebook, Instagram, Snapchat and all that nonsense, the indie dark comedy Ingrid Goes West might help cure you of your incessant desire to stay connected to everyone through your phone.
The movie, which premiered at the 2017 Sundance Film Festival, follows Parks and Recreation star Aubrey Plaza as the titular social media obsessed stalker who latches on to someone she meets online, adapts her personality to become best friends with them, and inevitably ruins the relationship when she becomes way too clingy. A new red band trailer just debuted which shows how crazy Ingrid can get as she tries to impress a social media celebrity played by Elizabeth Olsen.
Watch the new Ingrid Goes West red band trailer below, but beware of NSFW language.
Ingrid Goes West Red Band Trailer
Though the movie plays up the more deranged side of Aubrey Plaza's character, rest assured that this movie is also extremely funny, albeit often in a twisted way. The opening of the film, where Ingrid crashes a wedding by spraying mace at the bride and calling her some not-very-nice words (which you can see it in the trailer above) is quite shocking, and it sets the stage for the craziness to come.
We caught the film at Sundance earlier this year, and our own Peter Sciretta wrote, "Ingrid Goes West is not just your average comedy film, but a smart commentary on our social media obsessed world." It also comes with outstanding performances from the entire cast, especially O'Shea Jackson Jr. (Straight Outta Compton) in a charming and funny role. Plus, Elizabeth Olsen's vapid send-up of Los Angeles personalities is as spot-on as it is tragically hilarious.
Ingrid Goes West was one of our favorite films of Sundance, and it's one that you will undoubtedly enjoy if you seek it out. It gets a little darker than you might think, but it makes for a fantastic directorial debut from Matt Spicer, who also wrote the script with David Branson Smith, which won the Waldo Salt Screenwriting award at the fest. For more, you can read Peter Sciretta's Sundance review right here.
Following the death of her mother and a series of self-inflicted setbacks, young Ingrid Thorburn (Aubrey Plaza) escapes a humdrum existence by moving out West to befriend her Instagram obsession and LA socialite Taylor Sloane (Elizabeth Olsen).  After a quick bond is forged between these unlikeliest of friends, the façade begins to crack in both women's lives — with comically malicious results.
Ingrid Goes West arrives in theaters late this summer on August 4.