'Star Wars: The Last Jedi' Sizzle Reel Breakdown: A Close Look At All The New Details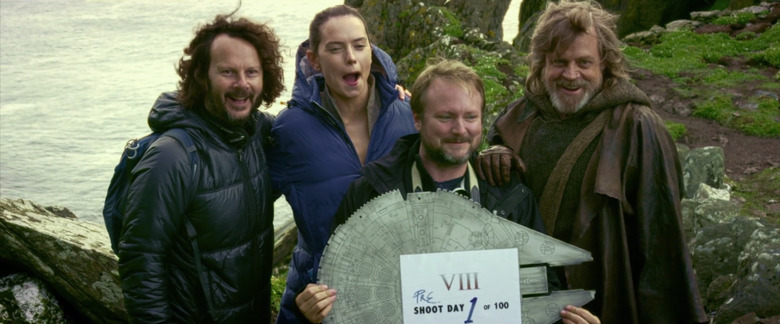 Over the weekend, Disney and Lucasfilm unveiled one of those beautiful behind the scenes sizzle reels for Star Wars: The Last Jedi at the D23 Expo. It wasn't quite as exciting as a brand new trailer would have been, but that doesn't mean the video wasn't full of a bunch of new details for fans to examine frame by frame.
Below, we take a look at dozens of shots from The Last Jedi sizzle reel to see what we can figure out about the second part of the new Star Wars trilogy. While there are plenty of things we don't entirely understand just yet, there is plenty of new footage here that does help us figure out how some parts of the story will unfold. So check out our The Last Jedi sizzle reel breakdown, and see what we figured out.
Rather than break down the various shots of The Last Jedi sizzle reel by the order in which they appeared, we're going to lump some of them together that appear to be connected or share the same setting, characters or details. You'll see what we mean as we dig into all the new footage from the video.
One of the earliest shots in the sizzle reel features this overhead lighting system shooting down upon a rock structure of some sort. It's clearly a set built inside one of the soundstages at Pinewood across the pond. And it's one of the more mysterious parts of the sizzle reel, because it seems there's a sequence that takes place in some kind of underground lake.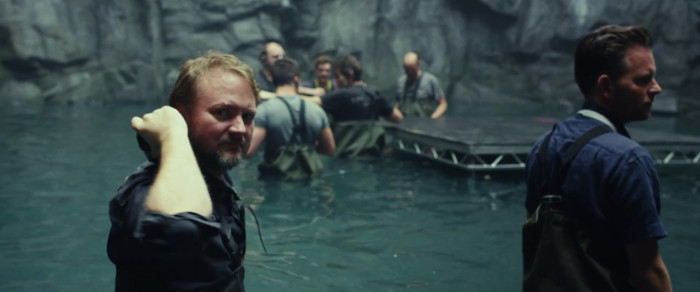 There's Rian Johnson in the middle of this body of water as the crew is preparing for some kind of sequence in the water. This has to be a location on Ahch-To, simply because there's another shot where we see a familiar character diving into the water.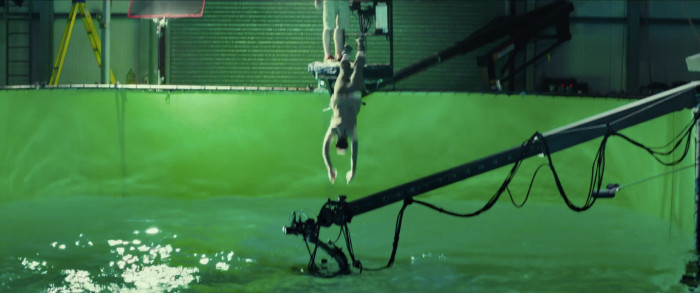 Interestingly enough, this sequence doesn't take place in the same cave set that we saw in the photos above, but there is green screen all around. That's likely because this is a strictly underwater set where they will be replacing the background digitally. The biggest question is what is Rey swimming towards? What could she possibly need to retrieve from the lake? Is there a chance she could be diving for a kyber crystal to create her own lightsaber? Your guess is as good as mine.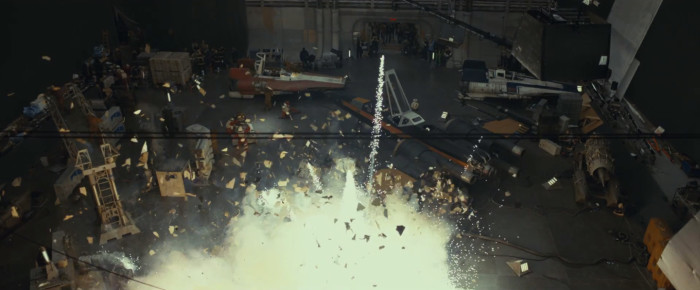 Another early shot in the sizzle reel features this explosion going off and shooting debris over Poe Dameron's orange and black X-wing, as well as a pair of new A-wings, which we're seeing for the first time in The Last Jedi. This looks to be an overhead glimpse of the shot we've seen in the teaser trailer when an explosion goes off inside whatever ship is holding the starfighters.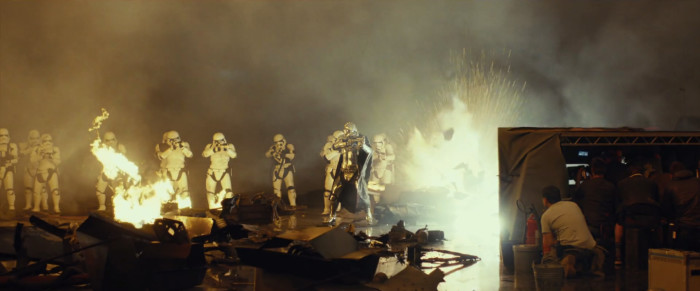 In the teaser trailer, there's also a shot of Captain Phasma and some Stormtroopers marching through fire and debris, and though it's juxtaposed with a shot of a Jedi temple burning, upon closer inspection, it was on the same docking bay where the above starfighters were situated. It seems Captain Phasma and her troopers have infiltrated a Resistance ship and are destroying whatever they can.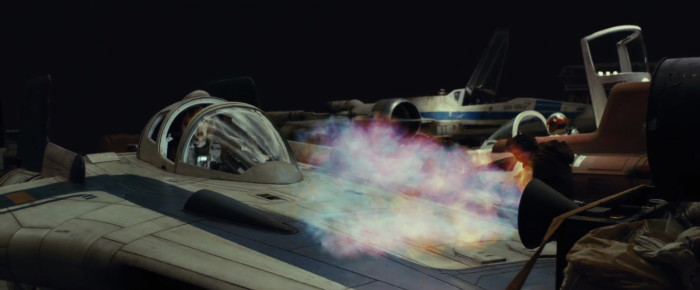 That includes this A-wing, which we see take some flames before another explosion goes off and shoots debris all around. Though this appears to be the same A-wing from the above shot, notice that there's another X-wing back there. So this might be on another ship that ends up getting destroyed by the First Order, maybe during the same attack on the Resistance.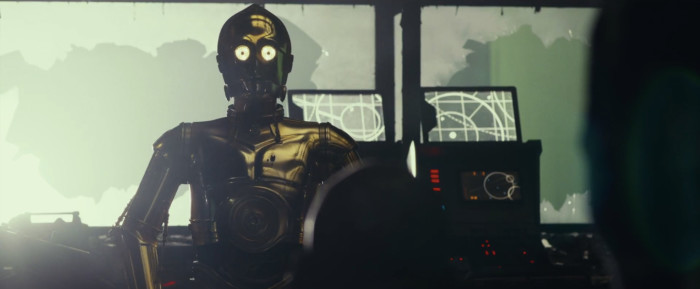 This shot may also be from that attack sequence. It's C-3PO standing on the bridge of a ship, but it looks like the windows have been broken, perhaps shattered by an explosion. The droid can't seem to keep himself out of trouble.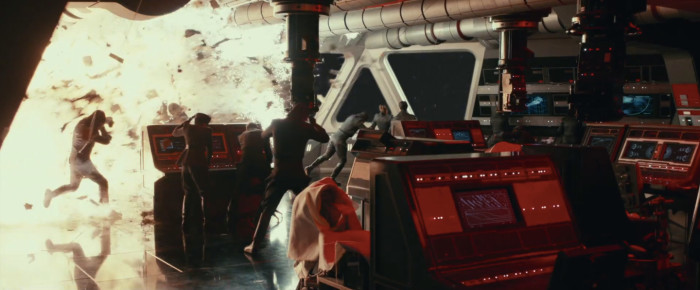 Don't worry though, because the Resistance isn't the only one taking heat from explosions. Here the bridge of what is presumably a Star Destroyer taking a blast. Is it a crucial enough blow to take down the entire ship? Usually when the bridge of these big guys gets taken down, we see the entire ship careen off somewhere, incapacitated, but we don't know if the First Order's vehicles are a little stronger.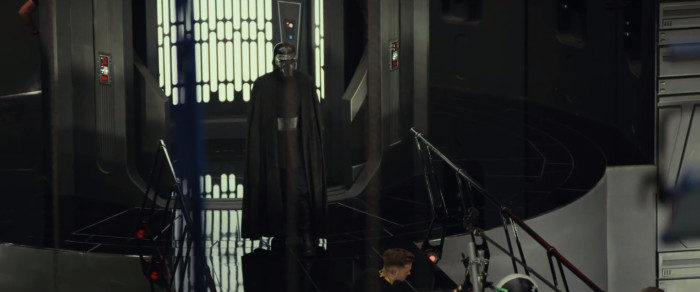 Speaking of the First Order, here's one of their leaders entering a chamber that we haven't been in before. He's clearly just gotten off that lift in the background, and he'll be heading across that railed walking bridge. What is he walking towards? Well, the very next shot in the sizzle reel may have show us.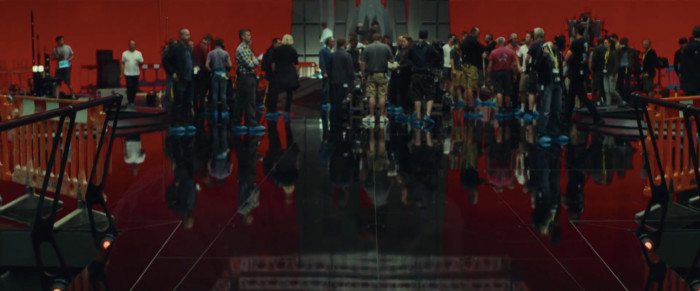 Here's another location we haven't been to before. Notice the rails on the side? They appear to be the same as the ones in the previous photo with Kylo Ren. There's a bright red background above, and in the middle appears to be some kind of throne. Could this be where Supreme Leader Snoke is residing on one of the Star Destroyers? Will this be our first encounter with the First Order boss man in-person and not through hologram?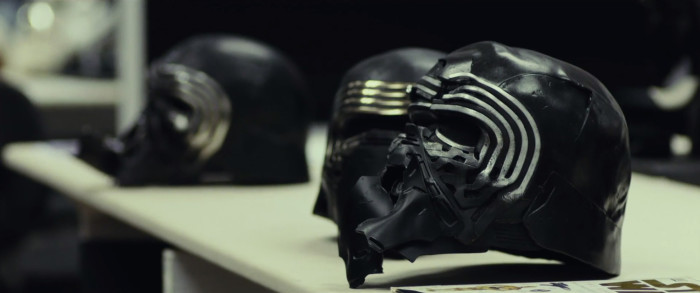 While we're discussing Kylo Ren, let's talk about this shot from the prop department. There are three different versions of Kylo Ren's mask, and that one in the foreground has been beaten to hell. There's a shot in the teaser trailer that shows a destroyed helmet among some shattered glass. The question is whether the helmet is smashed by an enemy of Kylo Ren's or if the emotionally unstable villain throws one of his fits and breaks it himself. The helmet in the background looks to have some different damage, but it's hard to tell since it's blurry.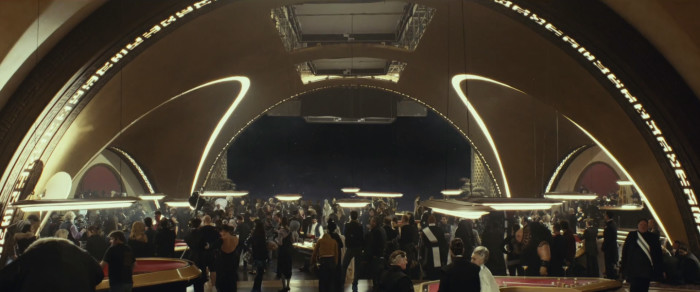 Let's make a jump to Canto Bight, the casino city that plays a major role in The Last Jedi. We don't know much about this place, but it has been said that it's a place of luxury in the galaxy where the rich go to escape from the worries of the war that is being wages around them. Here's a shot of the casino with all the rich assholes cavorting about.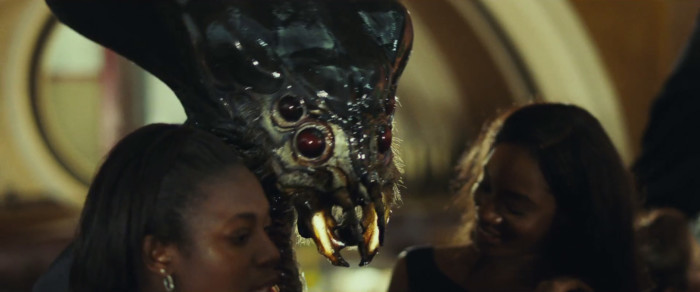 Here's one of those rich assholes now. Much like the Mos Eisley cantina from the original Star Wars, it looks like Canto Bight is filled with tons of alien races that we haven't seen before. This guy is a slimy, insect-looking customer, and it looks like he (or maybe she) is hitting it off with a couple of ladies in the casino. They're really open-minded in the Star Wars universe.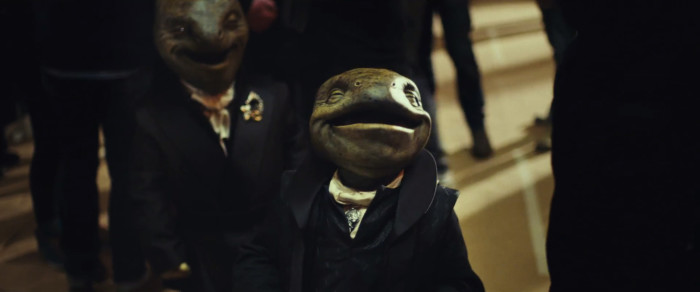 Look at this guy! He's super-psyched to be in a Star Wars movie. I would say that he's adorable and just looks like he's happy all the time, but there's another alien of the same race behind him, and that just appears to be how they look. Maybe that's what makes them more intimidating. You think they're being nice, but then bam, hostile takeover by galactic corporation. They gotta be little scamps.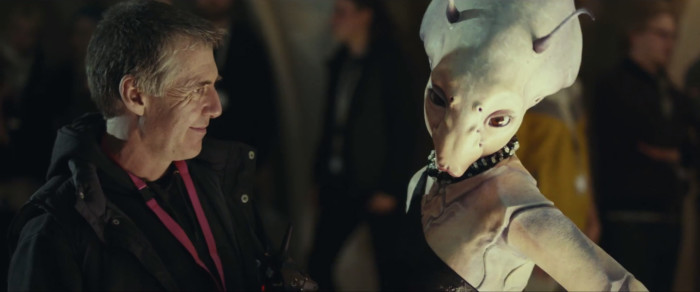 Here's a saucy alien getting ready for the next shot. One of the crew members seems to be giving her a final look before the cameras role and she strikes a sassy little pose. I can see this being the kind of alien that inevitably becomes part of some creepy fan fiction online.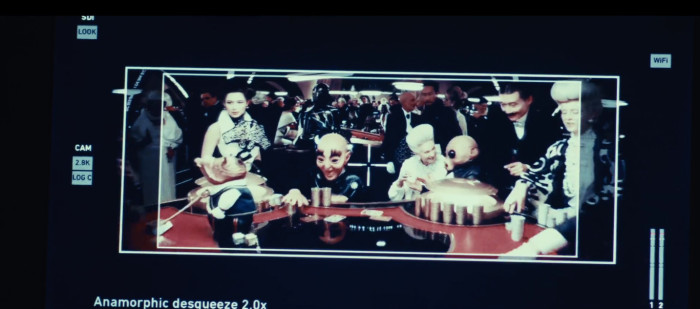 Here's a shot inside Canto Bight from one of the monitors. Just looks like some humans and aliens are having a good time gambling – wait, what the hell is that guy in the middle? He's got huge eyebrows and little tufts of white hair above his ears, and he looks like he could be some kind of grandfather to a ventriloquist dummy who kills people. That's one of the creepiest things I've ever seen in the Star Wars universe.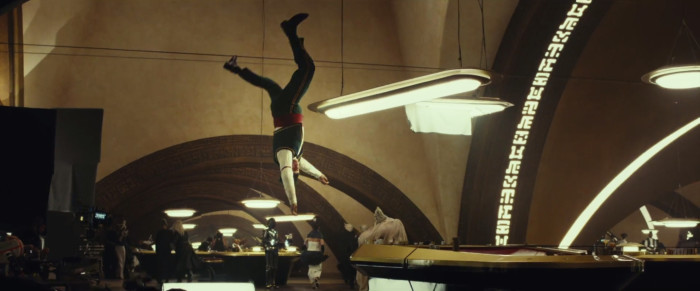 Everyone may be having a good time in Canto Bight staying away from the fighting between the Resistance and the First Order, but it looks like these rich jerks can't hide from the action for long. The sizzle reel features this shot of a stuntman being yanked through the air by wires, presumably because some kind of explosion goes off. Or maybe some alien just got pissed off about losing a bet?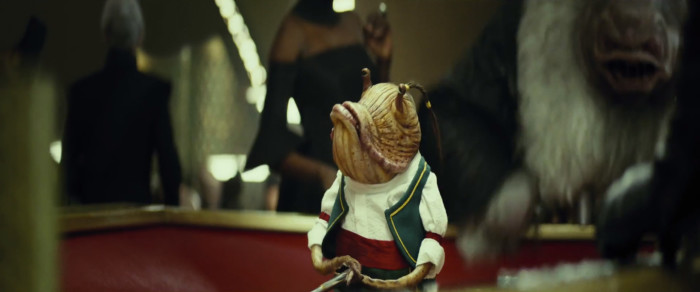 That's entirely possibly, because this shot of a little bug-looking guy features a big burly, hairy alien in the background getting mad enough that he smashes and shakes the gambling table in front of him. Will this little guy, who appears to be a casino employee, be rattled by this outburst? I'm betting he's one chill dude and he'll just have someone dispatch with him quickly.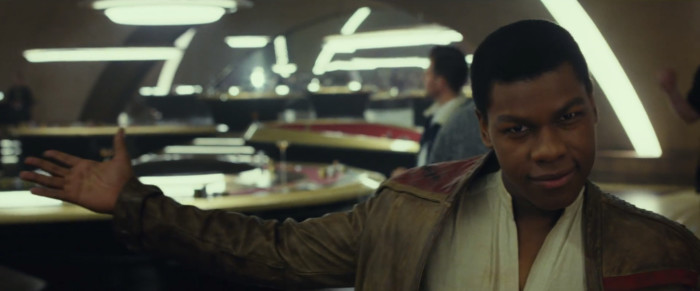 Whatever happens on Canto Bight, it clearly involves Finn. We had actually heard before, from Vanity Fair's cover story on The Last Jedi, that Finn and Rose (Kelly Marie Tran) have a mission that takes them to the casino city. What are they doing there, though? Well, one of Canto Bight's customers might just be someone of interest.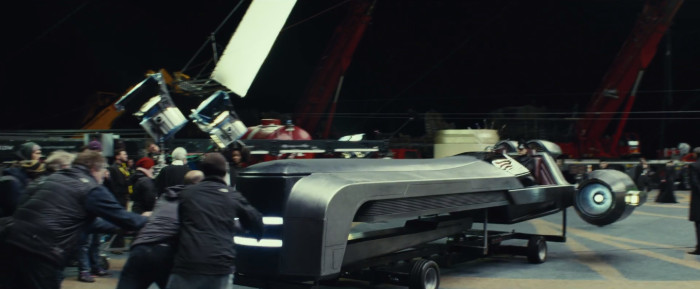 We can't be sure, but I have a feeling that this speeder is arriving at Canto Bight. It just gives off that vibe. It appears that General Hux (Domhnall Gleeson) is in the speeder, all decked out in his finest officer gear. Notice how the speeder itself resembles the kind of long, luxury cars that Nazi officers used to drive around? Think about Red Skull's car in Captain America: The First Avenger and you know what I'm talking about. He has someone in the car next to him, and it appears to be a woman with some kind of gaudy headpiece shooting out all over the place.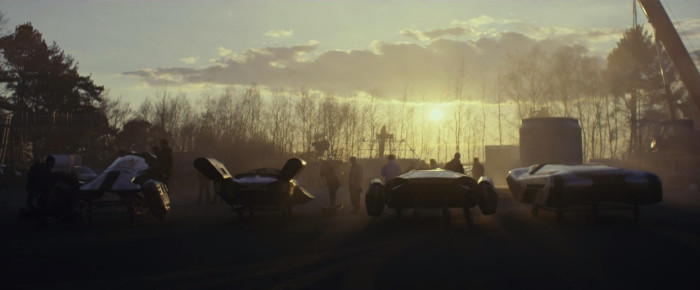 Here are some more speeders from the set, which may be from the Canto Bight sequence. They do look pretty sleek, like they would be owned by the super rich. But we're not sure.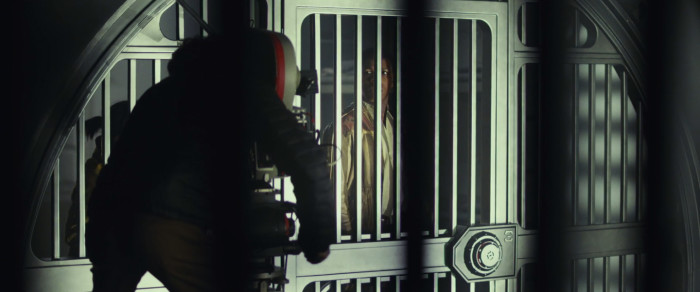 Whatever happens on Canto Bight doesn't go very where for our heroes Finn and Rose. They appear to have gotten locked up. We're assuming it's from whatever happened at Canto Bight since Finn is wearing the same outfit he was in one of the above photos. You can't see Kelly Marie Train because the camera guy is in front of her, but you can see her ponytail sticking out over the camera guy's shoulder. Where have they been imprisoned though? Is it in Canto Bight itself or have they been taken prisoner by the First Order?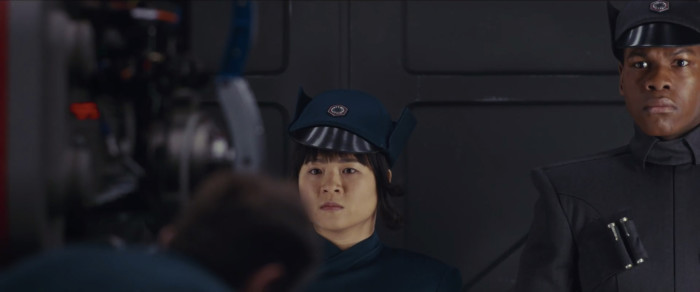 There's a chance it could be the latter, and it just might be part of their overarching mission to infiltrate the First Order. We get this shot of Rose and Finn impersonating First Order officers, something that was rumored awhile back. What is their mission? Your guess is as good as ours.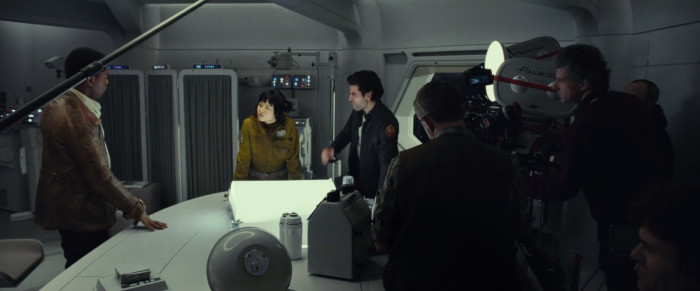 Whatever their mission is, it may have been doled out here in this room. There's Rose wearing the look we've seen her spot in several photos from the set. And there's Finn wearing Poe's old jacket with a new shirt and pants. Plus, Poe Dameron is there wearing a stylish new jacket with the Rebel Alliance symbol on the shoulder. It appears there might be some medical equipment lying around, which makes me think this scene is taking place shortly after...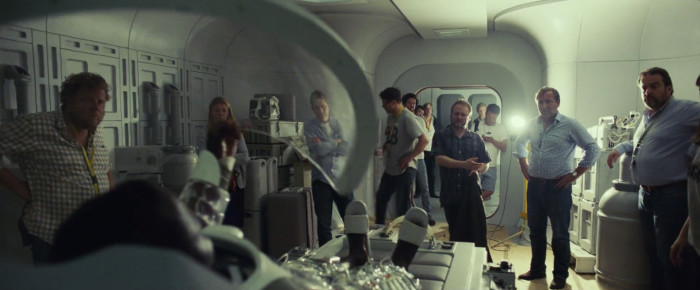 Finn waking up. We've seen the device that Finn was recovering in from the teaser for The Last Jedi. He was still knocked out in that shot, but this appears to be the moment that he wakes up, because he is lifting that glass shield hanging above himself. Check out this fancy space slippers!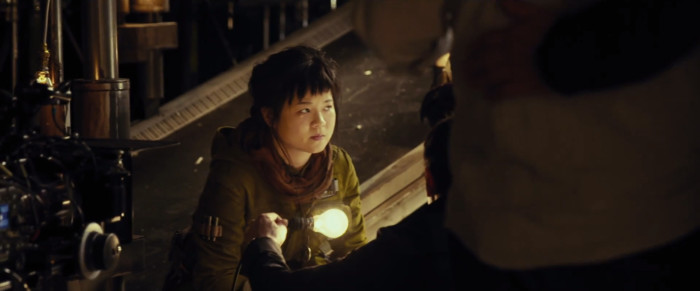 Speaking of Rose, here's a cool shot of her from the sizzle reel. We can't be sure, but that looks like the ramp leading up to the Millennium Falcon behind her. However, since the Falcon is on Ahch-To at the beginning of the movie and presumably remains in the hands of Rey and Chewie throughout The Last Jedi, that would mean this shot would have to be taking place later in the movie when our heroes have had a chance to reunite. Of course, there's a chance that's just a ramp into another ship instead. What I'm wondering is how Rose gets caught up with our heroes in the battle against the First Order. A couple shots from the sizzle reel might hold the answer.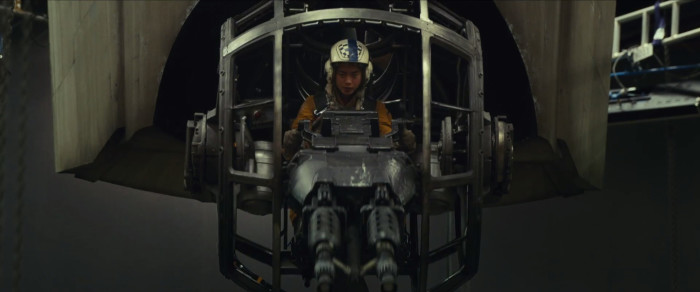 Upon quick inspection, this is just the shot of a Resistance gunner doing their job. However, let's not forget that the Vanity Fair article taught us that Rose has a sister named Paige who was a gunner, one who is coached by Poe Dameron at some point. Paige is played by a Vietnamese actress named Veronica Ngo, and that appears to be her in the gunner pod. This is further confirmed by the design on her helmet matching that of the one seen on her character's LEGO minifigure from a leaked piece of box art for an upcoming building set from The Last Jedi. Why is this important? It might be the reason as to why Rose becomes more integral in the fight.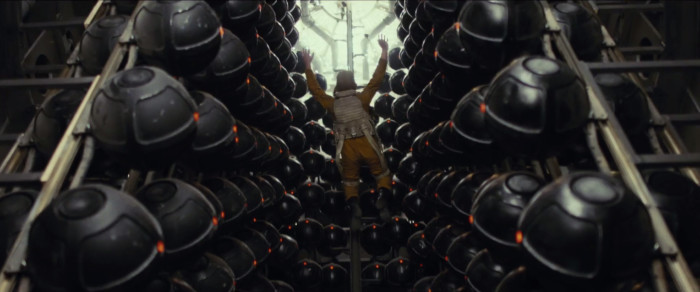 When I saw this shot in the sizzle reel the first time, I was wondering just what the hell was going on. Who is that falling down into this assembly of orbs? What is this location at all? Well, I suspect that this character might be Paige, since she's wearing the same jumpsuit, and perhaps she's captured by the First Order? This could also be a shot of her falling to her death somewhere. No matter what specifically is happening, I think something will happen to Paige and that will be the driving force for Rose to make the jump from Resistance maintenance worker to being a key part of fighting the First Order.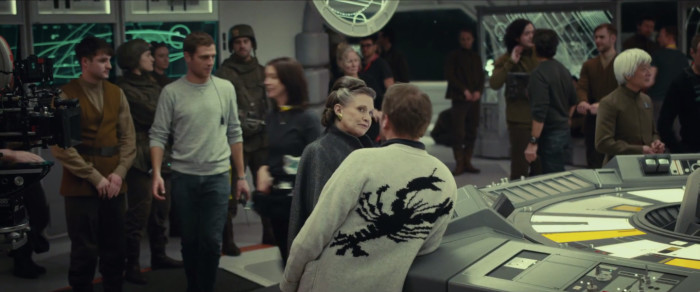 As for the rest of the Resistance, what are they up to? They're having their usual meetings around holograms and dashboards. Here's Carrie Fisher on one of those sets now, talking to director Rian Johnson. This appears to be from the sequence teased in The Last Jedi trailer, and it just might be before the First Order makes that attack we highlighted earlier in this breakdown.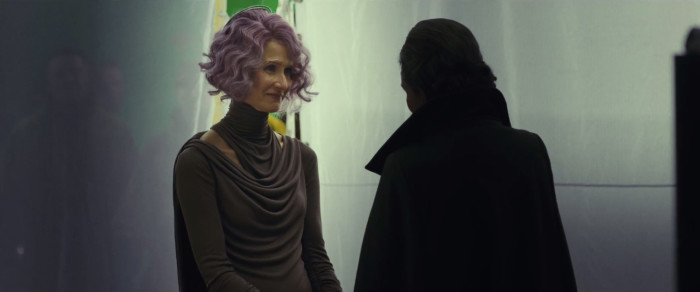 At some point, General Leia has a meeting with a new character, Vice Admiral Amilyn Holdo, played by Laura Dern. She has purple hair and an elegant robe, but we're not sure how she comes into play in this story. Will she end up clashing with Leia?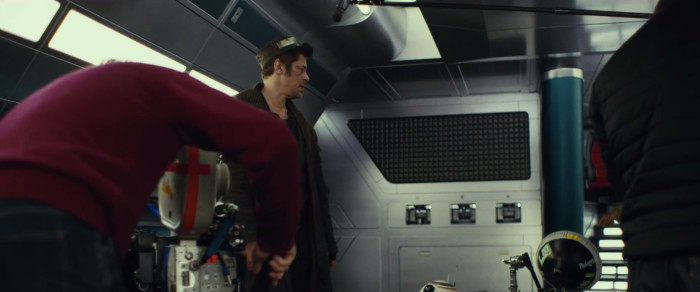 Hey, here's another new character we don't know much about. He's referred to as DJ by director Rian Johnson and the crew, but he wouldn't say why. It's hard to tell what this location is, but Benicio del Toro is wearing a little hat, and I wonder if he's playing a scoundrel sort of character ,not unlike Han Solo, albeit a little less smooth and maybe a little more mysterious.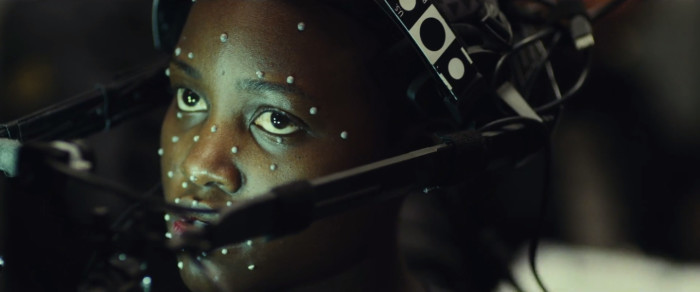 Also, Lupita Nyong'o makes some kind of return in The Last Jedi as Maz Kanata. We're not sure who will cross paths with the bespectacled alien woman, or even what her role in the sequel will be, but maybe she'll continue to push Rey in the right direction.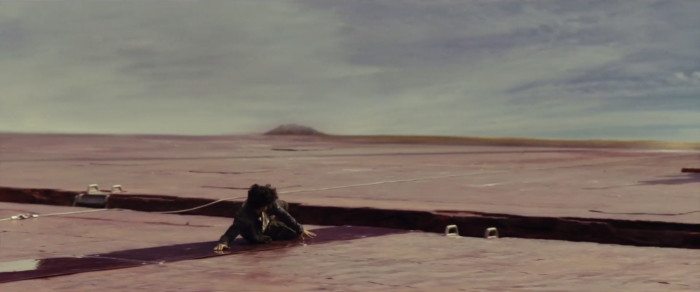 As for Poe Dameron, he's still in full hero mode. Here he is sliding across the surface of something, heading towards a tiny valley with ladders leading down into it. At first, I thought this was the surfaced of a ship, but upon closer inspection, that ground looks like it might be red, which indicates this could be from the new planet Crait. We saw this planet in The Last Jedi trailer as some ships sped across its surface, kicking up red soil as they flew towards a line of First Order walkers.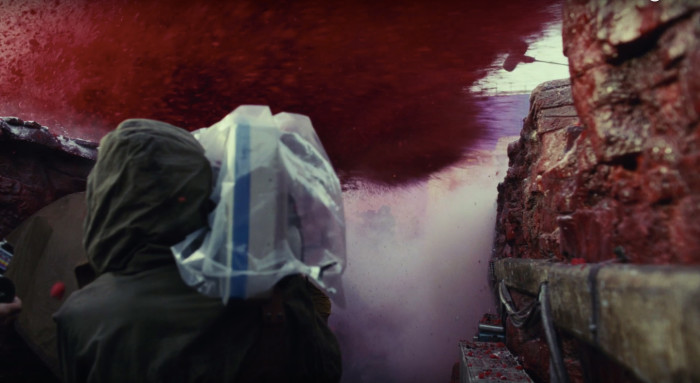 This may be before some kind of ground battle begins on Crait, because one of the early shots in the sizzle reel features an explosion going off with Resistance soldiers in the background. In addition to the ships taking on the First Order walkers, it appears there are some ground troops getting in on the battle.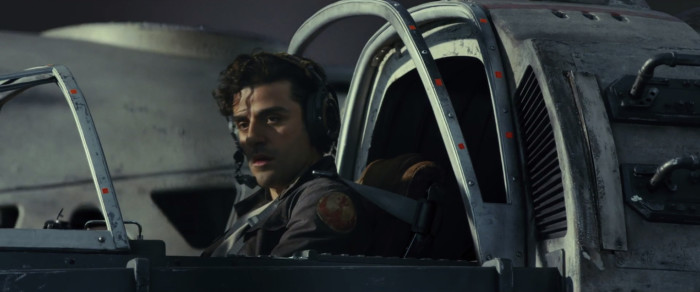 Further adding to the speculation that Poe Dameron ends up on Crait is the fact that this ship he's in isn't his trusty X-wing and it's not an A-wing either. Instead, it appears to be one of those aforementioned ships flying through the desert in the teaser trailer. He may end up leading the pack of ships in that battle, and as we saw in The Force Awakens, he's a hell of a pilot, so that might be all the Resistance needs.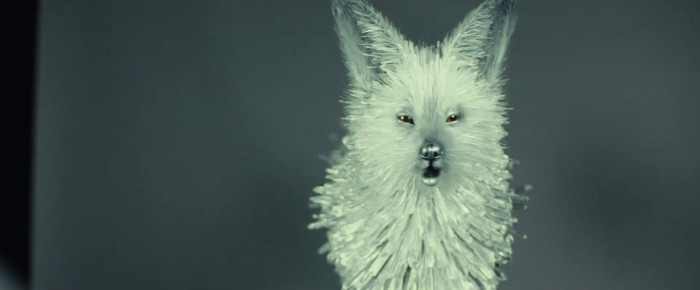 Hey, we haven't seen some weird aliens in awhile! Here's sparkly dog. It looks like there are crystals of some kind in its fur. At first I thought the creature shared some resemblance to the wolf from Star Wars Rebels, but I don't think they're the same kind of creature at all.
Then there's this guy, hanging out in a cage. We're not quite sure where this location is, so we don't know why this animal is in a cage like that. Could he be some kind of transport animal like the tauntauns on Hoth in The Empire Strikes Back? Maybe the Resistance troops ride them around on Crait.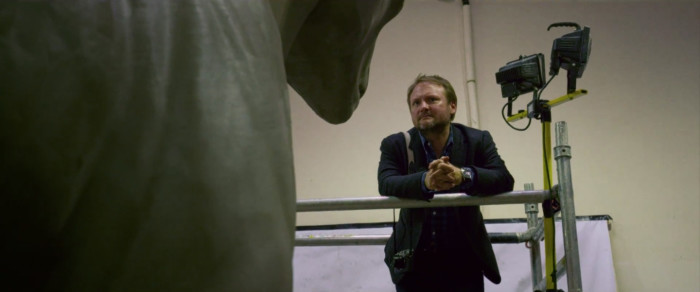 Here's another weird animal that we're seeing from a low angle as Rian Johnson looks upon him. At first glance, I thought though might be the same animal in the cage above, but the face looks different. It also doesn't appear to be Supreme Leader Snoke, so this may just be one of those random creatures we see for a split second and then never again.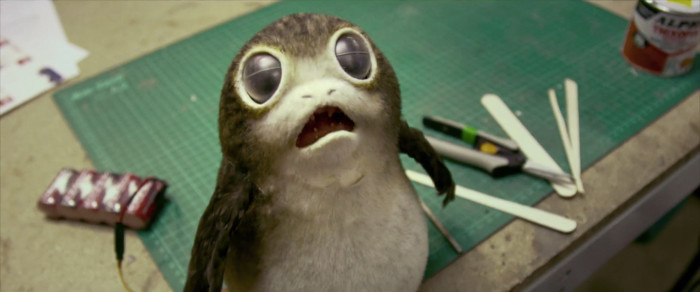 Then there's this little guy. Apparently these little puffy guys are called Porgs. Reportedly, they have a bond with Ahch-To, and they see themselves as protectors of the land. They have a bond with Luke Skywalker as well, but they're less keen on Rey, who has to prove herself to them. We won't say how, though you can find possible rumors if you really want to.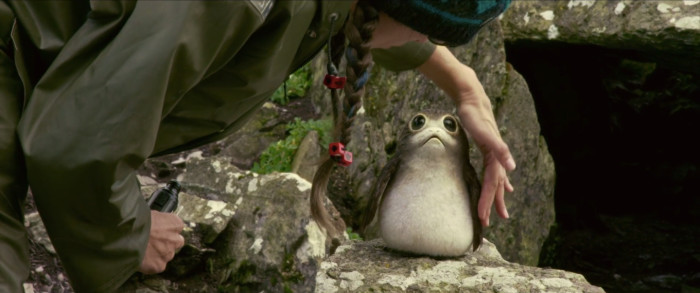 The Porgs are described as a mix of a little puffy bird and a Gremlin, because while they're adorable, they also have razor sharp teeth and can be quite feisty. There have been rumblings that in addition to interacting with Rey and Luke, they also have a moment with Chewbacca and R2-D2.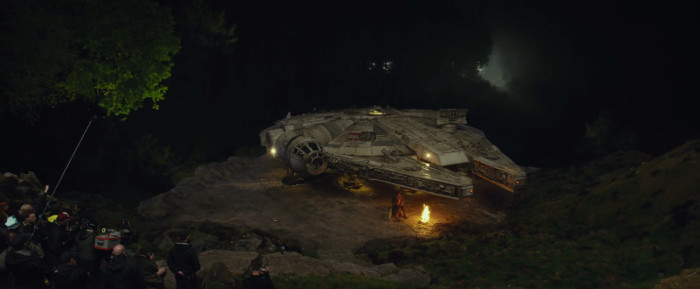 Speaking of which, it seems like Chewie, and presumably R2-D2, are just hanging out while Rey and Luke do their thing. Here's a shot of the Millennium Falcon at night with a little campfire set up outside with Chewbacca sitting next to it. Is there a Wookiee treat that's the equivalent of S'mores that he can cook up?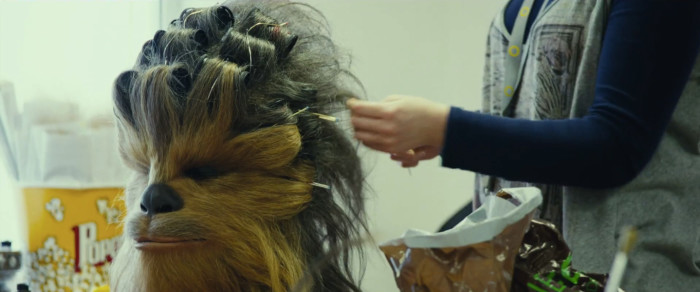 It looks like Rey and Luke are taking so long that Chewie has time to book an appointment at the salon and get some curls back in his hair. I'm betting it's been awhile since he pampered himself, and he deserves it after watching his best friend die.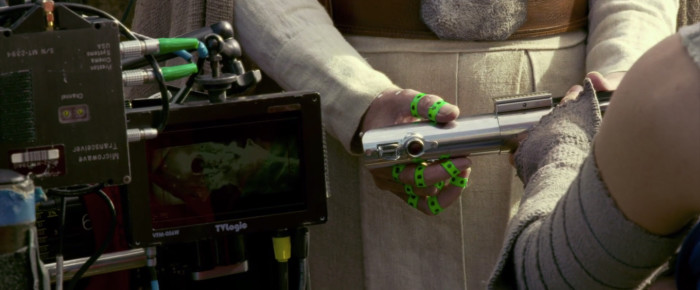 Actually, what the hell are Rey and Luke doing while Chewbacca is just hanging out? Well, first of all, Rey gives Luke back his old lightsaber. Here's a shot of the actual hand-off, complete with Mark Hamill's hand having visual effects tape on it for when it's replaced in post-production with a robotic version.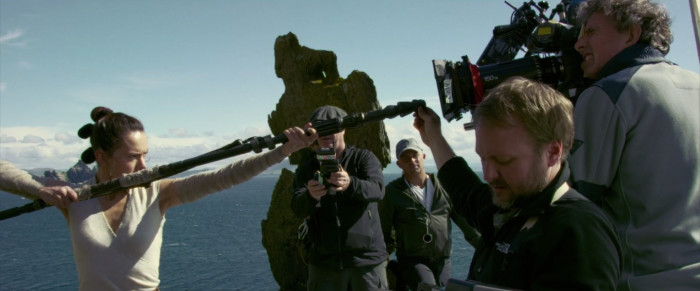 There seems to be some training happening on Ahch-To, as Rey is using her staff for some reason. It's likely physical training, and this shot has her pulling her staff back from right in front of the lens of the camera. I wonder if it will be played in reverse so that the shot ends on her pointing her staff at the camera. Could this be in a training face-off with Luke where she shows him her skills?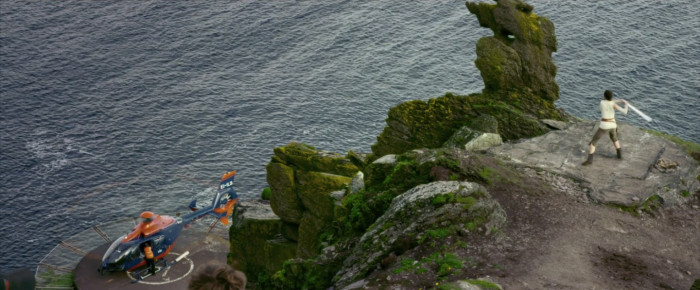 There's more training to be glimpsed as Daisy Ridley swings about the lightsaber prop on this cliffside. This shot appears to be just before that helicopter takes off and gets that wide shot of her doing the same thing in the teaser trailer. Luke doesn't seem to be anywhere in sight. Is she training by herself here? Is there a chance Luke declines training her at all and she sticks around just to do some training of her own, hoping that he'll come around?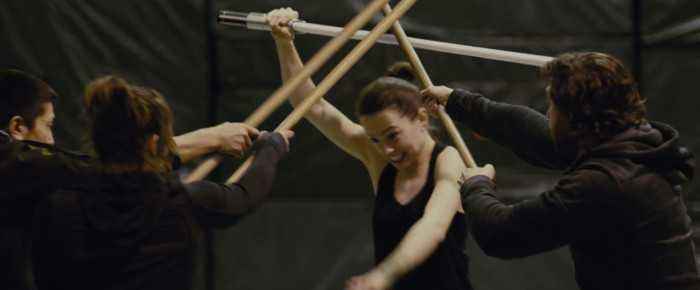 Whatever Rey is training for, it appears she's going to take on multiple foes at some point, at least if this shot of rehearsal is any indication. Three people attack her in this shot, and she has her lightsaber in her hand. Does the fact that those three people don't have lightsaber props in their hand indicate that those enemies won't? Which enemies would be so bold as to take on someone with a lightsaber? One guess could be the Knights of Ren, another could be...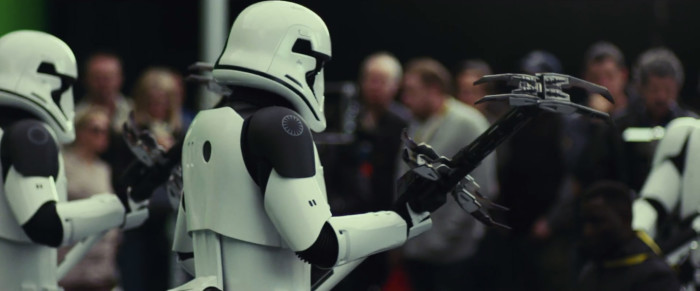 These new Stormtroopers. Remember that Stormtrooper who was so bold as to take on Finn while he was wielding a lightsaber? Perhaps he didn't have the only kind of weapon that can take on the Jedi weapon. Those new weapons look pretty deadly, and if they can be electrified like that baton from The Force Awakens, then they could be a problem.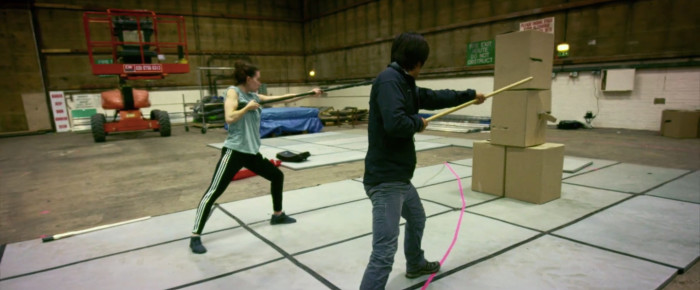 Daisy Ridley is also here seen doing some staff training. Are those boxes meant to stand in for someone or something? It looks like they've been laid into by the staff a few times at least, but whether that's just for general training or for a specific scene remains to be determined.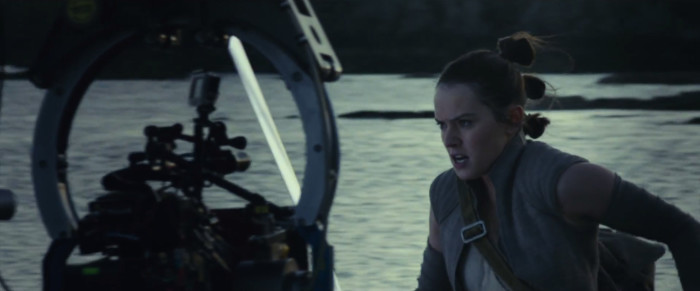 Whatever Rey is training for, it appears that there's a call to action on Ahch-To at some point as Rey races across the surface with her lightsaber in hand. What or who is she running after? Is this merely training instituted by Luke Skywalker like some kind of Rocky montage? Or did he give her some task to accomplish?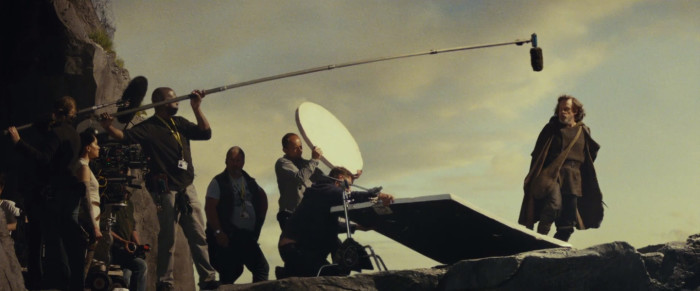 Speaking of Luke, here's the Jedi master himself standing on a cliff. That's a bounce card below him, meant to capture and deflect more light upon the subject in front of the camera, so it's not part of the set. Notice how Luke is wearing darker robes in this sequence, not the lighter cloak he was wearing at the end of The Force Awakens. He also appears to have a satchel with him. Could this be as he prepares to leave Ahch-To? If you look among the crew, you can see Rey, and she doesn't appear to be ready to go anywhere, so maybe they're not leaving just yet. Maybe Luke is just going for a walk to feed some of the Porgs like a cute old man would.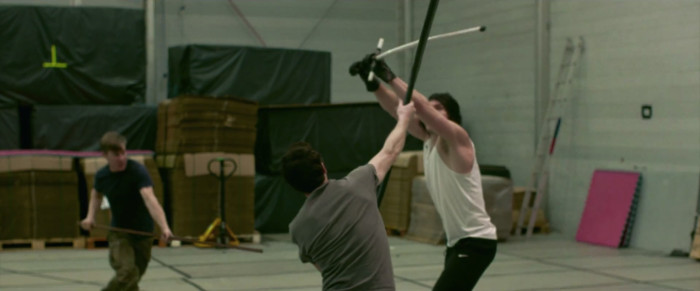 However, at some point, we wonder if Luke and Rey are going to fight Kylo Ren together. Because in this behind the scenes training shot, there are two people attacking Adam Driver with his training lightsaber. Again, these stuntmen don't have prop lightsabers, but if they're just stand-ins helping him learn choreography, then they wouldn't need them.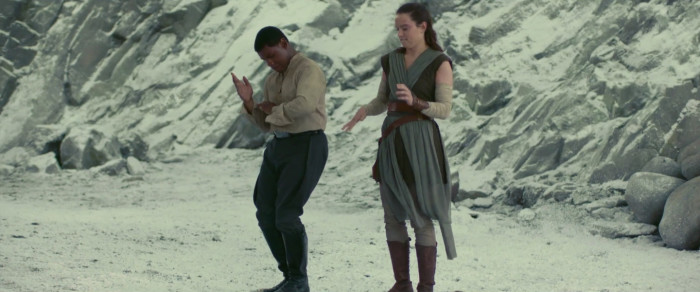 If there is a fight between Kylo Ren, Rey and Luke, I don't think we've seen where that fight happens until now. Here's a shot of a planet that appears to be covered in now. It's a goofy shot that has Rey and Finn dancing between takes, but notice that Rey is wearing something completely different from what we've seen her in before. That makes me think it's towards the end of the movie, perhaps even after the climactic battle has taken place.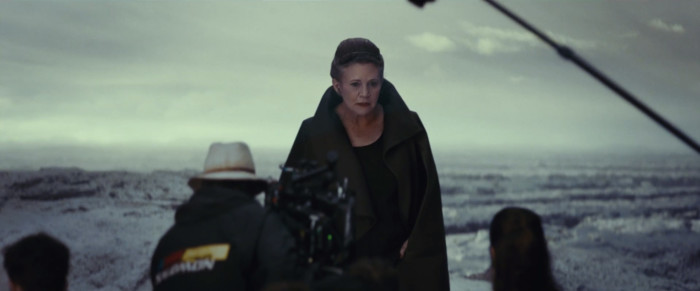 What makes me think that is that Leia appears to be on that same location in this shot. Could this be just before she has a reunion with her brother Luke? We know there has to be a scene where the Skywalker twins are reunited, and this could be it. The look on her face is one that indicates she could be gazing upon her brother from a distance before he notices her.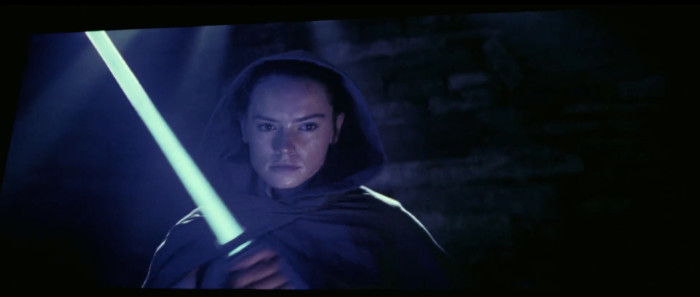 As we've noted before though, this shot at the end of the sizzle reel is the big one. It appears to be from a monitor, but Rey has her lightsaber ignited with a hooded cloak. Where does this scene take place? Who is she preparing to face off against? There are so many more questions that we have, and we can't wait to see the next trailer, whenever it arrives.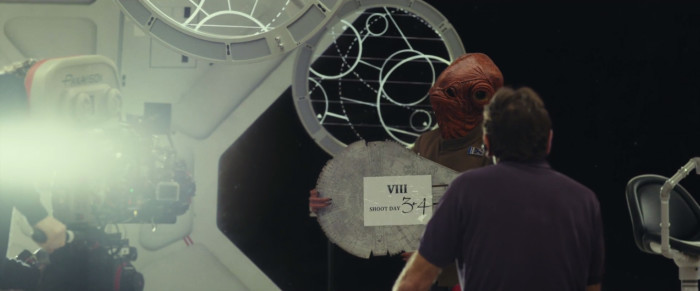 It's a wrap! That's all for the trailer breakdown. Feel free to speculate and let everyone know what you think about all this new footage in the comments.