Marvel-Themed Land Officially Coming To Disney California Adventure [D23 Expo 2017]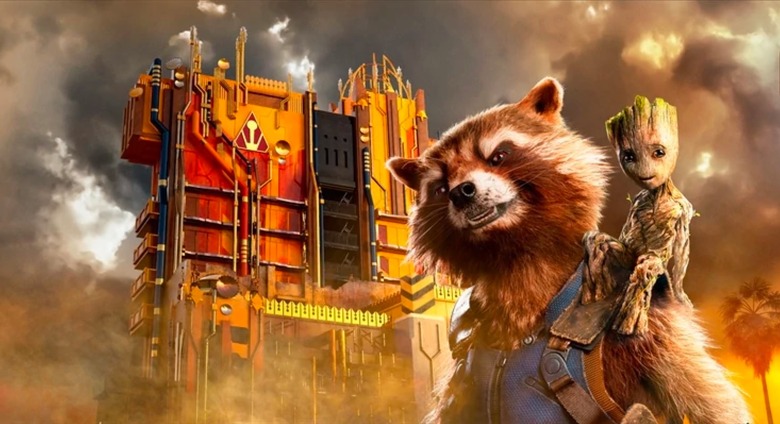 The new Guardians of the Galaxy – Mission: Breakout! ride at Disney California Adventure was just the tip of the iceberg. At D23 today, Disney confirmed that an entire Marvel-themed land is coming to Disneyland's sister park, taking what begin with the Guardians and adding other Marvel superheroes to mix.
You may remember that Disney teased theme park fans with a mysterious hatch outside of Mission: Breakout!, which featured the Avengers logo and looked to be hiding...something. The hatch was brought up again at D23 and yep, it was just a teaser of sorts for entire Marvel land that will grow around the new ride...which needs to happen soon, since it currently sticks out like sore thumb in that corner of the park.
Chairman of Walt Disney Parks and Resorts Bob Chapek made the official announcement alongside an adorable animatronic Baby Groot, who, naturally, only added a few utterings of "I am Groot!" to the conversation. Chapek was a little more loose-lipped, noting that the Avengers and Spider-Man would both play a role in this "completely immersive superhero universe" that will allow guests to "team up with your heroes in ways never seen before" while "new stories build on Mission: Breakout!"
And that was that. Anyone hoping for concept art or attraction details will have to wait a little while longer. However, we can conclude from Chapek's choice of words that this unnamed Marvel land will be similar in style to Star Wars: Galaxy's Edge, which offers an immersive experience that tries to actually replicate the experience of truly being in a fictional place. I'm very curious to see how Disney will try to top themselves (and if the faint rumors of a Captain America-themed roller coaster turn out to be true).
A theme park land based on Marvel properties is a trickier proposition than you'd think. While Disney owns Marvel outright, the theme park rights to these characters and their world still belong to Universal Studios east of the Mississippi (and they'll surely hold on to them for the foreseeable future). That means that, when it comes to North American Disney theme parks, we'll probably never see a full-fledged Marvel land in Walt Disney World (although there will be a Guardians of the Galaxy ride at Epcot). This will be a Disneyland Resort thing through and through.
And we all saw it coming. The transformation of the Tower of Terror ride at Disney California Adventure into Guardians of the Galaxy – Mission: Breakout! was not an isolated decision. It was not a well-kept secret that it was phase one in a larger plan to build a world of Marvel characters around the Collector's tower. With Star Wars: Galaxy's Edge being built at Disneyland next door, this is just another phase in Disney's plan to wage war on Universal's Wizarding World of Harry Potter...a war that will only mean good things for theme park fans, especially since Universal will retaliate with Super Nintendo World.
In any case, the addition of a Marvel world will continue to transform Disney California Adventure into a must-visit destination, a far cry from the money-bleeding joke it was 16 years ago. It may never top Disneyland proper for nostalgia, but it certainly offers its own unique recipe of thrills.