'Wreck-It Ralph 2' Brings Disney Princesses Together With Marvel & Star Wars [D23 Expo 2017]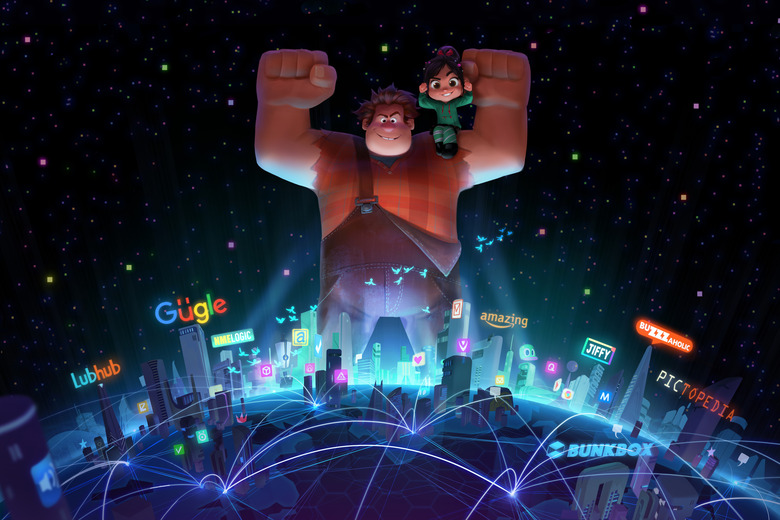 Just earlier this year, the official title for the anticipated Wreck-It Ralph sequel was announced at CinemaCon, and it basically tells us what the movie is about. Ralph Breaks the Internet: Wreck-It Ralph 2 will follow the titular not-so-bad video game bad guy (voiced by John C. Reilly) as he escapes the arcade and finds himself on the web.
Now the D23 Expo has provided us with a bunch of new details about the Walt Disney Animation sequel, and you won't believe just how much this sequel is going to expand the world of Wreck-It Ralph. When the video game bad guy ends up stuck in the internet with his pint-sized, candy-haired friend Vanellope von Schweetz, they discover a place where fandoms converge, including Star Wars, Marvel, and Disney princesses.
Where Does Our Story Begin?
In Wreck-It Ralph 2, the arcade gets wifi, but why do Ralph and Vanellope have to go into the internet themselves? It turns out Vanellope's game Sugar Rush breaks down, and the only way to fix it is to track down a replacement part from the internet, introducing a massive world that the two have never explored before.
Early footage that included a mix of animatics and more polished animation showed Ralph and Vanellope in a massive digital city after barreling through wires, as seen in the video teaser we posted earlier today. It's a big confusing place for Ralph and Vanellope, but thankfully there's a new character who helps guide them.
Her name is "Yesss," and she's an algorithm who is an editor on a website known as Buzzaholic, clearly a riff on Buzzfeed. She wears really hip dresses, all made out of fiber optics, and has blue hair. The voice of Yesss will be provided by Taraji P. Henson, who just started recording her dialogue a few weeks ago.
The footage introducing Yesss had the internet expert giving Ralph and Vanellope a VIP tour, and that's where Disney decided to get really self-referential, almost to the point of being a little too self-indulgent – albeit with some cleverness to make it easier to swallow.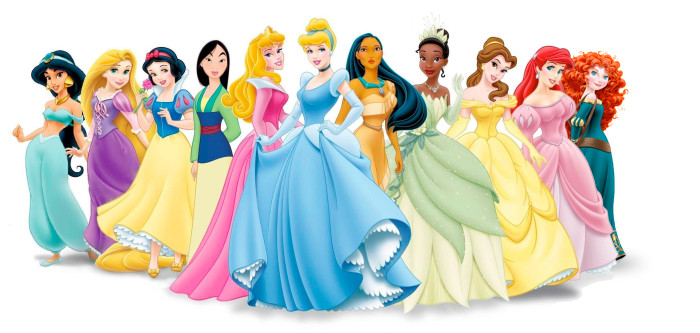 Disney Princesses Meet Star Wars & Marvel in Wreck-It Ralph 2
Yesss takes Ralph and Vanellope to the website OhMyDisney.com. That's right, the official site of Disney fandom is a key location in Wreck-It Ralph 2. The internet is described as a place where people look for like-minded groups of fandoms, and OhMyDisney is apparently the place where all these fandoms combine.
Our characters enter a castle and inside is a hodgepodge of iconic Disney imagery, as well as a bunch of stuff from the properties Disney owns by way of Marvel Studios and Lucasfilm. There's Tinkerbell flying around, a Millennium Falcon, a Marvel Yourself booth where fans are turning themselves into superheroes, Stan Lee makes a cameo, there's a TsumTsum pit, the squishy robot Baymax giving a Q&A, and a stage full of Disney princesses.
There's a dressing room where Disney princesses are getting ready for the stage (guarded by Stormtroopers), and even though Yesss tries to tell Vanellope not to bother them, she walks right in and sees a slew of Disney's princesses in computer animated form, including some who originated from the 2D animation side of things. There's Moana from Moana, Belle from Beauty and the Beast, Rapunzel from Tangled, Merida from Brave, Elsa from Frozen, Ariel from The Little Mermaid and even Tiana from The Princess and the Frog.
Our own Peter Sciretta said there were too many hilarious bits that come from this collection of princesses to effectively describe what was happening, but he compared it to the kind of banter that happens when all of The Avengers are in a room together. For example, Merida says something and one of the other princesses says, "Don't worry about her, she's from another studio." C-3PO tells them that they need to be on stage in five minutes and one princess refers to him as BB-8, knowing that he hates that. The golden droid says he never thought he'd wish for the days of being with Han Solo.
Vanellope says she's a princess too, prompting a litmus test from the rest of the princesses, and while she doesn't seem to fit the bill, once they ask if a big strong man showed up in her world (Wreck-It Ralph, duh), she says yes, and she's accepted as a Disney princess as Ariel breaks into a song.
What's really cool about this sequence is that Disney got all of the original voices for these Disney princesses to reprise their roles for this sequence. The line-up includes but isn't necessarily limited to Ming Na Wen as Mulan, Jodi Benson as Ariel, Paige O'Hara as Belle, Linda Larkin as Jasmine, Idina Menzel as Elsa, Irene Bedard as Pocahontas, Anika Noni Rose as Tiana, Mandy Moore as Rapunzel, Kelly Macdonald as Merida, Kristen Bell as Anna, and Auli'i Cravalho as Moana.
Ralph Breaks the Internet: Wreck-It Ralph 2 will be directed by Rich Moore and Phil Johnston, the former of which was at the helm of the first Wreck-It Ralph as well as last year's hit Zootopia.Sarah Silverman is back as the adorable but mischievous Vanellope von Schweetz, and Moore previously said that her dynamic with Ralph will be a key part of the sequel:
"The relationship between Vanellope and Ralph, we're going to see that again, and the comedy that comes with the two of them. We're going to see their friendship tested by getting to the Internet. So everything you loved about the first one and a whole lot more."
Jane Lynch is also back as the tough Sergeant Calhoun and Alan Tudyk will also have some kind of role, though it won't be as the first film's villain King Candy again.Ralph Breaks the Internet: Wreck-It Ralph 2 is set to arrive in theaters on November 21, 2018.