This 42-Foot 'Star Wars' Float Invaded A Japanese Festival – And It's Quite The Sight To See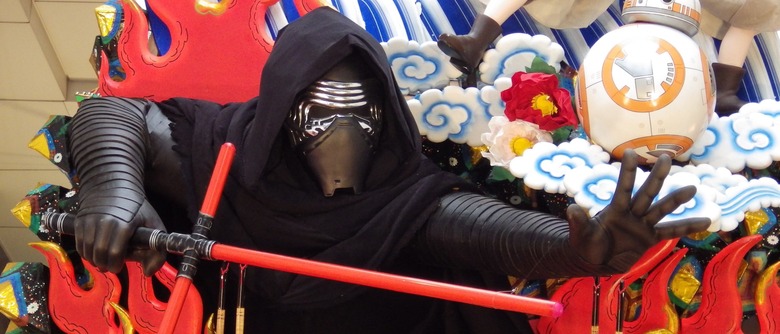 Over the last two years, Japan has been going all-out with Star Wars promotions tied to local tourism: snow sculptures, sand sculptures, glow-in-the-dark parade floats. This year, as part of the 40th anniversary celebration, the city of Fukuoka has joined in the festivities, with a 2-ton, 42-foot-high Star Wars float being heaved through the streets by a team of men in loincloths.
If you have ever fantasized about seeing Star Wars at the Macy's Thanksgiving Day parade, this is probably the next best thing. Below, check out photos and video of Fukuoka, Japan's towering Star Wars float.
Every summer, Fukuoka holds a festival called the Hakata Gion Yamakasa. During this festival, floats are raced up to a shrine as part of a tradition that is hundreds of years old. Usually, it is only the shorter "Kakiyama" floats that get raced, while the taller "Kazariyama" floats remain confined to display areas throughout the city.
That is where the Star Wars float started: as a Kazariyama on display in a local shopping arcade. It went up on July 1 and is scheduled to be on display there until July 15, when the festival ends.
Today, the Star Wars float had the honor of serving as the "Running Decorative Yamakasa" in the final practice race outside Kushida Shrine in Fukuoka. Each float is double-sided; the Star Wars side is on back, so it was bringing up the rear.
Speaking of which, from this point onward: beware the bare buttocks of men in loincloths. That is how they do things at summer festivals in Fukuoka. Below, you can see video of the Star Wars float shooting smoke as it enters and exits the shrine.
https://www.youtube.com/watch?v=WTNnBNbWAJU
The float is actually so tall that, as it got out on the main street, it had to retract its upper half, so as not to get snagged on the city's power lines. This only made it that much more exciting for the crowd, when the float later stretched back out to its full height. People were oohing and aahing — in part, perhaps, because this was the first time in the festival's long history that a float with a foreign theme had been allowed to join the proceedings.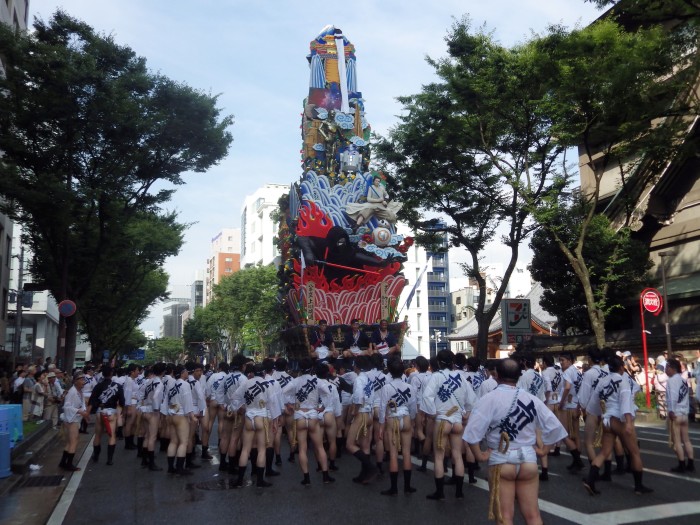 Unfortunately, Fukuoka made international headlines for a much sadder reason last week, as it was one of the prefectures in southwest Japan where people died, went missing, or lost their homes as a result of a typhoon that triggered floods and landslides. This happened mostly in rural areas in Fukuoka Prefecture, but with it being only a few days ago, it was impossible not to think of it in Fukuoka City. So in that respect, the festival also took on the added dimension of being something that would help people to recover their spirit in the wake of a deadly disaster.
Our thoughts go out to people affected by the flooding. It seems trivial to say it, but may the Force be with you, Fukuoka.