'Baby Driver' And 'Guardians Of The Galaxy 2' Soundtracks Didn't Overlap Thanks To Careful Planning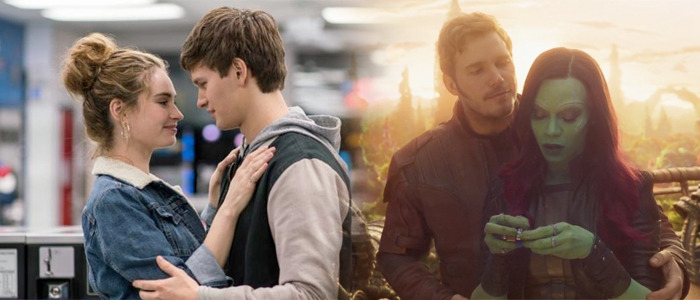 This summer, we've gotten two movies where the soundtrack is not just another element that adds style to the motion picture but is also an integral piece of the narrative that unfolds. Guardians of the Galaxy Vol. 2 followed in the footsteps of its predecessor by having a mixtape soundtrack that fueled the story in the Marvel Studios sequel and the entirety of Baby Driver played out to the rhythm and sound of the music playing in the man character's iPod earbuds. With both soundtracks reaching back into decades passed, how was there no overlap between them?
It turns out there was some careful planning behind the scenes to ensure that neither movie was infringing upon the other's musical territory. Find out more about the Guardians of the Galaxy 2 and Baby Driver soundtrack collaboration.
Speaking with The Washington Post, director Edgar Wright revealed that he went out of his way to text James Gunn to discuss their soundtrack picks, though without mentioning specific tracks, to ensure that they wouldn't have duplicate songs between their film's music line-up. Wright explained:
Earlier this year, before Guardians 2 had come out, I suddenly had a panic. I thought, "Oh, what if one of my Baby Driver songs are in Guardians 2?" So I texted him and we had this funny text conversation where I said: 'Hey man, I was just panicking that some of my Baby Driver songs are in Guardians 2.'
And he goes, 'Well, do you have any ELO?'
And I was like, 'No. Do you have any Queen?'
He said, 'No. Do you have any Sweet?'
And I said, 'No. Do you have any Barry White?'
And he goes, 'No. I was going to use a Barry White song but I didn't.' And I said, 'Well, I'm using Barry White.' Neither of us divulged what the song was... we just went back and forth, and then we figured out that neither of us were using the same songs.
There is definitely some style similarities in some of the oldies choices made in both the Baby Driver and Guardians of the Galaxy  Vol. 2 soundtracks, but thankfully, the two didn't have to worry about stepping on each other's toes. Though I will say it's a damn shame that we haven't had any Queen on either of the Guardians of the Galaxy soundtracks so far.
Now the biggest question after hearing about this behind the scenes soundtrack planning is which Barry White song was James Gunn going to use in Guardians of the Galaxy Vol. 2, and which song replaced it in the end. Barry White makes some pretty sexy music, so I wonder if he originally provided the song that Star-Lord and Gamora danced to in the sequel. Perhaps we'll find out one day.
Guardians of the Galaxy Vol. 2 and Baby Driver are both in theaters right now.