Sylvester Stallone Confirms The Return Of Ivan Drago For 'Creed 2' [Updated]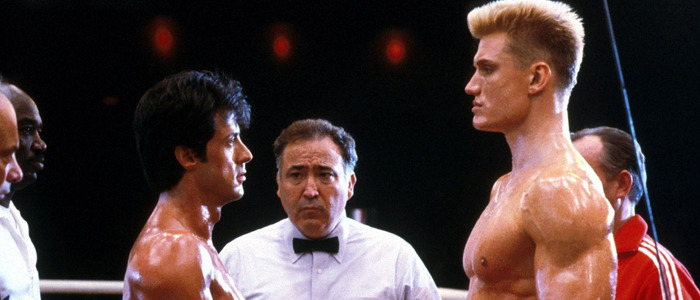 Update: This past weekend, Sylvester Stallone posted a photo on Instagram with the hashtag #drago, which is yet another piece of confirmation that a member of the Drago family will be a character in Creed 2. Read our original article from July 5 below for speculation about how this might play out in the sequel.
Ever since Creed hit theaters in the fall of 2015, surprising us all with just how outstanding a spin-off of Rocky could be, fans have been wondering when/if a sequel would come together. Though MGM CEO Gary Barber once mentioned that he would like to get a Creed sequel together for release in November of this year, that's certainly not happening. But that doesn't mean the prospect of a sequel is dead altogether.
Sylvester Stallone has been taking to Instagram over the past couple of weeks with some interesting nostalgic posts that seem to hint at what's in store for Creed 2. In fact, one of them seems to flat-out confirm what kind of territory the story could be heading, and it includes a face from the past who could really make things interesting.
Back on June 25, Sylvester Stallone posted a rare picture from behind the scenes of Rocky IV:
Really like this RARE picture... ROCKY making DRAGO'S life difficult between takes!!! #CREED 2 #MGM @dolphlundgren
A post shared by Sly Stallone (@officialslystallone) on
Notice that he included a Creed 2 hashtag there at the end? He got even less subtle with the next post:
Directing APOLLO AND DRAGO , The two best "cinema "boxers that ever lived!... Maybe it's time to try to again? A post shared by Sly Stallone (@officialslystallone) on
And just in case fans didn't pick up on it with those two previous posts, he made this one over the weekend:
Here's a chance to stretch your imagination ... HISTORY WILL ALWAYS REPEAT ITSELF IN ONE FORM OR ANOTHER, JUST GOT TO BE READY! ... Sins of the Father.... #creed2 # agentnickyc #rockybalboa
A post shared by Sly Stallone (@officialslystallone) on
If you're not as up to snuff on the history of Rocky on the big screen, Ivan Drago is the Russian boxer played by Dolph Lundgren who was brought into the ring in Rocky IV in 1985. At the beginning of the boxing sequel, Apollo Creed (Carl Weathers) came out of retirement to challenge Ivan Drago, who believes he can't be beat. Rocky Balboa (Stallone) is by Creed's side as his fight promoter and friend. Rocky ends up being somewhat responsible for Creed's death as he chooses not to throw in the towel – Drago delivers a blow to the Creed's head that kills him instantly.
The history between these characters would make for quite the set-up if Ivan Drago were to return to the ring for a Creed sequel. Surely the young Adonis Johnson (Michael B. Jordan) would have more than a few blows that he would like to land on the man who killed his father, but he will likely need more than just anger to defeat such a finely tuned fighter.
Now the question is whether Sylvester Stallone is really teasing the return of Ivan Drago in Creed 2, or merely testing the waters to see if fans are interested in seeing the character return to the franchise. After all, it's been 32 years since Ivan Drago was a threat in the ring, and Dolph Lundgren isn't exactly the young, chiseled athlete he was all those years ago. Perhaps we'll see another legacy fighter enter the ring by having Ivan Drago's son as a boxer to challenge Adonis this time.
Another possibility is seeing a series of flashbacks throughout Creed 2. Back when it was unclear whether director Ryan Coogler would come back to direct the sequel about a year and a half ago, Sylvester Stallone mentioned an idea the filmmaker had to go back and forth in time, showing Adonis Johnson today juxtaposed with scenes looking back at Rocky and Apollo Creed during their glory days. That might include bringing back Dolph Lundgren as Ivan Drago and using visual effects to de-age the actor.
As of now, there's no indication as to when Creed 2 might come together. We might get to see director Ryan Coogler get back behind the camera, especially since there's a good chance he'll be done with Black Panther by the time the sequel is ready to get off the ground. Stay tuned to see what happens with Creed 2 as more information becomes available.