'War For The Planet Of The Apes' Trailer: Don't Watch This If You're Already Sold On The Movie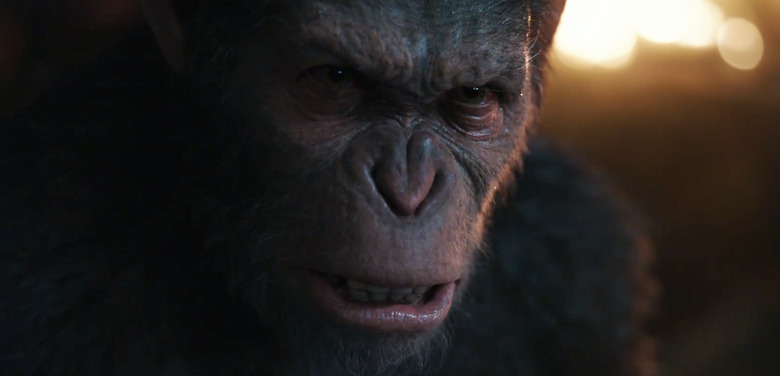 With just over two weeks to go until War for the Planet of the Apes hits theaters, we're hitting that final round of marketing where 20th Century Fox is pulling out all the stops to convince audiences who haven't already made up their mind about the sequel to buy a ticket when the time comes. That means the footage in promos is starting to venture into spoiler territory, and that's especially true when it comes to a new international trailer.
Fox Star India has debuted a new trailer for War for the Planet of the Apes for audiences overseas, but since the internet knows no bounds, it's available for all to see. However, let me say that if you've already decided to see this blockbuster sequel that yours truly called "one of the most significant blockbusters of the decade" then do not watch this trailer. It gives away far too much, including one plot point from early on that serves as the catalyst for the rest of the film. You've been warned!
For everyone else, watch the new War for the Planet of the Apes trailer below.
The trailer begins innocuously enough by including dialogue from the previous films, Rise of the Planet of the Apes and Dawn of the Planet of the Apes, but then it heads into spoiler territory by giving away a big moment that happens in the first act of the movie. Going into the movie, it wasn't a story detail I knew about, so I think that's the best way to head into this movie if you know you're going to see it. We won't even discuss what that story detail is just in case some people are still reading this far.
From this point on, all you need to know is that War for the Planet of the Apes is astounding, moving and easily the best film of this prequel trilogy. It has an incredible score, mind-blowing visual effects, award worthy performances, stunning visuals, and culminates in an emotional finale.
In War for the Planet of the Apes, the third chapter of the critically acclaimed blockbuster franchise, Caesar and his apes are forced into a deadly conflict with an army of humans led by a ruthless Colonel. After the apes suffer unimaginable losses, Caesar wrestles with his darker instincts and begins his own mythic quest to avenge his kind. As the journey finally brings them face to face, Caesar and the Colonel are pitted against each other in an epic battle that will determine the fate of both their species and the future of the planet.
War for the Planet of the Apes arrives on July 14.