VOTD: 'Cars 3' Cast Has Their Own Questions About The 'Cars' Universe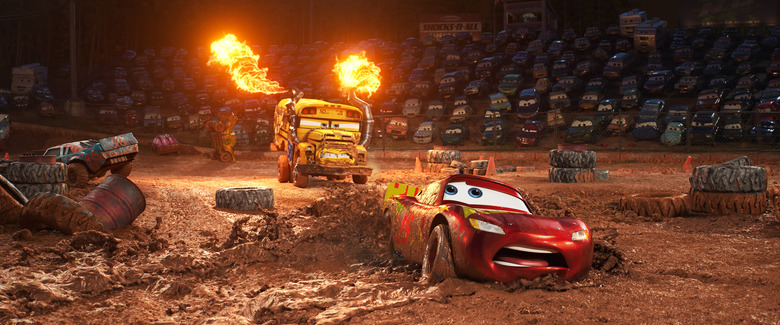 There are some people who seem to think it's ridiculous to think about the universe of Pixar's animated franchise Cars beyond its surface-level existence of a world where automobiles can talk just like animals have in countless Disney movies before. But there's just something about the logistics of the Cars universe that raises a myriad of questions, and that can be frustrating, especially when Pixar goes out of their way to not answer them unless it's important to the story or characters.
For anyone who thinks those asking the tough questions about the Cars universe are thinking way too hard about this concept, it must be pointed out that even the actors and actresses who lend their voices to the sentient vehicles in this weekend's Cars 3 have their own questions about the world of Cars.
Watch as the voice cast poses their own Pixar Cars universe questions after the jump.
In addition to posing their own questions about the Cars universe, Owen Wilson, Armie Hammer, Cristela Alonzo, Nathan Fillion and Lea DeLaria attempt to answer some of the more common questions about the world in which the story takes place. Where do Cars come from? Do Cars grow? How would they grow? Are there baby Cars? Is it weird that Cars ride inside planes that are also sentient?
None of the stars seem to have good answers to these questions, though Lea DeLaria seems to give the most blunt and adult answer about Cars reproduction, even if it's censored. A couple of the cast members are even a little weirded out by some of the questions, but that's only because when you start to answer them, you're forced to think of some weird scenarios.
Thanks to Mashable for providing further food for though on this very important subject.