POTD: Josh Brolin Dressed As His Character In 'The Goonies' For A 1980s Party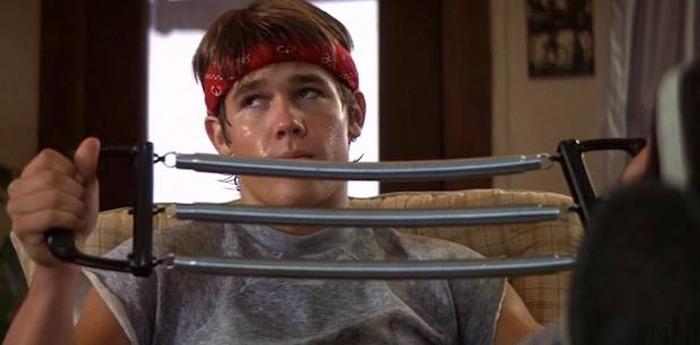 Today, Josh Brolin is an Oscar-nominated actor who is playing, not one, but two major comic book characters in the upcoming sequels Deadpool 2 and Avengers: Infinity War. But way back in 1985, Josh Brolin was just a nobody getting his big break as Brandon "Brand" Walsh in the classic adventure movie The Goonies. And he recently paid tribute to his early career in a surprising way.
Josh Brolin took to Instagram a couple days ago with a picture of him decked out in costume for a 1980s party being thrown for his friend, and his wardrobe will look familiar to anyone who remembers his role from the aforementioned directed by Richard Donner and produced by Steven Spielberg.
See Josh Brolin wearing The Goonies costume after the jump.
80's themed birthday for my buddy @wsparris1 given by his lovely wife @bamkambam. I didn't know what to dress as (Henry Rollins? Boy George? A gremlin?) then my wife said, "I got you covered". #embraceyourpast #gooniesneversaydie #80s @kathrynbrolin #beautyandthebeast #chologoonie
A post shared by Josh Brolin (@joshbrolin) on
Though Brolin is clearly looking a little more buff than he was at 16 years old when The Goonies was made, he's wearing the exact same workout gear he donned in the movie. From the sweatsuit with shorts over it to the bandana for a sweatband, he has all the right wardrobe pieces, right down to the chest extender for an accessory.
As Brolin indicates in his Instagram post, we can thank his wife Kathryn Brolin for getting this ensemble together. Now if we can just get a sneak peek at him in his wardrobe for Cable in Deadpool 2, that would be great.