Cool Stuff: Luke's Lightsaber And Dark Helmet's Big Head Up For Auction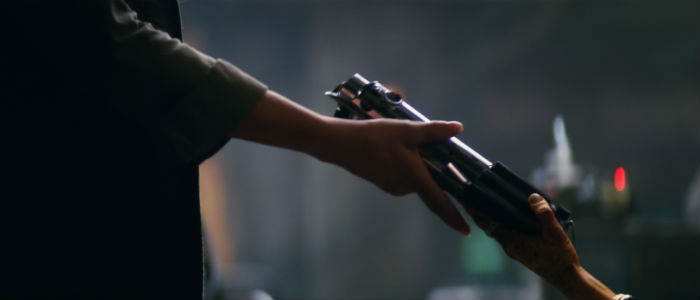 There is plenty of memorabilia out there inspired by the movies that we love. But there's nothing better than getting your hands on a genuine prop from your favorite motion picture. The only problem is you usually have to empty out your bank account to get something like that into your hands. Now a couple props are up for auction that may be worth selling your house for.
The lightsaber that Luke Skywalker inherited from his father in Star Wars: A New Hope only to end up in the hands of Rey in Star Wars: The Force Awakens is now up for auction. But for you Star Wars fans who may not have enough money to pick up the coveted, elegant weapon, there's a certain prop from the saga spoof Spaceballs that might be a little more easy on your wallet.
Find out more about the Spaceballs prop and Star Wars lightsaber auction.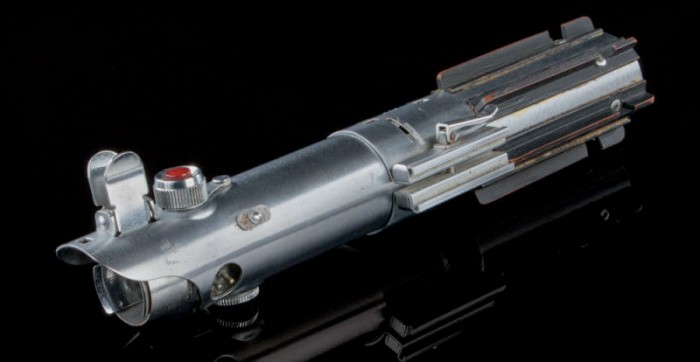 First up, the Skywalker lightsaber is one of the most iconic weapons ever seen on the big screen, and if you've got hundreds of thousands of dollars lying around, you can have it on your shelf. The screen-used lightsaber prop that was seen in both A New Hope and The Empire Strikes Back will be in the Profiles in History Hollywood auction happening in Los Angeles from June 26th through June 28th.
The lightsaber is estimated to pull in between $150,000 and $250,000, but I wouldn't be surprised if it pulled even more than that. This particular prop has been in possession of producer Gary Kurtz, and he has a personalized letter to go along with it to certify its authenticity. Like I said, it's worth selling your house for.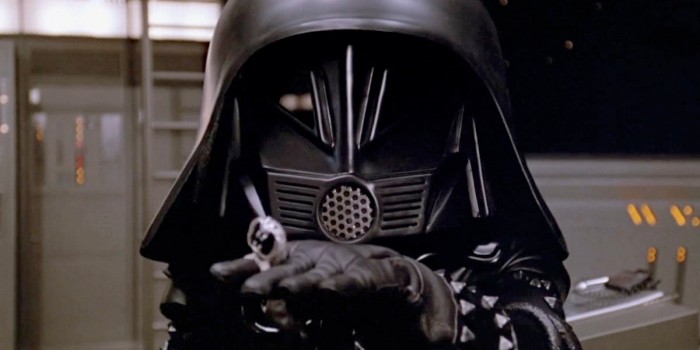 For the Star Wars fan who might want to spend a little less money but still take home an iconic prop with ties to the saga, a prop from Spaceballs might be more up your alley. Also up for sale in the Profiles in History Hollywood auction will be the helmet worn by none other than Rick Moranis as the Darth Vader inspired villain Dark Helmet.
The massive headpiece from the 1987 Star Wars spoof started at $8,000 in the advance bidding (via THR), but it's already up to $14,000 at Invaluable. With only minor production wear and age, the prop is in "very good to fine condition" after 30 years, and it would make for quite the Halloween costume.
For all you Spaceballs fans out there, you can also try to get our hands on the model of Lone Starr and Barf's signature spaceship, the flying Winnebago known as the Eagle 5. The model measures 35 inches-long by 10.7 inches-tall and 37 inches wide and even has a tiny Lone Starr and Barf sitting in the cockpit. Bidding for that starts at $20,000.
Most of us can't afford to even think about bidding on these items, but we can dream, can't we? If you're interested in seeing other movie props in the auction, including the golden ticket from Willy Wonka and the Chocolate Factory estimated to sell between $40,000 and $60,000, head over here.