A Spoonful Of Sugar Will Help These 'Mary Poppins Returns' Images Go Down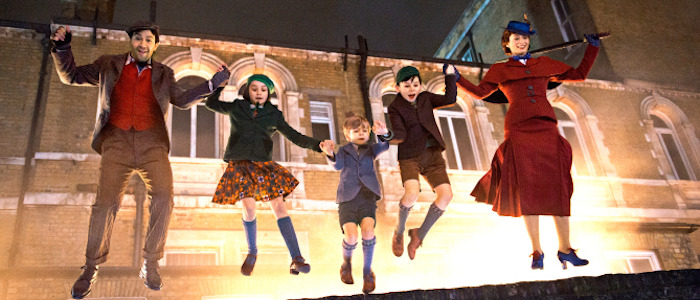 Making a sequel to Mary Poppins over 50 years after the original film charmed audiences all over the world and quickly established itself as an instant classic that maintains all of its magic and charm in 2017 sounds like a terrible idea on paper...but it's hard not to be completely won over by the thought of Emily Blunt stepping in for the great Julie Andrews and Hamilton maestro Lin-Manuel Miranda lending his talents as her co-star.
And now, a bunch of new photos from Mary Poppins Returns have debuted online, offering our first good look at Rob Marshall's upcoming musical.
The images were revealed by Entertainment Weekly and they show off not only Blunt as the ageless, magical, "practically perfect in every way" nanny and Miranda as Jack, a London lamplighter and the protege of Dick Van Dyke's Bert from the original movie, but the rest of the Banks family, too. There's Ben Whishaw as the grown-up Michael Banks, now working as a banker and artist, and Emily Mortimer as the adult Jane Banks, following in her suffragette mother's footsteps by working as a union organizer. New to this world are Michael's children, Annabel (Pixie Davies), Georgie (Joel Dawson), and John (Nathanael Saleh), who see Mary Poppins come into their lives following a tragedy.
And speaking of that tragedy, Entertainment Weekly also offered the most comprehensive description of what this movie is actually about yet:
Mary Poppins Returns, directed by Rob Marshall (Into the Woods), picks up 25 years after the events of the first film, fast-forwarding to London's mid-1930s economic slump, the actual time period of Travers' books. Number 17 Cherry Tree Lane has become the warm, loving home that banker and artist Michael Banks (Ben Whishaw) shares with his wife and three children. But after the sudden death of Michael's wife, the Banks family is shattered — even enthusiastic aunt Jane (Emily Mortimer), now a fervent union organizer, and long-time housemaid Ellen (Julie Walters) can't help lift spirits — and so in time, the once-blossoming home is on the verge of foreclosure.
Cue the arrival of prim and peculiar Mary Poppins (Emily Blunt), who leads Michael's wayward children (and Jane and Michael themselves) on a series of unbelievable adventures — to the top of Big Ben, the bottom of the ocean, into magical encounters with animated dancing penguins and upside-down cousins (hey, Meryl Streep!). If anyone can help this family find the light they've lost, it's Mary Poppins.
And here are some of the photos, which tease both domestic scenes and big musical numbers. For additional images from the set, including some concept art depicting familiar and unfamiliar locations, I recommend heading over to Entertainment Weekly and taking a look.
Rob Marshall has directed movies I've loved (Chicago) and movies I've, well, not loved (Pirates of the Caribbean: On Stranger Tides), but I have a good feeling about this one. He may very well have the proper sensibility to bring Mary Poppins back in the fashion she deserves. At the very least, the cast he's assembled will go a long way to recapturing the magic that makes the original the best live-action movie Walt Disney ever made. And new songs from Hairspray's Marc Shaiman and Scott Wittman certainly won't hurt.
Get comfortable: Mary Poppins Returns opens on December 18, 2018.